A Coroa Godello 200 Cestos 2012
Winemaker Notes
Greenish tone very vivid and bright lemony, which broadcasts highlights of freshness and vitality. Aromatic sensations of fresh grass, yellow plum , white flower ( Honeysuckle) by turning to soft emotions but , in turn , is a warm and mature wine , showing excellent alcoholic potential perfectly assembled with a wonderful citrus acidity ( red grapefruit ) , which keeps a long time.The palate has a powerful entry and fatty flavor , active ( citrus jelly , lime) , with much nerve , with bitter fennel , lemon verbena infusion , typical of a great wine and long life and noble evolution in bottle.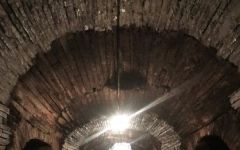 Although A Coroa is a family run winery, it has current, up-to-date wine-making equipment. Sensible modern viticulture taking advantage of the Godello varietal's personality and always in search of quality; this, convinced that wine comes primarily from the vineyard, is the philosophy that drives our work at A Coroa.
Production centres on thorough and thoughtful processing of the grape, using the best technology and respecting the heterogeneity of the land.
Our oenologist, Ángel Sanchez Cuesta, educated at the Requena Viticulture and Oenology School (Valencia), has been working at his profession in Valdeorras County for more than 17 years.
An absolute connoisseur of viticulture and the Valdeorras grape varietials, he is one of the pioneers of monovarietal winemaking with Godello and Mencia, and probably one of those who best knows the potential of vitiviniculture in this area.
White grapes are used in two famous types of Spanish wine, Sherry and Cava, but we will limit this discussion to still whites. Let's begin with perhaps the best known and most highly regarded internationally, Albariño . Produced in the region of Rías Baixas, just above Portugal in northwestern Spain, Albariño typically sees no or little oak and is medium to medium-plus in body. Aroma and flavor notes often include citrus and peach, often with subtle floral notes and a suggestion of sea spray, giving the wine a zesty feel. Often bottled as a single varietal, Albariño is sometimes blended with other indigenous grapes like Loureira and Treixadura. Try one of these Spanish whites from Forjas del Salnes.
Let's look at a few other Spanish white wines. Godello also hails from northwestern Spain and presents a profile of grapefruit, minerality and a slight smoky quality. Enjoy a bottle from Bodegas Avancia. The region of Rueda, northwest of Madrid, is home to Verdejo , which makes refreshing, un-oaked white wines whose herbal vibrancy recalls Sauvignon Blanc . Protos makes a tasty version. Up north in the Basque region, we find the wine called Txakoli (sometimes called Txakolina). Pronounced "sha-ko-LEE," it's made from a local grape called Hondurrabi Zuri and is light, fresh, citrusy, dry … and with razor sharp acidity that makes it a fantastic partner with local seafood and tapas. Ameztoi Gertariako is a good Spanish white wine producer to check out.
The Penedѐs region, best known for the oceans of delicious Cava it sends to the world, also produces still Spanish whites, sometimes from international varieties like Chardonnay , and often from the same grapes used for Cava. These include Parellada, Xarel-lo and Macabeo. Avaline produces a fine example of Penedes white. Finally, we visit the Rioja region. While it is historically and internationally famous for its reds, Rioja also produces fine Spanish white wines. These are usually based on Viura (the local name for Macabeo) and make good everyday sippers, although some aged versions can be stunningly complex. A good place to start is the white Rioja from Bodegas Muga.
As you can see, Spanish white wines offer a vast opportunity for exploration!
EWLSPACR2CE12_2012
Item#
148502