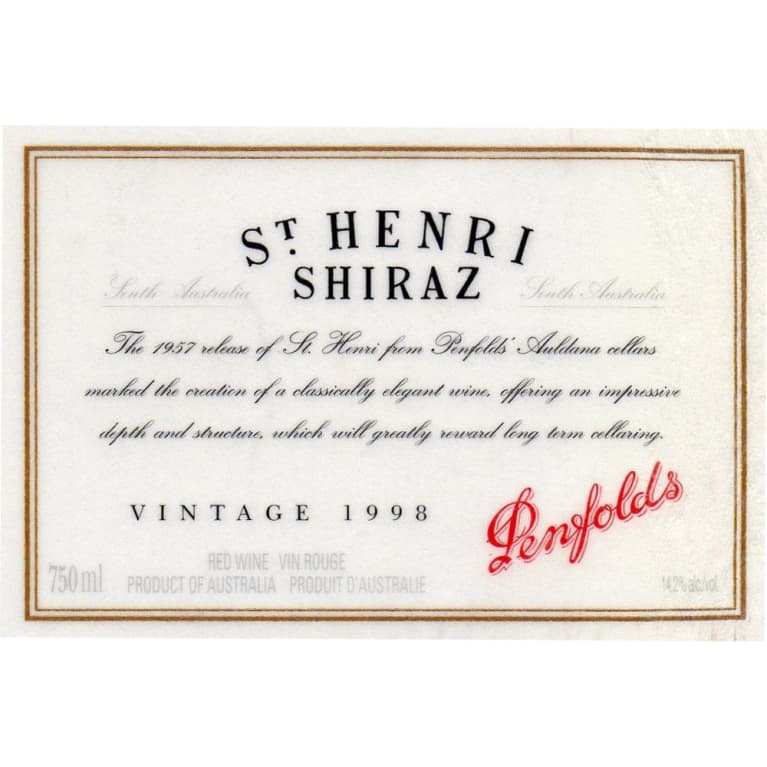 Penfolds St. Henri Shiraz 1998
Winemaker Notes
The Penfolds St Henri style is a dramatic contrast to Penfolds Grange. St Henri is pure, unadorned Shiraz, virtually alone among high-quality Australian reds in that it has never relied on new oak. It was created in the mid-1950s (first commercial vintage 1957) and has gained a new lease on life in the 1990s as its quality and distinctive style became better understood.
Penfolds St Henri is rich and plush when young and gains soft, earthy, mocha-like characters as it ages. Before bottling it is matured in old, 2000 litre vats that allow the wine to develop, but impart no oak character. A small proportion of Cabernet is used to improve structure, but the focal point for Penfolds St Henri is Shiraz, often comprising over 95% of the blend. Packaged in laser-etched bottles since the 1996 vintage.
This is a concentrated, dark wine, with intense summer berry fruits forming a rich ball of flavour on the tongue and offering plenty of depth and palate length. There are fine, ripe tannins that extend into a well-structured velvety texture, with waves of perfume, warm spices and berries running through the finish. Many hallmarks of a very fine wine indeed, akin to the 1990 upon its release.
"Dense, inky purple hue. Nose of rhubarb, plum and blueberry. Slightly sweet palate notes with a walnut accent. Tart black cherry flavors and continued big, oaky tannins with good backing acidity." 90 Points
The Wine News

Penfolds has been producing remarkable wines since 1844 and indisputably led the development of Australian fine wine in the modern era. The introduction of Penfolds Grange in 1951 forever changed the landscape of Australian fine wine. Since then a series of stand-out wines both white and red have been released under the Penfolds masthead.
Peter Gago, Penfolds Chief Winemaker and only the 4th custodian of Grange, relishes the opportunity to bring Penfolds to the world stage and is an enthusiastic ambassador and natural educator. Penfolds came to the attention of the US market when 1990 Grange was Wine Spectator's 'Wine of the Year'. Since then, Penfolds Grange has become one of the most collectable wines of the world and was honored to grace the front cover, once again, of Wine Spectator, with declarations of Grange as Australia's Icon.
Though Syrah originated in the Rhône Valley of France, Australia is home to the oldest Syrah (called Shiraz here) vines on the planet. Found in Australia's Barossa Valley, where phylloxera has never threated viticulture, these ancient vines are between 140 to 175 years old!
Having brought fame and merit to the country's wine scene since the early 1950s, namely via the debut of Penfolds Grange, today Syrah (Shiraz) claims rank as the most widely planted grape in Australia. In fact, the amount of land dedicated to Shiraz in Australia is now almost equivalent to what it is in France. Australian Shiraz has its own personality with flavors and aromas of intense blackberry, fruitcake, menthol, tobacco leaf and umami. Conveniently one can find great Australian Shiraz at a variety of price points but the very best will be dense, gloriously complex and capable of long aging.
CWYSTHENRI_1998
Item#
52697