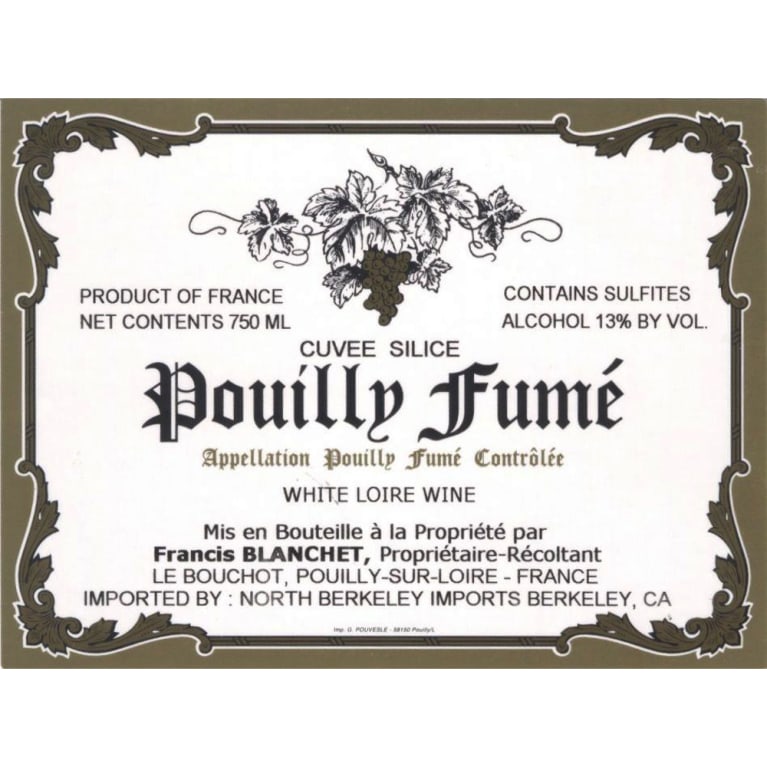 Domaine Francis Blanchet Pouilly Fume Cuvee Silice 2007
Ships Mon, Dec 7
Limit
0
bottles
per customer
Winemaker Notes
Winemaker Francis Blanchet's vineyard is 100% flint stone—crack two rocks together and it's as if you've shot a cap gun—sweet, mineral smoke. The mouth is incredibly juicy, with suggestions of lychee gelato and Meyer lemon, a touch of herbs and metal shavings. Organically raised; low sulfur.
"The 2007 Pouilly-Fume Silice smells of fresh lime, cassis, and fennel. Luscious and loaded with generous, juicy citrus fruit, it plays the typical role for this Blanchet cuvee: more charming, and generous earlier than the Vieilles Vignes. All the brightness and intensity of this grower's other 2007s are here though – in spades, and its chalky, saline, citric, tartly black-fruited finish literally tugs at your salivary glands."
Wine Advocate
You may never have heard of "scratch and sniff" terroir before, but the vineyards in Pouilly-Fumé offer an aromatic, unforgettable lesson on Sauvignon Blanc's flinty soul.
We stood in the center of the "Silice" vineyard during a recent visit when winemaker Francis Blanchet grabbed two rocks from the ground, smashed them together—and then held them up for us to smell. Now the whole terroir concept is interesting, but sniffing rocks is weird. But Blanchet insisted—and right there we got a good whiff of what makes "Cuvée Silice" so firecracker-fresh.
The unmistakable smell of an exploding cap gun, memories of childhood Fourth of July fun. These rocks, and the "Silice" vineyard, are 100% flint stone. The smoky energy in every one of these rocks is absorbed by each, perfect Sauvignon Blanc grape. It's what puts the smoke in "Fumé" and the bracing, enervating minerality in classic Sauvignon Blanc from this excellent estate. For more than a decade we've been lucky enough to sample Blanchet's crystalline Sauvignon Blanc and have been knocked off our feet each time. Here is white wine with both bite and body, sweet white fruit wrapped in a refreshingly light, citrus lining. Exactly what Pouilly-Fumé is supposed to be—balanced, fresh and fruity, and at its heart a stony, flint-inspired soul.
North Berkeley Imports
Praised for its stately Renaissance-era chateaux, the picturesque Loire valley produces pleasant wines of just about every style. Just south of Paris, the appellation lies along the river of the same name and stretches from the Atlantic coast to the center of France.
The Loire can be divided into three main growing areas, from west to east: the Lower Loire, Middle Loire, and Upper/Central Loire. The Pay Nantais region of the Lower Loire—farthest west and closest to the Atlantic—has a maritime climate and focuses on the Melon de Bourgogne variety, which makes refreshing, crisp, aromatic whites.
The Middle Loire contains Anjou, Saumur and Touraine. In Anjou, Chenin Blanc produces some of, if not the most, outstanding dry and sweet wines with a sleek, mineral edge and characteristics of crisp apple, pear and honeysuckle. Cabernet Franc dominates red and rosé production here, supported often by Grolleau and Cabernet Sauvignon. Sparkling Crémant de Loire is a specialty of Saumur. Chenin Blanc and Cabernet Franc are common in Touraine as well, along with Sauvignon Blanc, Gamay and Malbec (known locally as Côt).
The Upper Loire, with a warm, continental climate, is Sauvignon Blanc country, home to the world-renowned appellations of Sancerre and Pouilly-Fumé. Pinot Noir and Gamay produce bright, easy-drinking red wines here.
Capable of a vast array of styles, Sauvignon Blanc is a crisp, refreshing variety that equally reflects both terroir and varietal character. Though it can vary depending on where it is grown, a couple of commonalities always exist—namely, zesty acidity and intense aromatics. This variety is of French provenance. Somm Secret—Along with Cabernet Franc, Sauvignon Blanc is a proud parent of Cabernet Sauvignon. That green bell pepper aroma that all three varieties share is no coincidence—it comes from a high concentration of pyrazines (herbaceous aromatic compounds) inherent to each member of the family.
NBI133515_2007
Item#
98483