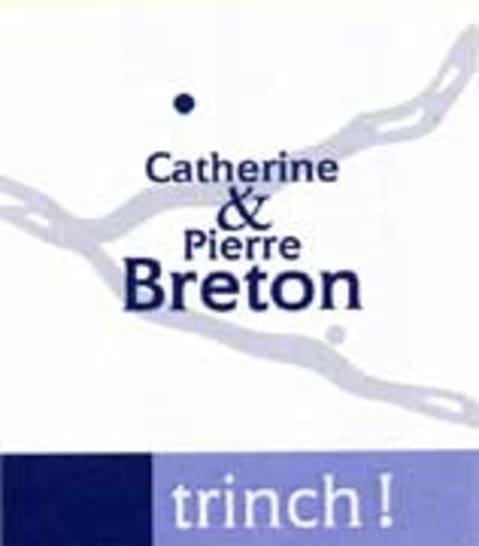 Catherine & Pierre Breton Trinch! 2005
Out of Stock

(was $14.99)
Winemaker Notes
"Concentrated and pure, with delicious black currant and black cherry fruit, along with sweet tobacco, iron and dark chocolate notes. Finish is bright thanks to fresh acidity. Drink now through 2009."
-
Wine Spectator
Cabernet Franc from the Loire Valley is finally receiving long overdue respect. Remarkably juicy, textured, versatile with food, and immensely age worthy, the Cabernet Franc wines of Bourgueil, Chinon, Saumur and St-Nicolas-de-Bourgueil are both a traditional staple and a rediscovered rage on the Paris bistro/wine bar scene. Chief among the best Loire red winemakers is Pierre Breton (whose last name is also the name for Cabernet Franc in the local dialect).
Trinch! (In French, this is the sound of two glasses clinking) is a wine for drinking immediately, slightly chilled. It is delicate and refreshing with an uncanny ability to go well with a range of food, but with salmon it is a perfect match.
Catherine and Pierre Breton are real life bon vivants vignerons of lore. They are passionate about what they do, enjoy sharing it with others, and entertain with a generosity and charm. That they make great wine with such integrity makes our appreciation of them complete. The Bretons farm 11 hectares just east of Bourgueil in the village of Restigné. They produce Chinon, Bourgueil, and a bit of Vouvray, creating honest wines for both early consumption and aging. The Bretons received organic certification in 1991 and recently began the three-year process of seeking biodynamic certification. They've become international icons for the natural wine movement in an area where the climate and soil can make organic viticulture difficult.Pierre and Catherine Breton's wines are served at virtually every hot wine bar in Paris. Pierre makes several cuvées from various vineyard sites and his cuvée of plain Bourgueil is his most accessible wine, meant for immediate drinking pleasure.
Pierre Breton, left, practices organic viticulture and uses only a minimal dosage of sulfur. The wine is classified as made from "organic agriculture".
Praised for its stately Renaissance-era chateaux, the picturesque Loire valley produces pleasant wines of just about every style. Just south of Paris, the appellation lies along the river of the same name and stretches from the Atlantic coast to the center of France.
The Loire can be divided into three main growing areas, from west to east: the Lower Loire, Middle Loire, and Upper/Central Loire. The Pay Nantais region of the Lower Loire—farthest west and closest to the Atlantic—has a maritime climate and focuses on the Melon de Bourgogne variety, which makes refreshing, crisp, aromatic whites.
The Middle Loire contains Anjou, Saumur and Touraine. In Anjou, Chenin Blanc produces some of, if not the most, outstanding dry and sweet wines with a sleek, mineral edge and characteristics of crisp apple, pear and honeysuckle. Cabernet Franc dominates red and rosé production here, supported often by Grolleau and Cabernet Sauvignon. Sparkling Crémant de Loire is a specialty of Saumur. Chenin Blanc and Cabernet Franc are common in Touraine as well, along with Sauvignon Blanc, Gamay and Malbec (known locally as Côt).
The Upper Loire, with a warm, continental climate, is Sauvignon Blanc country, home to the world-renowned appellations of Sancerre and Pouilly-Fumé. Pinot Noir and Gamay produce bright, easy-drinking red wines here.
Cabernet Franc, a proud parent of Cabernet Sauvignon, is the subtler and more delicate of the Cabernets. Today Cabernet Franc produces outstanding single varietal wines across the wine-producing world. Somm Secret—One of California's best-kept secrets is the Happy Canyon appellation of Santa Barbara. Here Cabernet Franc shines as a single varietal wine or in blends, expressing sumptuous fruit, savory aromas and polished tannins.
PSLFBE021_2005
Item#
90559