Ameztoi Getariako Txakolina 2013
Regular price
Currently Unavailable

$19.99
Winemaker Notes
Just five minutes down the coast from San Sebastian, Ameztoi's vineyards overlook the Atlantic Ocean. The Ameztoi family has been making txakolina in Getaria for seven generations, utilizing the indigenous Hondarribi Zuri and Hondarribi Beltza grapes to craft a light, crisp wine bottled with residual carbon to give it its signature natural spritz. This spritz makes Ameztoi Txakolina an ideal wine to pair with seafood or the local favorite: tapas.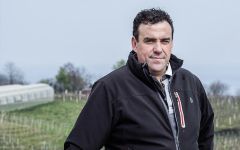 Ameztoi is a renowned producer in Getariako Txakolina, respected for producing both traditional wines in large barrels, and as an innovator for their rosé txakolina and méthode traditionnelle sparkling wines. Ameztoi owns twenty hectares of estate vineyards located in the most privileged position in the region, facing the Bay of Biscay. High in the vineyards, planted on the dramatic seaside cliffs of the ancient fishing village of Getaria, one can see the town of San Sebastian, which lies just twenty minutes away along a serpentine highway.
Ignacio Ameztoi is the fifth generation of his family to carry on the tradition of making txakolina in the province of Getaria, and he has played a key role in the advancement of the region in the last decade. His intuitive and fearless pursuit of innovation has been a driving force in the txakolina discipline. Ameztoi Txakolina is traditionally built with high acidity and low alcohol, utilizing only native varieties hondarrabi zuri and hondarrabi beltza. The wine is fermented in refrigerated stainless steel tanks utilizing indigenous yeasts from the vineyard. The tanks are closed to preserve natural carbonation from fermentation, which is the preferred style of Getaria. The tanks are kept chilled to near 32 degrees Fahrenheit before bottling, which preserves the wine's delicate, effervescent character and signature mousse. These attributes are unattainable through shortcuts such as force-carbonation, which Ameztoi has never employed. The iconic Rubentis rosé is a field blend of hondarrabi zuri and hondarrabi beltza varieties, which are co-fermented for three weeks. When most local wineries gave up on the indigenous red hondarrabi beltza vines, the Ameztoi family retained their old vines, which gives their rose exceptional vibrancy and complexity. Rubentis, the region's first pink wine, was inspired by the historic claret style wines which were once produced in the area long before the current global craze made rosé famous. The backbone of the blend comes from a hondarrabi beltza vineyard planted in 1840, preserved by the Ameztoi family for generations. Ignacio Ameztoi has also continued to innovate with his exploration of méthode traditionnelle sparkling wines, led by his Hijo de Rubentis, a sparkling rosé from old-vine hondarrabi beltza grapes. His inspiration to use his area's signature low alcohol and refreshing acidity as an ally to craft exceptional bottle-fermented sparkling wines has resulted in new possibilities for the region. Txakoli is more than a wine with its own personality, it is the continuation of a centuries-old tradition cultivated along the Basque coast. This tradition is manifested in Ameztoi's Primus cuvée, which utilizes a selection of their best hondarrabi zuri grapes, resulting in a traditional, deeply satisfying wine which conveys the gravity of the Basque culinary heritage. As with all Ameztoi bottlings, quality of ingredients and respect for their region is the driving force behind their approach.
White grapes are used in two famous types of Spanish wine, Sherry and Cava, but we will limit this discussion to still whites. Let's begin with perhaps the best known and most highly regarded internationally, Albariño . Produced in the region of Rías Baixas, just above Portugal in northwestern Spain, Albariño typically sees no or little oak and is medium to medium-plus in body. Aroma and flavor notes often include citrus and peach, often with subtle floral notes and a suggestion of sea spray, giving the wine a zesty feel. Often bottled as a single varietal, Albariño is sometimes blended with other indigenous grapes like Loureira and Treixadura. Try one of these Spanish whites from Forjas del Salnes.
Let's look at a few other Spanish white wines. Godello also hails from northwestern Spain and presents a profile of grapefruit, minerality and a slight smoky quality. Enjoy a bottle from Bodegas Avancia. The region of Rueda, northwest of Madrid, is home to Verdejo , which makes refreshing, un-oaked white wines whose herbal vibrancy recalls Sauvignon Blanc . Protos makes a tasty version. Up north in the Basque region, we find the wine called Txakoli (sometimes called Txakolina). Pronounced "sha-ko-LEE," it's made from a local grape called Hondurrabi Zuri and is light, fresh, citrusy, dry … and with razor sharp acidity that makes it a fantastic partner with local seafood and tapas. Ameztoi Gertariako is a good Spanish white wine producer to check out.
The Penedѐs region, best known for the oceans of delicious Cava it sends to the world, also produces still Spanish whites, sometimes from international varieties like Chardonnay , and often from the same grapes used for Cava. These include Parellada, Xarel-lo and Macabeo. Avaline produces a fine example of Penedes white. Finally, we visit the Rioja region. While it is historically and internationally famous for its reds, Rioja also produces fine Spanish white wines. These are usually based on Viura (the local name for Macabeo) and make good everyday sippers, although some aged versions can be stunningly complex. A good place to start is the white Rioja from Bodegas Muga.
As you can see, Spanish white wines offer a vast opportunity for exploration!
BHSSPAMETXAK2013_2013
Item#
132105