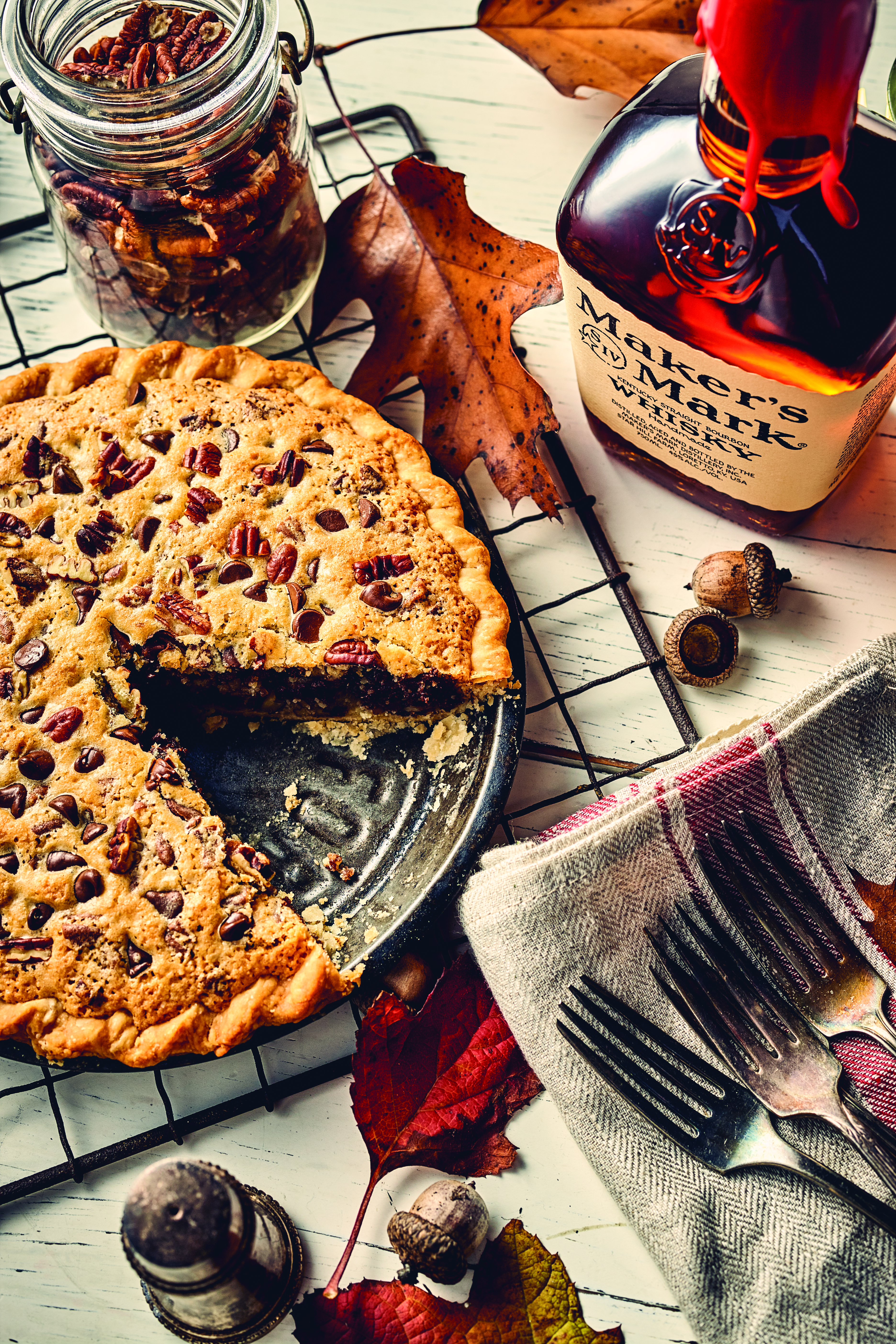 Bourbon Pecan Pie
1/4 cup Maker's Mark Bourbon
2 large eggs
1 cup sugar
1 stick unsalted butter, melted and cooled
1 1/2 cup pecans, toasted and coursely chopped
1 cup semi-sweet chocolate chips
1 pie crust
Place pie weights or dried beans on top of pie crust, and bake at 425 degrees for 25 minutes or until crust is dry around the edges and just beginning to brown.

Meanwhile, make the filling: In a large bowl, whisk the eggs and sugar. Continue whisking while adding the butter and then the bourbon. Stir in 1/2 cup of flour until well-combined. Stir in the pecans and chocolate chips. Pour into the warm pie shell.

Bake until the filling is set and the top golden, about 30 minutes. Cool in the pan on a wire rack. Serve warm or at room temperature.
Eggnog Spiced Butter Cookies
2 tbsp Maker's Mark Bourbon
1 cup sugar
1 cup unsalted butter, at room temp
1/2 cup molasses
1 large egg yolk
3 cups all-purpose flour
1/4 tsp nutmeg
1/4 tsp cinnamon
1/4 tsp cloves
1 tsp salt
Mix butter and sugar with mixer until fluffy. Slowly add in egg yolk, Maker's Mark and molasses. In a separate bowl, mix flour, spices and salt. Add to butter mixture and mix until combined. The dough will be in clumps. Pack them together and chill dough for at least 4 hours (and up to 4 days) until firm.

Preheat oven to 350°F. Roll out dough into 1/8-inch thickness and cut into shape of choice. Bake for 8–11 minutes each or until lightly golden on the edges. Transfer to racks to cool.
Flourless Bourbon Brownies
1/4 cup Maker's Mark Bourbon
1 1/4 sticks of unsalted butter, plus more for pan
1/4 cup unsweetened cocoa powder
2 cups semi-sweet chocolate chips
4 large eggs
1/2 cup confectioners' sugar
Preheat the oven to 325°F. Butter an 8-inch square baking pan, line with parchment paper or foil and butter the parchment.

In a large saucepan, heat the butter and bourbon over medium heat, stirring occasionally, until the butter melts. Stir in the cocoa powder until smooth. Remove from the heat and immediately add 1-1/2 cups chocolate chips. Stir until smooth. Let cool slightly.

Add the eggs, one at a time, beating well after each addition. Stir in confectioners' sugar until well-combined. Transfer to pan and spread in an even layer. Sprinkle remaining 1/2 cup chocolate chips on top.

Bake until glossy and a toothpick comes out clean, about 20 minutes. Cool completely in the pan on a wire rack.