Veuve Clicquot La Grande Dame 2008
Winemaker Notes
La Grande Dame, the prestige cuvée of Veuve Clicquot was created in tribute to Madame Clicquot. The finest expression of the House style it is a wine of incomparable finesse.
Veuve Clicquot La Grande Dame 2008 is a great wine for gastronomy. This cuvée will pair extremely well with oysters, fish tartare, seafood or even chicken with sesame.
On the eye, La Grande Dame 2008 light gold color has a surprising glint. The initial nose reveals a strong attack, both aerial and delicate. Upon being released it presents notes of dried fruits (almonds, figs, apricots), ripe white fruits (pears), and finally, subtle toasted notes of hazelnut and praline. Thus, those luscious pastry notes are well balanced with the blend's freshness and clarity.
On the palate, the attack is strong and sharp. La Grande Dame 2008 bestows a silky texture upon young fruits, carried by citrus and red fruits (cherry) notes. The Pinot Noir, a signature of the Veuve Clicquot's style, shines extraordinarily by its freshness, minerality, and power. La Grande Dame 2008 is a perfect combination of complexity, structure, and strength.
La Grande Dame 2008 is an exclusive blend of 6 of the House's 8 historical Grands Crus. 
Blend: 92% Pinot Noir (Ay, Ambonnay, Bouzy, Verzy, Verzenay) and 8% Chardonnay (Le-Mesnil-sur-Oger)
Critical Acclaim
All Vintages
Now almost blanc de noirs, boasting 92% Pinot Noir and just 8% Chardonnay from 60%-70% estate vineyards. La Grande Dame is one of the most affordable of Champagne's elite prestige set, and the stunning 2008 vintage was intricately engineered by the masterful Dominique Demarville for the long haul. It unites all of the enduring potential of its thundering grands crus with the tension and energy of this legendary season, colliding high-tensile acidity with deep, fine, powdery chalk minerality, bringing its finish into stark focus.
An elegant Champagne, powered by a sculpted frame of acidity and minerality, this wears the refined, lacy mousse and well-meshed flavors of black currant, lemon curd, toast and marzipan like finely tailored clothing. Fresh and lasting, with hints of spice and smoke on the finish.
This is a sunny and delicious 2008, with brightness infusing the wine, from its platinum color to its mineral intensity, transforming its richness and power into cool elegance. Notes of agave and cassia bark add depth, suggesting the complexity this will develop with further bottle age.
Still very youthful, this proves that pinot noir can give super-elegant, cool and tightly focused Champagne. Toastiness and spice build on the very long and tightly wound finish. Almost a blanc de noir with just 10% chardonnay blended into the overwhelming majority of pinot noir. Drink or hold.
Exhibiting aromas of pear, toasted brad, confit citrus and smoke, the 2008 Brut La Grande Dame is full-bodied, rich and textural, with a deep and layered core, ripe but racy acids and a saline finish. A blend dominated by fully 92% Pinot Noir, this is true to the cuvée's rich and muscular style, but the vintage lends it welcome additional cut and precision. It's showing a lot better than the bottles I tasted in the United States last year.
View More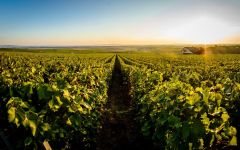 Learn about Veuve Clicquot, the history of the brand, its innovative winemaking techniques, and its signature Veuve Clicquot Yellow Label Brut Champagne. 
History of Veuve Clicquot
Veuve Clicquot, now one of the largest Champagne Houses, was founded in 1772 by Philippe Clicquot under the label "Clicquot". After establishing the brand throughout Europe, Russia and the United States, Philippe was joined by his son, François Clicquot, at the head of the House in 1798. Seven years later, following his untimely death, François' young widow, Barbe Ponsardin, took over the family business at just 27 years old. The House would subsequently be renamed in her honor: 'Veuve Clicquot' means 'The Widow Clicquot.'
Innovating Champagne Production
Over the course of her lifetime, Madame Clicquot (Barbe Ponsardin), developed three of the most important innovations in Champagne that are still practiced today. First, in 1810 Veuve Clicquot produced the first vintage wine in Champagne, which otherwise produced non-vintage blends. Second, in 1816 Madame Clicquot invented the riddling table to clarify Veuve Clicquot champagne, and by doing so, she improved both the quality and finesse of the wines. Riddling is now fundamental to 'La Methode Traditionelle' (the traditional Champagne production method) and is emulated around the world. Finally, in 1818 Madame Clicquot created the first rose champagne made through 'assemblage', a method where white wines are blended with red wines.
Veuve Clicquot Yellow Label Brut
The distinctive, 90+ rated, Veuve Clicquot Yellow Label Brut has been in production since 1877. It is distinguished by the dominance of Pinot Noir in its blend, which gives strength, complexity and elegance to the champagne.
Veuve Clicquot Pronunciation: 
vœv kliko / vuhv klee-koh
100% of Veuve Clicquot vineyards use sustainable viticulture. 
Associated with luxury, celebration, and romance, the region, Champagne, is home to the world's most prized sparkling wine. In order to bear the label, 'Champagne', a sparkling wine must originate from this northeastern region of France—called Champagne—and adhere to strict quality standards. Made up of the three towns Reims, Épernay, and Aÿ, it was here that the traditional method of sparkling wine production was both invented and perfected, birthing a winemaking technique as well as a flavor profile that is now emulated worldwide.
Well-drained, limestone and chalky soil defines much of the region, which lend a mineral component to its wines. Champagne's cold, continental climate promotes ample acidity in its grapes but weather differences from year to year can create significant variation between vintages. While vintage Champagnes are produced in exceptional years, non-vintage cuvées are produced annually from a blend of several years in order to produce Champagnes that maintain a consistent house style.
With nearly negligible exceptions, . These can be blended together or bottled as individual varietal Champagnes, depending on the final style of wine desired. Chardonnay, the only white variety, contributes freshness, elegance, lively acidity and notes of citrus, orchard fruit and white flowers. Pinot Noir and its relative Pinot Meunier, provide the backbone to many blends, adding structure, body and supple red fruit flavors. Wines with a large proportion of Pinot Meunier will be ready to drink earlier, while Pinot Noir contributes to longevity. Whether it is white or rosé, most Champagne is made from a blend of red and white grapes—and uniquely, rosé is often produce by blending together red and white wine. A Champagne made exclusively from Chardonnay will be labeled as 'blanc de blancs,' while ones comprised of only red grapes are called 'blanc de noirs.'
Representing the topmost expression of a Champagne house, a vintage Champagne is one made from the produce of a single, superior harvest year. Vintage Champagnes account for a mere 5% of total Champagne production and are produced about three times in a decade. Champagne is typically made as a blend of multiple years in order to preserve the house style; these will have non-vintage, or simply, NV on the label. The term, "vintage," as it applies to all wine, simply means a single harvest year.
SOU921721_2008
Item#
507963