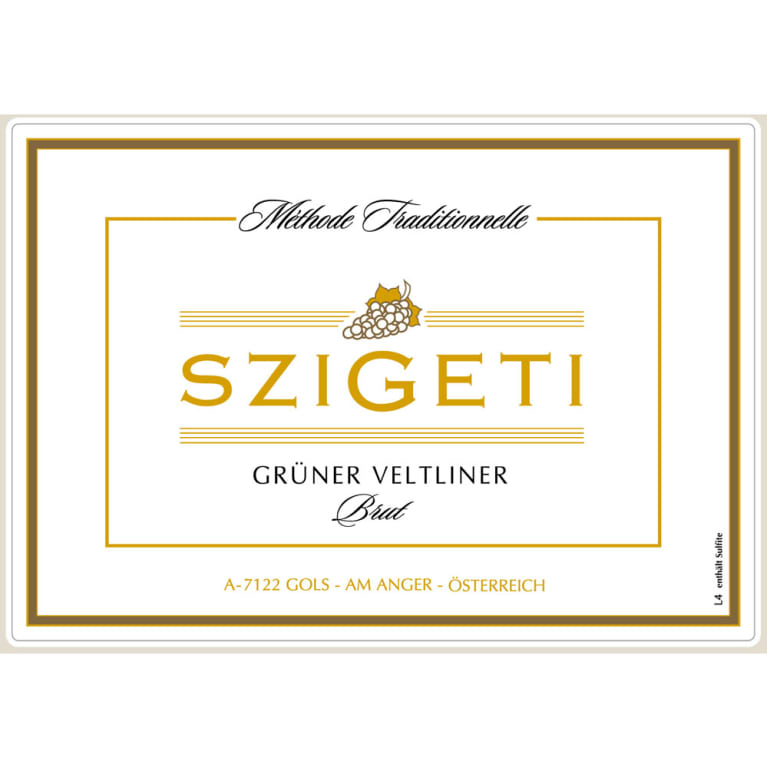 Szigeti Gruner Veltiner Brut
Ships today if ordered in next 6 hours
Winemaker Notes
The Grüner Veltliner is delicate yet complex, with a mellow citrus color- appealing peppery note, elegantly fresh fruit and fine Mousseux with an invigorating finish.
Pair with spiced crab cakes, arugula salad, or oysters.
Critical Acclaim
All Vintages
This is round and ripe, with silky texture behind the fine bubbles. It has vegetal sweetness, like roasted red peppers, that suggests a match with cheese biscuits or pimento cheese and crackers.
Best Buy
View More
Szigeti (pronounced ZIG-it-ee) was part of the new wave of Austrian sparkling wine producers in the 1990s who focused on high-quality, traditional method Sekt. The company began in 1991 when brothers Peter and Norbert Szigeti took over the family business in the village of Gols. Norbert trained in enology and worked in a large sparkling wine firm in Vienna, while Peter completed hotel management school and worked both in Austria and abroad. Szigeti operates as a négociant, buying fruit from contracted growers and owning no vineyards. A broad range of wines are produced, all by the traditional method, and all made in fresh style with clear varietal expression. In 2018, Peter Szigeti became the sole proprietor of the winery. 
Fog and humidity arise from the Neusiedlersee (lake), and extend over the wet flatlands region of the same name, all the way to Austria's border with Hungary. This moisture, coupled with the daily sunshine that reflects from its wet surfaces, serves as the perfect environment for the development of the desirable fungus called, Botrytis cinerea.
This fungus causes the grapes to essentially "rot" and dry, concentrating their sugars for harvest. It also helps the grapes develop intricate phenolic complexities leading to some of the most sought-after and unique sweet wines in the world. Austrian law categorizes these botrytized, sweet wines according to the must weight (sugar concentration) at harvest in the same way as the Germans. So the wines will be labeled, Auslese, Beerenauslese, Trockenbeerenauslese and Eiswein.
While the region's reputation has historically ridden on the success of its sweet, botrytized wines, in 2011, Austria granted the official appellation of origin, Neusiedlersee, to its high quality Zweigelt red wines. As a result, any of its prestigious sweet wines will be actually be labeled after the general region of Burgenland.
Neusiedlersee's slopes of mica, schist, limestone and variations in gravel, sand and clay make it ideal for its indigenous red varieties, Blaufränkisch, St. Laurent and Zwiegelt, as well as the international varieties of Pinot Noir (Blauburgunder), Merlot, Cabernet and even Syrah.
Though not widely planted here, some white wines, such as Pinot Blanc (Weissburgunder), have distinguished themselves locally.
A term typically reserved for Champagne and Sparkling Wines, non-vintage or simply "NV" on a label indicates a blend of finished wines from different vintages (years of harvest). To make non-vintage Champagne, typically the current year's harvest (in other words, the current vintage) forms the base of the blend. Finished wines from previous years, called "vins de reserve" are blended in at approximately 10-50% of the total volume in order to achieve the flavor, complexity, body and acidity for the desired house style. A tiny proportion of Champagnes are made from a single vintage.
There are also some very large production still wines that may not claim one particular vintage. This would be at the discretion of the winemaker's goals for character of the final wine.
HNYSZIVBTNVC_0
Item#
166023