Seghesio Sonoma Zinfandel (half-bottle) 2001
Out of Stock

(was $10.99)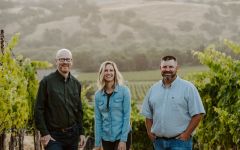 Established in 1895, Seghesio Family Vineyards produces benchmark Zinfandels that honor five generations of winegrowing leadership, and share the heart of Sonoma County and their Italian heritage. Seghesio Family Vineyards encompasses more than 300 acres of estate vineyards in the Alexander, Dry Creek and Russian River Valleys – that also represent a significant amount of Old Vine plantings that are more than 50 years old and up to 125 years old.
With a passionate belief that wine is made in the vineyard, Seghesio Family Vineyards pairs more than a century's worth of experience in the vineyard with labor-intensive farming techniques that reduce yields, increase quality and ensure wines of outstanding purity and balance. True to the winery's heritage, Seghesio Family Vineyards is focused mainly on Zinfandel and a handful of Italian varieties. Andy Robinson is the winemaker.
Seghesio Family Vineyards has always thrived to protect the environment and their communities. It has become clear to us that the emission of Green House Gases (GHG) not only is the biggest environmental threat, but also that the majority of environmental advances are tied to their ability to emit less GHG. They have embarked on a fundamental transformation of how they grow grapes and make wines and have joined international organizations such as the Porto Protocol and the International Wineries for Climate Action (IWCA). They have committed to reduce their GHG emissions by 50% by 2030 and 100% by 2050.