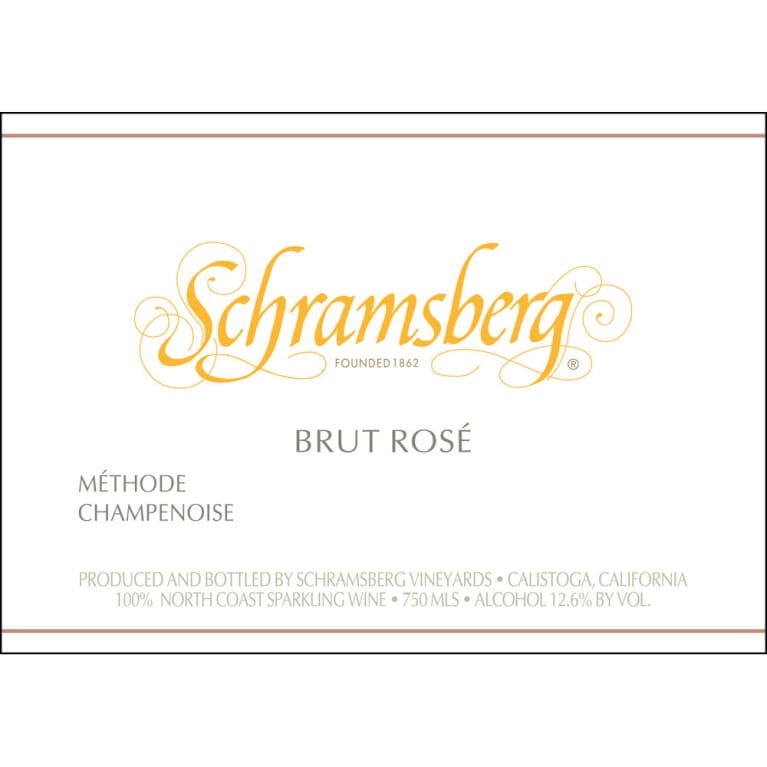 Schramsberg Brut Rose 2013
Currently Unavailable

$39.99
Ships Wed, Mar 4
Limit
0
bottles
per customer
Winemaker Notes
The 2013 Brut Rose has generous aromas of mixed red berry, orange blossom, and white peach. Its fruitful nose is complemented by notes of strawberry cream pie and brioche. On the palate, there are bursts of raspberry sorbet, lemon custard, and summer apricot. The wine has a fresh, juicy acidity which drives to a bright, vibrant finish.
Blend: 61% Pinot Noir, 39% Chardonnay
Critical Acclaim
All Vintages
Sleek and expressive, with floral strawberry and spicy vanilla aromas and delicately layered flavors of apple and lemon zest, accented by hints of ginger and spice. Drink now. 8,480 cases made.
60% Pinot Noir; 40% Chardonnay. Its youth deals this wine a lively hand, but underneath those first whiffs of strawberry-like fruit, there is complexity in the form of slightly toasty, slightly vanillin yeastiness with a distinct roasted cream edge. Strong and insistent in its mousse with smaller bubbles than its age would suggest, the wine is firm, a bit tight and yet polished all at the same time. Its deep, very likeable, infused fruit character and its yeasty richness hold on at the end and make a convincing case that bottle age has a place here.
This lively and flavorful wine has a light copper color, lean and fresh cherry and plum flavors, a rich mousse of bubbles and clean, tangy finish. It's a great example of a rosé that doesn't overdo it.
View More
Focused on Schramsberg's top Chardonnay barrel and tank lots, and aged for seven years prior to release, J. Schram is the winery's signature Brut sparkling wine. Jack and Jamie Davies revived the historic vineyards and cellars in 1965, with a mission to produce California's first world-class sparkling wines. Today, led by their son Hugh, Schramsberg's team continues with this commitment to quality and innovation. Schramsberg also produces the J. Schram Rose, Reserve, Blanc de Blancs, Blanc de Noirs, Brut Rose, Cremant Demi-Sec and J. Davies Diamond Mountain Cabernet Sauvignon.
Reaching up California's coastline and into its valleys north of San Francisco, the North Coast AVA includes six counties: Marin, Solano, Napa, Sonoma, Mendocino and Lake. While Napa and Sonoma enjoy most of the glory, the rest produce no shortage of quality wines in an intriguing and diverse range of styles.
Climbing up the state's rugged coastline, the chilly Marin County, just above the City and most of Sonoma County, as well as Mendocino County on the far north end of the North Coast successfully grow cool-climate varieties like Pinot Noir, Chardonnay and in some spots, Riesling. Inland Lake County, on the other hand, is considerably warmer, and Cabernet Sauvignon, Zinfandel and Sauvignon Blanc produce some impressive wines with affordable price tags.
What are the different types of Champagne and sparkling wine?
Beloved for its lively bubbles, sparkling wine is the ultimate beverage for any festivity, whether it's a major celebration or a mere merrymaking of nothing much! Sparkling wine is made throughout the winemaking world, but only can be called "Champagne" if it comes from the Champagne region of France and is made using what is referred to as the "traditional method." Other regions have their own specialties—Crémant in other parts of France, Cava in Spain and Prosecco in Italy, to name a few. New World regions like California, Australia and New Zealand enjoy the freedom to make many styles, with production methods and traditions defined locally. In a dry style, Champagne and sparkling wine goes with just about any type of food. Sweet styles are not uncommon and among both dry and sweet, you'll find white, rosé—or even red!—examples.
How is Champagne and sparkling wine made?
Champagne, Crémant, Cava and many other sparkling wines of the world are made using the traditional method, in which the second fermentation (the one that makes the bubbles) takes place inside the bottle. With this method, spent yeast cells remain in contact with the wine during bottle aging, giving it a creamy mouthful, toasted bread or brioche qualities and in many cases, the capacity to age. For Prosecco, the carbonation process usually occurs in a stainless steel tank (before bottling) to preserve the fresh fruity and floral aromas imminent in this style.
What gives Champagne and sparkling wine its bubbles?
The bubbles in sparkling wine are formed when the base wine undergoes a secondary fermentation, which traps carbon dioxide inside the bottle or fermentation vessel.
How do you serve Champagne and sparkling wine?
Ideally for storing Champagne and sparkling wine in any long-term sense, it should be at cellar temperature, about 55F. For serving, cool Champagne and sparkling wine down to about 40F to 50F. (Most refrigerators are colder than this.) As for drinking Champagne and sparkling wine, the best glasses have a stem and flute or tulip shape to allow the bead (bubbles) to show.
How long does Champagne and sparkling wine last?
Most sparkling wines like Prosecco, Cava or others around the "$20 and under" price point are intended for early consumption. Wines made using the traditional method with extended cellar time before release can typically improve with age. If you are unsure, definitely consult a wine professional for guidance.
WDW10000620302613_2013
Item#
159904