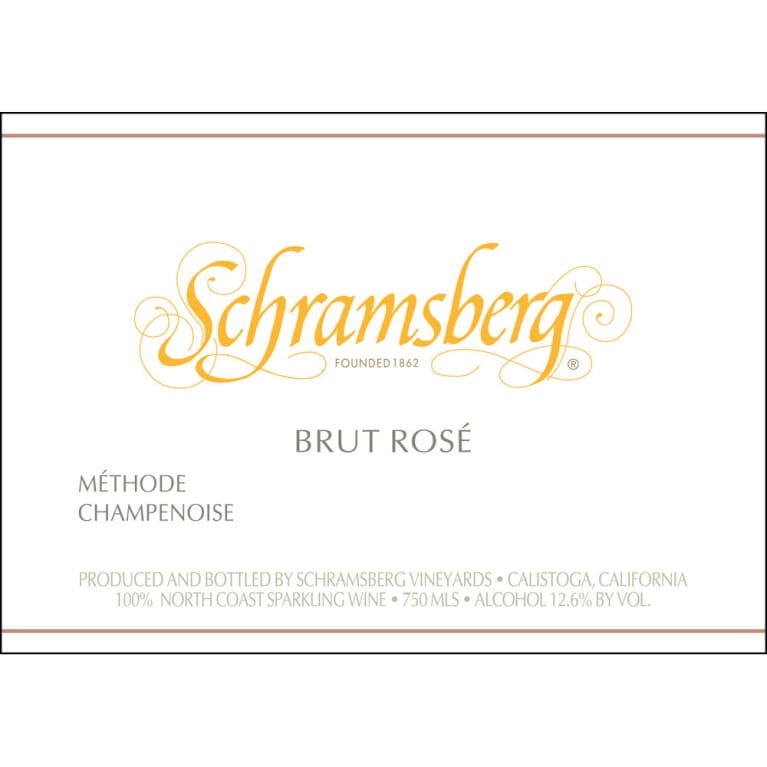 Schramsberg Brut Rose 2013
Out of Stock

(was $39.99)
Winemaker Notes
The 2013 Brut Rose has generous aromas of mixed red berry, orange blossom, and white peach. Its fruitful nose is complemented by notes of strawberry cream pie and brioche. On the palate, there are bursts of raspberry sorbet, lemon custard, and summer apricot. The wine has a fresh, juicy acidity which drives to a bright, vibrant finish.
Blend: 61% Pinot Noir, 39% Chardonnay
Critical Acclaim
All Vintages
Sleek and expressive, with floral strawberry and spicy vanilla aromas and delicately layered flavors of apple and lemon zest, accented by hints of ginger and spice. Drink now. 8,480 cases made.
60% Pinot Noir; 40% Chardonnay. Its youth deals this wine a lively hand, but underneath those first whiffs of strawberry-like fruit, there is complexity in the form of slightly toasty, slightly vanillin yeastiness with a distinct roasted cream edge. Strong and insistent in its mousse with smaller bubbles than its age would suggest, the wine is firm, a bit tight and yet polished all at the same time. Its deep, very likeable, infused fruit character and its yeasty richness hold on at the end and make a convincing case that bottle age has a place here.
This lively and flavorful wine has a light copper color, lean and fresh cherry and plum flavors, a rich mousse of bubbles and clean, tangy finish. It's a great example of a rosé that doesn't overdo it.
View More
In 1965, Jack and Jamie Davies founded Schramsberg and set out to make world-class sparkling wine in the true méthode traditionelle style on the property originally established in 1862 by German immigrant Jacob Schram. There were only 22 bonded wineries in Napa Valley and fewer than 100 acres of California vineyards planted to Chardonnay and Pinot Noir. Schramsberg was the first California winery to provide a Blanc de Blancs in 1965 followed by a Blanc de Noirs in 1967. Now their son, Hugh Davies, leads the winery's management and winemaking team.
The Schramsberg estate in Napa Valley's famed Diamond Mountain District is a registered historic landmark with Napa's first caves, hand-dug in the 1880s, and its first hillside vineyards. Quality focus drives all aspects of wine production starting with access to over 120 cool-climate sites in Carneros, Marin, Mendocino and Sonoma, which result in over 200 separate lots. Unique among California sparkling wine houses, Schramsberg ferments about 25 percent of its juice in oak barrels to produce rich, flavorful, complex wines.
Most of Schramsberg's viticultural and winemaking practices are carried out by hand: grapes are hand harvested, the wines are handcrafted, and the bottles are stacked and riddled in underground caves. The family and the winery embody excellence and innovation in winemaking, as well as preservation of their land, their history and their community.
Reaching up California's coastline and into its valleys north of San Francisco, the North Coast AVA includes six counties: Marin, Solano, Napa, Sonoma, Mendocino and Lake. While Napa and Sonoma enjoy most of the glory, the rest produce no shortage of quality wines in an intriguing and diverse range of styles.
Climbing up the state's rugged coastline, the chilly Marin County, just above the City and most of Sonoma County, as well as Mendocino County on the far north end of the North Coast successfully grow cool-climate varieties like Pinot Noir, Chardonnay and in some spots, Riesling. Inland Lake County, on the other hand, is considerably warmer, and Cabernet Sauvignon, Zinfandel and Sauvignon Blanc produce some impressive wines with affordable price tags.
What are the different types of sparkling rosé wine?
Rosé sparkling wines like Champagne, Prosecco, Cava, and others make a fun and festive alternative to regular bubbles—but don't snub these as not as important as their clear counterparts. Rosé Champagnes (i.e., those coming from the Champagne region of France) are made in the same basic way as regular Champagne, from the same grapes and the same region. Most other regions where sparkling wine is produced, and where red grape varieties also grow, also make a rosé version.
How is sparkling rosé wine made?
There are two main methods to make rosé sparkling wine. Typically, either white wine is blended with red wine to make a rosé base wine, or only red grapes are used but spend a short period of time on their skins (maceration) to make rosé colored juice before pressing and fermentation. In either case the base wine goes through a second fermentation (the one that makes the bubbles) through any of the various sparkling wine making methods.
What gives rosé Champagne and sparkling wine their color and bubbles?
The bubbles in sparkling wine are formed when the base wine undergoes a secondary fermentation, which traps carbon dioxide inside the bottle or fermentation vessel. During this stage, the yeast cells can absorb some of the wine's color but for the most part, the pink hue remains.
How do you serve rosé sparkling wine?
Treat rosé sparkling wine as you would treat any Champagne, Prosecco, Cava, and other sparkling wine of comparable quality. For storing in any long-term sense, these should be kept at cellar temperature, about 55F. For serving, cool to about 40F to 50F. As for drinking, the best glasses have a stem and a flute or tulip shape to allow the bead (bubbles) and beautiful rosé hue to show.
How long do rosé Champagne and sparkling wine last?
Most rosé versions of Prosecco, Champagne, Cava or others around the "$20 and under" price point are intended for early consumption. Those made using the traditional method with extended cellar time before release (e.g., Champagne or Crémant) can typically improve with age. If you are unsure, definitely consult a wine professional for guidance.
PBC1972942_2013
Item#
159904