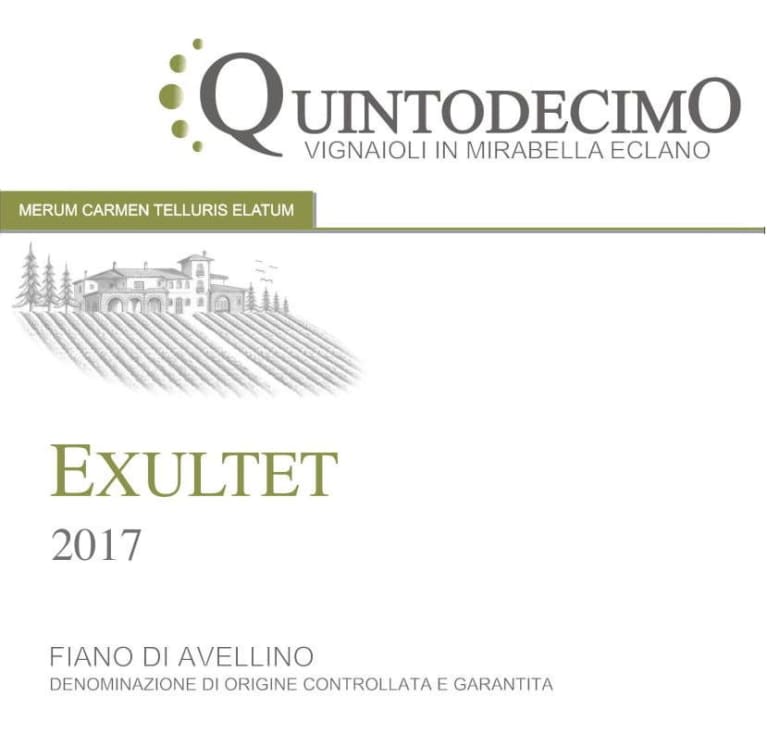 Quintodecimo Fiano di Avellino Exultet 2017
Winemaker Notes
Exultet is a sophisticated and elegant interpretation of fiano di Avellino. It is a cru produced exclusively with the grapes of one Fiano vineyard. It is yellow and luminous with green reflections And fragrances of linden, acacia and thyme. It is well structured With Flavors of exotic fruit, citrus and honey and a very soft Mineral note. This particular elegance also derives from a Partial fermentation in small oak barrels. It is a wine with great Longevity which can also age for some decades thanks to its Richness in precursors of aroma and the integrity of its Freshness and taste. The name given to the wine derives from Exultet of mirabella eclano in which we can also find a tribute to Bees. Exultet are liturgical parchments from the southern Italian middle ages. A kind of multimedial ante litteram product Made up by parchment papers sewed together, where the texts Of benedictio cerei were written accompained by musical Notations and miniatures put on the opposite side of the sheets.
Critical Acclaim
All Vintages
The wines of Quintodecimo excel in terms of mouthfeel and texture, and they show a richness that is for the most part unmatched by its peers. That's one important takeaway from the 2017 Fiano di Avellino Exultet, a wine that exhibits soft and silky contours. There are no hard edges here, yet the fruit freshness and purity rise unobstructed to the top of the bouquet with effortless intensity. This beautiful wine offers classic lines and a stunning inner naturalness that is so specific to this line from the Moio family. Rating: 93+
View More
The name of the winery, Quintodecimo, is an homage to the ancient story of Mirabella Eclano.Quintodecimo's wines were born in a very ancient territory to which we have a strong bond and have made an absolute commitment in producing high quality wines.
The Quintodecimo estate is located in a mountainous interior known as Irpinia. It is a beautiful area where climate, soil and vines coexist in an extraordinary balance that has fortified over the centuries to the point of creating ideal natural conditions for the production of high quality wines. The climate, because of the Apennine ridge, is characterized by abundant rainfall (average annual rainfall 600-800 mm), extreme temperatures, snowy winters and mild summers, with average temperatures which are never excessive. The Irpinia landscape is very original for an environment in southern Italy.
A winemaking renaissance is underfoot in Campania as more and more small, artisan and family-run wineries redefine their style with vineyard improvements and cellar upgrades. The region boasts a cool Mediterranean climate with extreme coastal, as well as high elevation mountain terroirs. It is cooler than one might expect in Campania; the region usually sees some of the last harvest dates in Italy.
Just south of Mount Vesuvio, the volcanic and sandy soils create aromatic and fresh reds based on Piedirosso and whites, made from Coda di Volpe and Falanghina. Both reds and whites go by the name, Lacryma Christi, meaning the "tears of Christ." South of Mount Vesuvio, along the Amalfi Coast, the white varieties of Falanghina and Biancolella make fresh, flirty, mineral-driven whites, and the red Piedirosso and Sciasinoso vines, which cling to steeply terraced coastlines, make snappy and ripe red wines.
Farther inland, as hills become mountains, the limestone soil of Irpinia supports the whites Fiano di Avellino, Falanghina and Greco di Tufo as well as the most-respected red of the south, Aglianico. Here the best and most age-worthy examples come from Taurasi.
Farther north and inland near the city of Benevento, the Taburno region also produces Aglianico of note—called Aglianico del Taburno—on alluvial soils. While not boasting the same heft as Taurasi, these are also reliable components of any cellar.
Fiano is an aromatic, white variety fully suited to the Apennine Mountains of Campania and has been documented in the region since the 13th century. It is at its best in the hills of Avellino where volcanic soils give it a charismatic aromatic lift and support a range of styles from taut and steely to nutty and smooth. Somm Secret—If you like Chardonnay, Viognier or Pinot Blanc, Fiano would be a great new wine to try!
GCWQUEF16_2017
Item#
528354