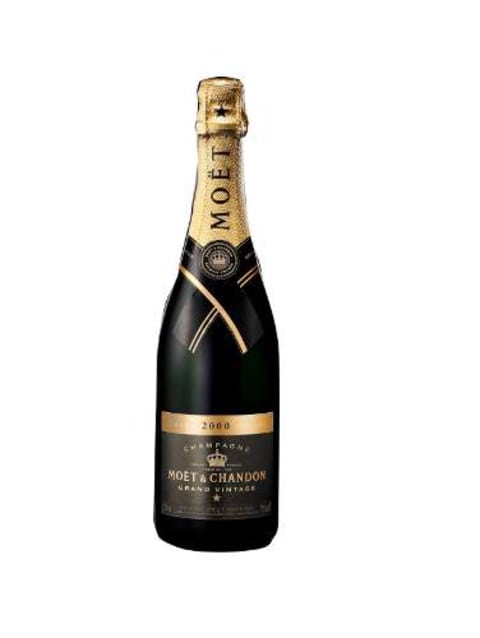 Moet & Chandon Grand Vintage Extra Brut 2003
Price per bottle
Currently Unavailable

$71.99
Winemaker Notes
The Grand Vintage 2003, the 68th from the Maison, is a powerful wine:its velvety maturity is immediately apparent, forceful in its creamyblondness.The first notes of vanilla, almond and hazelnut are followed by nuancesof colourful sun-soaked Summer fruits – apricots, yellow peaches,nectarines, poached pears. Gradually this generous fruitiness is joinedby a soft spiciness of cinnamon, gingerbread and freshly-ground coffee.
Deep and structured, the Grand Vintage 2003 is fleshly, ample and smooth.This unctuous sensuality – reminiscent of leather and cashmere – seguesinto a warm finale of slightly acid licorice and candied grapefruit.From an extraordinary year and an incomparable fruit, Moët & Chandonhas created a profound champagne, one that announces its colourswithout artifice, intrigues by its honesty.A wine that, having weathered all challenges, has come through with arobust serenity, a formal generosity and a comfortable presence.
Critical Acclaim
All Vintages
Moët's vintage, from the hot, low-yielding 2003 vintage, has an unusually high percentage of Pinot Meunier (43%), suggesting there is a distinct character to the year. It's certainly powerful and intense, soft initially, hinting at toast and yeast, the fruit almost sweet, even though the wine is a brut style. It is the rich strawberry flavor that's most surprising on a wine that really has integrated impressively.
Made from 43% Pinot Meunier, 29% Pinot Noir and 28% Chardonnay, the 2003 Grand Vintage (in this case tasted from a Magnum) opens with a rich, ripe and intense fruit on the nose where vanilla and hazelnut flavors intermix with ripe and stewed pip fruits. Full-bodied and very well structured, this is a very rich, round, intense and powerful Champagne with good tension and persistence in the finish. This is Champagne to be drunk from big Burgundy glasses with food.
A rich, opulent style, offering peach, apricot and ginger flavors. Full-bodied and muscular, yet with a firm structure keeping it all focused and a nice tangy finish. Drink now through 2018.
A classical style, this could be a yardstick for measuring other Champagnes. It's rich in the middle, clean in the end, with plenty of tension to hold the wine tight. More mineral than fruity, this has the meadow flower aspect of fresh butter and cream. Delicious with pan-roasted sole.
View More
Learn about Moet & Chandon: its history, the brand and it's iconic Moet Imperial Brut Champagne.
History of Moet & Chandon
Moet & Chandon was founded as Moet et Cie in 1743 by Claude Moet. At the end of the 18th century, Claude's grandson Jean-Remy Moet took over the business and introduced Champagne and the Moet brand to the rest of the world. It wasn't until 1833, when Jean-Remy's son-in-law, Pierre-Gabriel Chandon de Briailles, joined the business that the House was renamed Moet & Chandon.
The Moet & Chandon Brand
Since its founding, Moet & Chandon has been the Champagne of success and glamour. The important figures of the era, from the Marquise de Pompadour to Napoleon, quickly fell in love with the House's effervescent wine. Renowned for its achievements and legendary pioneering spirit, Moet & Chandon is synonymous with both cherished traditions and modern pleasures and has helped celebrate life's most triumphant moments for more than 270 years.
Moet Imperial Brut
Moet Imperial Brut is the House's iconic champagne bottle. Created in 1869, it embodies the unique Moet & Chandon style; a style that distinguishes itself by its bright fruitiness, seductive palate, and elegant maturity.
Moet & Chandon Pronunciation
mow-ett ay shahn-don
Associated with luxury, celebration, and romance, the region, Champagne, is home to the world's most prized sparkling wine. In order to bear the label, 'Champagne', a sparkling wine must originate from this northeastern region of France—called Champagne—and adhere to strict quality standards. Made up of the three towns Reims, Épernay, and Aÿ, it was here that the traditional method of sparkling wine production was both invented and perfected, birthing a winemaking technique as well as a flavor profile that is now emulated worldwide.
Well-drained, limestone and chalky soil defines much of the region, which lend a mineral component to its wines. Champagne's cold, continental climate promotes ample acidity in its grapes but weather differences from year to year can create significant variation between vintages. While vintage Champagnes are produced in exceptional years, non-vintage cuvées are produced annually from a blend of several years in order to produce Champagnes that maintain a consistent house style.
With nearly negligible exceptions, . These can be blended together or bottled as individual varietal Champagnes, depending on the final style of wine desired. Chardonnay, the only white variety, contributes freshness, elegance, lively acidity and notes of citrus, orchard fruit and white flowers. Pinot Noir and its relative Pinot Meunier, provide the backbone to many blends, adding structure, body and supple red fruit flavors. Wines with a large proportion of Pinot Meunier will be ready to drink earlier, while Pinot Noir contributes to longevity. Whether it is white or rosé, most Champagne is made from a blend of red and white grapes—and uniquely, rosé is often produce by blending together red and white wine. A Champagne made exclusively from Chardonnay will be labeled as 'blanc de blancs,' while ones comprised of only red grapes are called 'blanc de noirs.'
Representing the topmost expression of a Champagne house, a vintage Champagne is one made from the produce of a single, superior harvest year. Vintage Champagnes account for a mere 5% of total Champagne production and are produced about three times in a decade. Champagne is typically made as a blend of multiple years in order to preserve the house style; these will have non-vintage, or simply, NV on the label. The term, "vintage," as it applies to all wine, simply means a single harvest year.
SWS278788_2003
Item#
109065