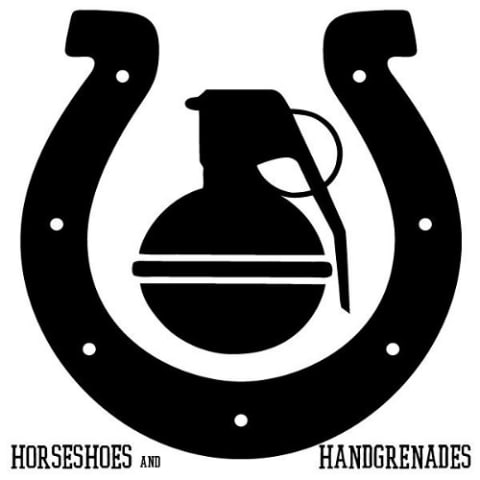 Maison Noir Horseshoes and Handgrenades
Winemaker Notes
Horseshoes & Handgrenades is fruit-driven, full-bodied complex red blend sourced from Southern Oregon and Washington State. The rich, ripe, voluptuous fruit comes from the Syrah out of the Rogue Valley in southwesten Oregon with just enough Washington Cabernet Sauvignon and Merlot to give it complexity and structure. Barrel aged for 10 months. Think cherry pits and leather whips!
Maison Noir Wines was founded in 2007 by iconoclastic sommelier André Hueston Mack, a Per Se and French Laundry alumni, incorporating his trademark attitude and personal perspective on wine subculture. The wines are unique and distinctive garage wines (micro-négociant) which source the best fruit possible in the Willamette Valley region of Oregon to produce wines showing the individuality of their respective sites and terroirs.
One of Pinot Noir's most successful New World outposts, the Willamette Valley is the largest and most important AVA in Oregon. With a continental climate moderated by the influence of the Pacific Ocean, it is perfect for cool-climate viticulture and the production of elegant wines.
Mountain ranges bordering three sides of the valley, particularly the Chehalem Mountains, provide the option for higher-elevation vineyard sites.
The valley's three prominent soil types (volcanic, sedimentary and silty, loess) make it unique and create significant differences in wine styles among its vineyards and sub-AVAs. The iron-rich, basalt-based, Jory volcanic soils found commonly in the Dundee Hills are rich in clay and hold water well; the chalky, sedimentary soils of Ribbon Ridge, Yamhill-Carlton and McMinnville encourage complex root systems as vines struggle to search for water and minerals. In the most southern stretch of the Willamette, the Eola-Amity Hills sub-AVA soils are mixed, shallow and well-drained. The Hills' close proximity to the Van Duzer Corridor (which became its own appellation as of 2019) also creates grapes with great concentration and firm acidity, leading to wines that perfectly express both power and grace.
Though Pinot noir enjoys the limelight here, Pinot Gris, Pinot Blanc and Chardonnay also thrive in the Willamette. Increasing curiosity has risen recently in the potential of others like Grüner Veltliner, Chenin Blanc and Gamay.
With hundreds of red grape varieties to choose from, winemakers have the freedom to create a virtually endless assortment of blended red wines. In many European regions, strict laws are in place determining the set of varieties that may be used, but in the New World, experimentation is permitted and encouraged resulting in a wide variety of red wine styles. Blending can be utilized to enhance balance or create complexity, lending different layers of flavors and aromas. For example, a red wine blend variety that creates a fruity and full-bodied wine would do well combined with one that is naturally high in acidity and tannins. Sometimes small amounts of a particular variety are added to boost color or aromatics. Blending can take place before or after fermentation, with the latter, more popular option giving more control to the winemaker over the final qualities of the wine.
How to Serve Red Wine
A common piece of advice is to serve red wine at "room temperature," but this suggestion is imprecise. After all, room temperature in January is likely to be quite different than in August, even considering the possible effect of central heating and air conditioning systems. The proper temperature to aim for is 55° F to 60° F for lighter-bodied reds and 60° F to 65° F for fuller-bodied wines. How much does this matter?
How Long Does Red Wine Last?
Once opened and re-corked, a bottle stored in a cool, dark environment (like your fridge) will stay fresh and nicely drinkable for a day or two. There are products available that can extend that period by a couple of days. As for unopened bottles, optimal storage means keeping them on their sides in a moderately humid environment at about 57° F. Red wines stored in this manner will stay good – and possibly improve – for anywhere from one year to multiple decades. Assessing how long to hold on to a bottle is a complicated science. If you are planning long-term storage of your reds, seek the advice of a wine professional.
BEJW111710_0
Item#
137425