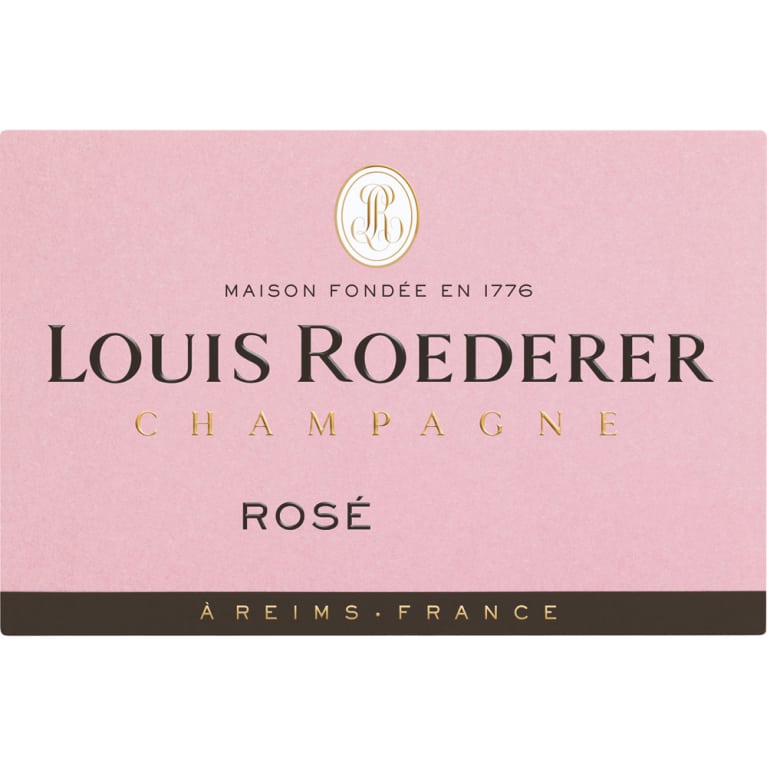 Louis Roederer Brut Rose (1.5 Liter Magnum) 2007
Winemaker Notes
An evanescent light pink color, with shiny salmony hints. Delicate bubbles, which quickly form a steady, creamy flow. The intense deep bouquet reveals a succession of finely complex aromatic 'layers.'
First of all fruity, almost tart aromas of wild raspberry and bilberry, reminiscent of a mountain fruit sabayon. Next, sweet, warm, delicately rosy 'pink macaroon' floral hints, along with pithy citrus, orange and pink grapefruit. Finally, there are warm, sweet, spicy notes recalling the subtle use made of oak wood by Louis Roederer: hints of lightly toasted dried fruits, cocoa and chocolate. It has a lively bite in the mouth – full-bodied, creamy, dense and balanced: a 'gourmet' treat! The tactile approach of the ripe Pinot Noir is very clear: rich and meaty, concentrated but not at all heavy, a combination of ripe fruit and precise, fresh flavors. The delicate, almost teasing bubbles add to this suave impression, which literally encompasses the sharp freshness. Following this first highly seductive contact, the 'tight,' 'sculpted' winy structure of the Pinot Noir appears once more, along with almost jam-like fruity, floral flavors, blending in perfectly with the minerality and freshness of the Chardonnays.
Critical Acclaim
All Vintages
Finely knit, with a delicate bead and racy acidity framing subtle flavors of ripe cherry, spiced plum, pink grapefruit zest and hints of brioche and date. Very focused, yet elegant, with a minerally finish. Drink now through 2027.
The impact of this rose's freshness is immediate in the color, a light, copper-tinged pink refinement. What challenges the vintage may have presented come across in a little coarseness to the fragrant woodland strawberry flavor, or the massive streak of acidity that will appeal most to geeks who realize the extremity of the structure makes this an unbeatable match for a soupe de poisson, or the pink flesh of grilled langoustines.
View More
Uncompromising Quality
Champagne Louis Roederer was founded in 1776 in Reims, France and is one of the rare family owned companies, which is still managed by the Roederer family. In 1833, Louis Roederer inherited the company from his uncle and renamed the company under his namesake. Under his leadership, the company rapidly grew while remaining true to their philosophy of uncompromising quality. Today, the company is under the helm of Jean-Claude Rouzaud and his son Frédéric who continue to place quality before quantity.
First-Rate Vineyards
Champagne Louis Roederer is one of the only French champagne producers to own nearly 75 percent of the grapes in the most desirable vineyards in the Champagne. The property is located on 450 acres in the finest villages of Montagne de Reims, Côtes des Blancs, and Valleé de la Marne. Each region is selected to produce Chardonnay and Pinot Noir with the elegance needed for perfectly balanced champagne. The Louis Roederer vineyards rate an average 98 percent based on France's statutory 100-point classification scale.
The reserve wine is then tasted and graded by a team of Roederer specialists. They choose as many as 40 different wines from several lots for the blend. For the final touch, the wine is then added in order to enhance the cuvee and guarantee consistency while retaining the champagne's characteristics.
Associated with luxury, celebration, and romance, the region, Champagne, is home to the world's most prized sparkling wine. In order to bear the label, 'Champagne', a sparkling wine must originate from this northeastern region of France—called Champagne—and adhere to strict quality standards. Made up of the three towns Reims, Épernay, and Aÿ, it was here that the traditional method of sparkling wine production was both invented and perfected, birthing a winemaking technique as well as a flavor profile that is now emulated worldwide.
Well-drained, limestone and chalky soil defines much of the region, which lend a mineral component to its wines. Champagne's cold, continental climate promotes ample acidity in its grapes but weather differences from year to year can create significant variation between vintages. While vintage Champagnes are produced in exceptional years, non-vintage cuvées are produced annually from a blend of several years in order to produce Champagnes that maintain a consistent house style.
With nearly negligible exceptions, . These can be blended together or bottled as individual varietal Champagnes, depending on the final style of wine desired. Chardonnay, the only white variety, contributes freshness, elegance, lively acidity and notes of citrus, orchard fruit and white flowers. Pinot Noir and its relative Pinot Meunier, provide the backbone to many blends, adding structure, body and supple red fruit flavors. Wines with a large proportion of Pinot Meunier will be ready to drink earlier, while Pinot Noir contributes to longevity. Whether it is white or rosé, most Champagne is made from a blend of red and white grapes—and uniquely, rosé is often produce by blending together red and white wine. A Champagne made exclusively from Chardonnay will be labeled as 'blanc de blancs,' while ones comprised of only red grapes are called 'blanc de noirs.'
What are the different types of sparkling rosé wine?
Rosé sparkling wines like Champagne, Prosecco, Cava, and others make a fun and festive alternative to regular bubbles—but don't snub these as not as important as their clear counterparts. Rosé Champagnes (i.e., those coming from the Champagne region of France) are made in the same basic way as regular Champagne, from the same grapes and the same region. Most other regions where sparkling wine is produced, and where red grape varieties also grow, also make a rosé version.
How is sparkling rosé wine made?
There are two main methods to make rosé sparkling wine. Typically, either white wine is blended with red wine to make a rosé base wine, or only red grapes are used but spend a short period of time on their skins (maceration) to make rosé colored juice before pressing and fermentation. In either case the base wine goes through a second fermentation (the one that makes the bubbles) through any of the various sparkling wine making methods.
What gives rosé Champagne and sparkling wine their color and bubbles?
The bubbles in sparkling wine are formed when the base wine undergoes a secondary fermentation, which traps carbon dioxide inside the bottle or fermentation vessel. During this stage, the yeast cells can absorb some of the wine's color but for the most part, the pink hue remains.
How do you serve rosé sparkling wine?
Treat rosé sparkling wine as you would treat any Champagne, Prosecco, Cava, and other sparkling wine of comparable quality. For storing in any long-term sense, these should be kept at cellar temperature, about 55F. For serving, cool to about 40F to 50F. As for drinking, the best glasses have a stem and a flute or tulip shape to allow the bead (bubbles) and beautiful rosé hue to show.
How long do rosé Champagne and sparkling wine last?
Most rosé versions of Prosecco, Champagne, Cava or others around the "$20 and under" price point are intended for early consumption. Those made using the traditional method with extended cellar time before release (e.g., Champagne or Crémant) can typically improve with age. If you are unsure, definitely consult a wine professional for guidance.
CGM20203_2007
Item#
164260