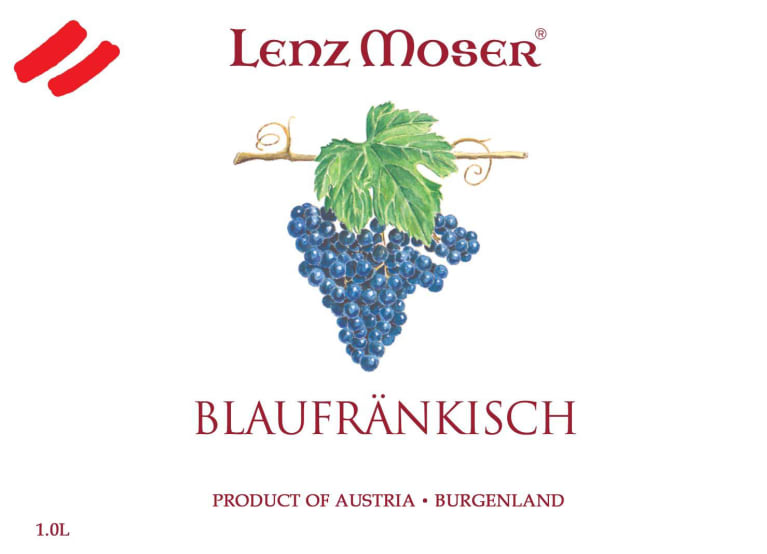 Lenz Moser Blaufrankisch (1 Liter) 2017
Ships today if ordered in next hour
Winemaker Notes
Peppery spice and simple but fresh dark fruit flavors. Fine berry in the nose, well integrated tannins, strong body, dry finish.
Fine compliment to veal, beef, or pork dishes. Also pairs well with pasta and vegetarian dishes.
The name of Lenz Moser is inextricably linked with wine-growing in Austria. The current Lenz Moser estate winery in Rohrendorf near Krems, first mentioned in an official document as early as 1040, is considered the origin of departure for significant impulses aimed at preserving Austrian wine culture. For example, the "Lenz Moser high training system" was invented here, which revolutionised viticulture in the 1950's.
Apart from its main estate in Rohrendorf, Lenz Moser also operates the castle winery of the Sovereign Order of the Knights of Malta in Mailberg/Weinviertel and the Klosterkeller (cloistral cellar) in Siegendorf/Burgenland. Not only the Lenz Moser high training system is put to use at these locations, but also other aspects of ecological winegrowing: Quality is given preference over quantity, and the focus is placed on organic fertilising, natural pest control, and environmentally gentle weed control.
The source of Austria's finest botrytized sweet wines, Burgenland covers a lofty portion of Austria's wine producing real estate. It encompasses the smaller regions of Neusiedlersee, Neusiedlersee-Hügelland, Mittelburgenland and Südburgenland. The latter two are most associated with their exceptional red wines. The region as a whole produces no shortage of important whites.
Neusiedlersee, named for the lake that it surrounds to the east, is home to a great diversity of grape varieties. The region's most notable wines, however, are the botrytis-infected, sweet versions.
Neusiedlersee-Hügelland, which wraps the lake on its western side, includes the town of Rust, a historically esteemed wine community. Its close proximity to the lake's fog and mist make it another source of some of the more prestigious botrytized wines. Neusiedlersee-Hügelland also produces fine Blaufränkisch, Pinot Blanc, Neuburger and Grüner Veltliner, though a label will usually name the more general, Burgenland, so as not to confuse it with its eastern cousin, Neusiedlersee, across the lake.
Blaufränkisch is well suited to and makes up over half of the vineyard area in Mittelburgenland. The region's hills and plateaus, which are composed of variations in schist, loess and clay-limestone, produce high quality reds with interesting diversity.
Südburgenland, also known for its deep, complex and age-worthy Blaufränkisch, is beginning to turn out some alluring whites from Grüner Veltliner, Welschriesling and Weissburgunder (Pinot Blanc).
Inky magenta with aromas of violets, herbs and spices, Blaufrankisch first appeared in Austria in the 18th century and today is the second most planted red variety in Austria after its own offspring, Zweigelt. Blaufrankisch thrives in the warmer Austrian zones and while most of the global acreage remains here, the variety has travelled a bit outside of its homeland. Somm Secret—In pre-Medieval times grapes were divided into superior quality, those whose origins lay with the Franks, called "Frankisch," and all others, which were deemed inferior. This well-revered grape took the name, blau (meaning blue or dark) plus, "Frankisch," or Blaufrankisch.
CGM33514_2017
Item#
726715