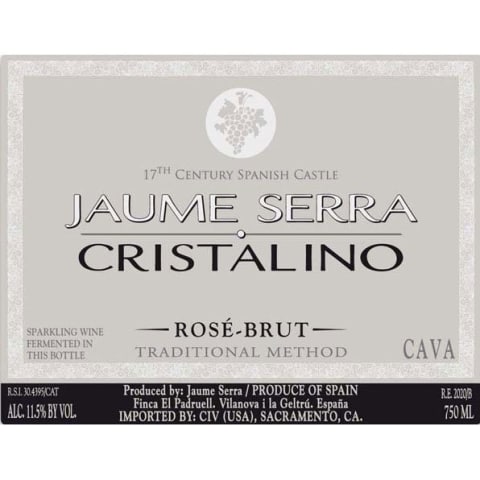 Jaume Serra Cristalino Cava Brut Rose
Ships today if ordered in next 9 hours
Winemaker Notes
60% Pinot Nior, 40% Trepat
Beautiful scents of raspberry and cherry on the nose with fresh, clean strawberry and cherry flavors in the mouth and a consistent bead. The finish is clean and crisp and invites another sip.
Cristalino Brut Rose Cava is an excellent match for fried appetizers such as calamari or light desserts such as creme brulee. It is also excellent on its own or with fresh fruit.
Did you get a bottle with a gold label rather than this white label? No worries, it's still the same great Cava. Cristalino is undergoing a label change and released some bottles with the original packaging and some with the white label packaging.
Critical Acclaim
All Vintages
This blend of 80% Trepat and 20% Pinot Noir has a deep cranberry hue. A nose of raspberry and cherry pit leads to bright, fresh notes of watermelon and strawberry. Tiny bubbles are pleasant on the palate, as is an underlying middle of wet stone. This charmer is a great value.
View More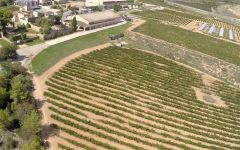 Jaume Serra is situated at the top of a slope that gently descends towards the Mediterranean Sea in Vilanova I La Geltru (Barcelona). Its origins went back to 1647, a year in which it was constructed a place called "El Padruell", a walled farm that since XVII century it was used for protection to an old *masia-fortaleza that, as the legend says it use to have a passage that connected with the village.
In 1943 Don Jaume Serra Güel established his company in Alella and he put his name to it. In 1956 rato family bought "El padruell" farm, and in 1975 he purchased the winery to Don Jaume Serra Güell. In 1984 for lack of enough vineyards in Alella, it decided to move the winery to Vilanova I La Geltru and it began the construction of the new winery and the planting of the vineyards, which is opened in 1986.
In 1997 Garcia Carrion family bought the winery Jaume Serra.
The Current winery is surrounded by a plot of lands of 125 hectares of vineyards with the varieties Cabernet Sauvignon, Merlot, Tempranillo y Chardonnay.
The Fermentation installations have an elaboration capacity of 5 million of kilos of grapes, with most modern systems of elaboration and aged, and a capacity of 20 million of bottles per year. Nowadays it has 3,500 American and French oak barrels to obtain wines with ageing, like the Crianzas, Reservas and Gran Reserva of high quality.
These installations obey all the international standards of quality assurance of the ISO and BRC.
Jaume Serra wines with Guarantee of Origen Penedes and Catalunya brands are: Jaume Serra y Vina del Mar, They have been awarded in national and international wine competitions.
What is Cava?
Spain adopted the word, cava, which technically means 'cellar' in Catalan, to describe their sparkling wines made using the traditional method. While this style was first created outside of Spain in the 1600s, its birthplace inside of Spain came in 1872 when Jose Raventós of Codorníu first produced traditional method sparkling wine in the town of San Sadurní d'Anoia. Uniquely, the Cava denomination isn't restricted to one geographical area but rather, it spans eight total wine regions. However, about 90% of Spain's total production of Cava, Spanish sparkling wine happens within Catalonia, and about 75% is produced within the borders of San Sadurní d'Anoia, inside the smaller Catalan region of Penedès. In 2019, Spain registered nearly 38,000 hectares of vineyards for Cava production, compared to just under 34,000 in Champagne.
How is Cava sparkling wine made?
Cava, like many other sparkling wines of the world is made using the traditional method, or "Champagne method," or método tradicional in Spanish, in which the second fermentation (the one that makes the bubbles) takes place inside the bottle. With this method, spent yeast cells remain in contact with the wine during bottle aging, giving it a creamy mouthful, a toasted bread or brioche quality and in many cases, the capacity to age.
What are the Cava wine grapes?
The mainstay Cava grape varieties include Macabeo, Parellada, and Xarel-lo. Macabeo, also known as Viura, lends pleasant aromatics to the blend, while Parellada adds acidity and finesse. Xarel-lo is the grape that gives body, earth and greengage characteristics to Cava. Occasionally Chardonnay is used as a blending grape or sole variety in making Cava wine. Governmental inclusion approval was awarded in 1986 but still, Chardonnay makes up only a fraction of total vineyard area. For rosé, in Spanish called rosado, the local Trepat and Garnacha can be used, along with Pinot Noir (first permitted in 1998 for rosado and in 2007 for white Cavas).
Cava Tasting Profile
Since Cava is a sparkling wine produced on the Mediterranean where temperatures are warmer and there is more sunshine compared with Champagne, you can expect that Cava sparkling wine will generally have a gentler acid profile compared with its French counterpart. Furthermore, especially when the indigenous varieties are used, common Cava flavors will include citrus peel, fennel, wildflower, lemon blossom and flint or saline. Most Cava is produced in the Brut style, so dry, with a slightly rounder finish that balances brightness with brioche notes and supple fruit. Brut Nature or Zero Dosage examples are bone dry, whereas Extra-Dry Cava will be slightly sweet and a Demi-Sec Cava will have the highest sweetness level.
Cava Pairings
One of the best things about pairing Cava wine is you can drink it on its own or with just about any food! But if you want to focus on bringing out Cava's uniquely brilliant bouquet and citrus notes, rich or seafood-centric dishes are perfect food pairings for Cava. Try Cava with butter poached lobster, seafood risotto, puff pastry and caramelized onions or fried chicken.
What are the different types of sparkling rosé wine?
Rosé sparkling wines like Champagne, Prosecco, Cava, and others make a fun and festive alternative to regular bubbles—but don't snub these as not as important as their clear counterparts. Rosé Champagnes (i.e., those coming from the Champagne region of France) are made in the same basic way as regular Champagne, from the same grapes and the same region. Most other regions where sparkling wine is produced, and where red grape varieties also grow, also make a rosé version.
How is sparkling rosé wine made?
There are two main methods to make rosé sparkling wine. Typically, either white wine is blended with red wine to make a rosé base wine, or only red grapes are used but spend a short period of time on their skins (maceration) to make rosé colored juice before pressing and fermentation. In either case the base wine goes through a second fermentation (the one that makes the bubbles) through any of the various sparkling wine making methods.
What gives rosé Champagne and sparkling wine their color and bubbles?
The bubbles in sparkling wine are formed when the base wine undergoes a secondary fermentation, which traps carbon dioxide inside the bottle or fermentation vessel. During this stage, the yeast cells can absorb some of the wine's color but for the most part, the pink hue remains.
How do you serve rosé sparkling wine?
Treat rosé sparkling wine as you would treat any Champagne, Prosecco, Cava, and other sparkling wine of comparable quality. For storing in any long-term sense, these should be kept at cellar temperature, about 55F. For serving, cool to about 40F to 50F. As for drinking, the best glasses have a stem and a flute or tulip shape to allow the bead (bubbles) and beautiful rosé hue to show.
How long do rosé Champagne and sparkling wine last?
Most rosé versions of Prosecco, Champagne, Cava or others around the "$20 and under" price point are intended for early consumption. Those made using the traditional method with extended cellar time before release (e.g., Champagne or Crémant) can typically improve with age. If you are unsure, definitely consult a wine professional for guidance.