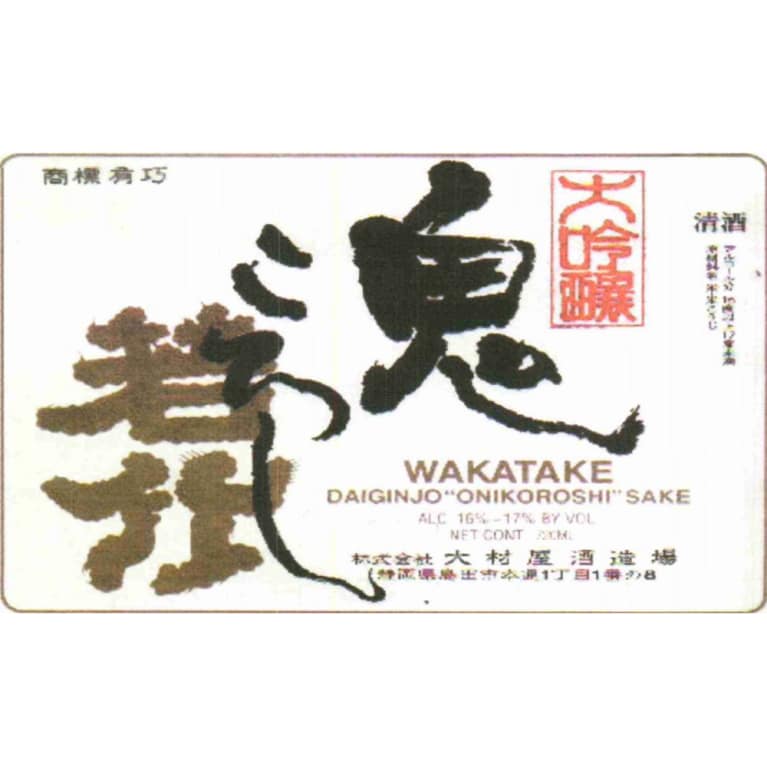 Japan Prestige Sake Wakatake Onikoroshi "Demon Slayer" Daiginjo (720ML)
Winemaker Notes
Alluring sake with a silky texture, deep taste, and slight sweetness. Elegant fruity aromas and superb acidity. Serve chilled. SMV +3
The Japan Prestige Sake Association was founded in Japan in 1975. Japan Prestige has gained a good reputation for their sakes because they are focused on working with traditional sake brewers who maintain the culture and tradition of Japanese sake. The smooth, deep flavor and rich variety of Japanese sake is now being appreciated around the world and Japan Prestige has helped contribute to this.

The introduction of the waterwheel in the 17th century, which eliminated the need for the manual polishing of rice grains, allowed Japan to begin producing saké at an industrial level for its greater population. Today Japan remains at the cutting edge of technology in its brewing practices. However, the traditional methods of handcrafted, artisanal saké remain alive in smaller and often family-owned breweries. Many of these showcase local ingredients and focus on microclimates to make what is known as 'jizake,' or regional saké.
Saké with the highest milling requirement at 50%, so that 50% of each grain of rice remains unmilled, is called Junmai-Daiginjo. It is, just like Junmai and Junmai-Ginjo, made up solely of water, koji mold, yeast and rice. The categories of saké are established not by rice variety, but by polishing or milling percentages; this category is the highest.
VOSSAKNVG065_0
Item#
137168