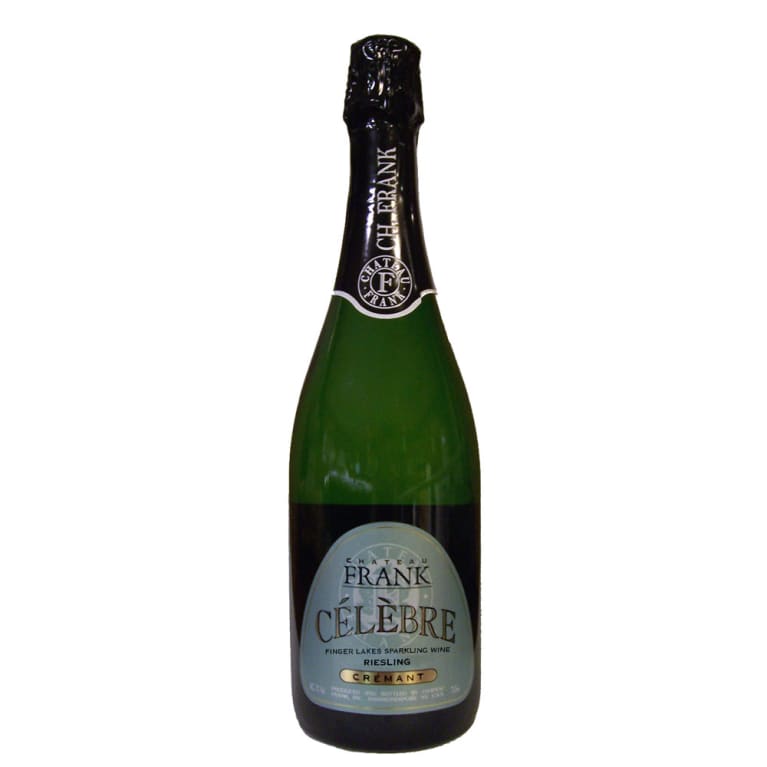 Dr. Konstantin Frank Chateau Frank Celebre Riesling Cremant
Winemaker Notes
This delicious, fruity Cremant style sparkling wine is a very inviting, easy-to-drink sparkling wine. Apple, honey and spicy aromas on a solid acidic backbone gives this wine a great balance and fruit forwardness.
Critical Acclaim
All Vintages
Brisk, lemony and thoroughly refreshing, this sparkler's ripe pear flavors and mild pear-skin finish would merit a pairing with miso-glazed chicken. It's also an irresistible aperitif.
View More
Dr. Konstantin Frank ignited the "Vinifera Revolution" a movement that forever changed the course of wine growing in the Finger Lakes and the United States. Dr. Frank's vision, knowledge and determination are credited with elevating the New York wine industry from a state of happy mediocrity to a level that today commands world attention.
Dr. Frank's Wine Cellars is proud of its international winemaking team with each member bringing in their particular expertise. The talented group includes winemakers from California, Australia, France and Germany. The focus on world class wines continues with each generation of the family, each member living up to the Frank Family tradition of excellence.
Increasingly garnering widespread and well-deserved attention, New York ranks third in wine production in the United States (after California and Washington). Divided into six AVAs—the Finger Lakes, Lake Erie, Hudson River, Long Island, Champlain Valley of New York and the Niagara Escarpment, which crosses over into Michigan as well as Ontario, Canada—the state experiences varied climates, but in general summers are warm and humid while winters are very cold and can carry the risk of frost well into the growing season.
The Finger Lakes region has long been responsible for some of the country's finest Riesling, and is gaining traction with elegant, light-bodied Pinot Noir and Cabernet Franc. Experimentation with cold-hardy European varieties is common, and recent years have seen the successful planting of grapes like Grüner Veltliner and Saperavi (from the Eastern European country of Georgia). Long Island, on the other hand, has a more maritime climate influenced by the Atlantic Ocean, and shares some viticultural characteristics with Bordeaux. Accordingly, the best wines here are made from Merlot and Cabernet Franc. The Niagara Escarpment is responsible for excellent ice wines, usually made from the hybrid variety, Vidal.
A term typically reserved for Champagne and Sparkling Wines, non-vintage or simply "NV" on a label indicates a blend of finished wines from different vintages (years of harvest). To make non-vintage Champagne, typically the current year's harvest (in other words, the current vintage) forms the base of the blend. Finished wines from previous years, called "vins de reserve" are blended in at approximately 10-50% of the total volume in order to achieve the flavor, complexity, body and acidity for the desired house style. A tiny proportion of Champagnes are made from a single vintage.
There are also some very large production still wines that may not claim one particular vintage. This would be at the discretion of the winemaker's goals for character of the final wine.