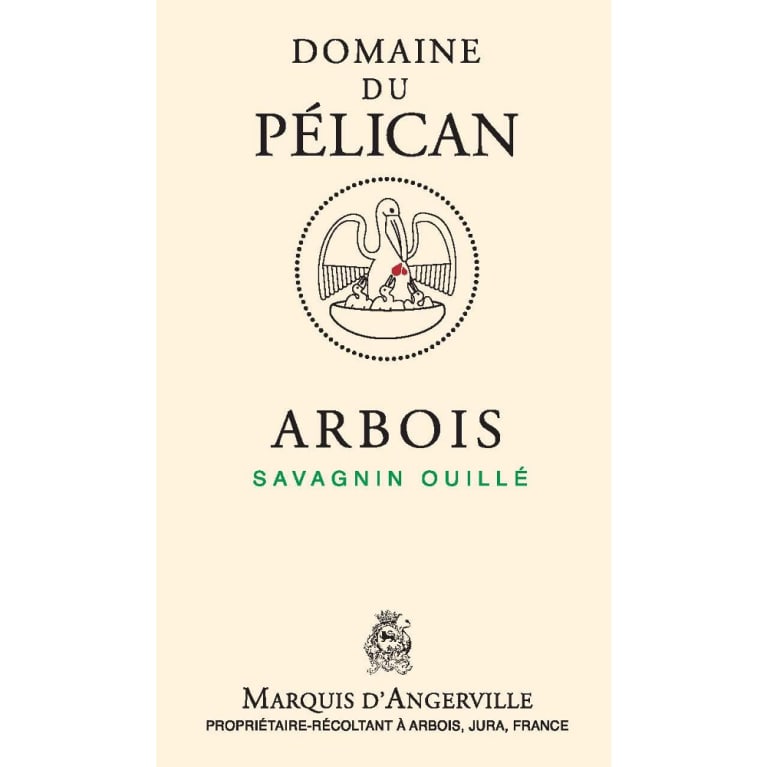 Domaine Du Pelican Arbois Savagnin Ouille 2015
Winemaker Notes
Critical Acclaim
All Vintages
Fresh and floral, this wine's pale aroma of apples and its scents of raw almonds tumble together in a juicy savagnin that feels beautifully naked and innocent. Decant this if you open it now, to serve with roast langoustines.
View More
Guillaume D'Angerville became obsessed with the Jura after a sommelier in Paris poured him a glass of Tissot Chardonnay blind and he was very impressed, believing that it was a Burgundy.
This sent him off on a five year search to find a choice location in the Jura. He consulted with a well-known geologist to find ideal vineyards. In the end, he and Francois Duvivier purchased two domaines, one with well tended vines and another where the vineyards were in need of some rehabilitation. At Chateau Chavanes in Montigny-les-Arsures, they created a state of the art winery surrounded by 5 hectares of biodynamically farmed vines that had been impeccably replanted 10 years prior by former owner Francois de Chavanes. The domaine is supported by an additional 5 hectares of chemically-free vines formerly farmed by Jean-Marc Brignot at a site of high-quality geology and exposure.
He named it Domaine du Pélican, a reference to the pelican on the crest of the city of Arbois.
All of Pélican's wines are currently made in a topped up, non-oxidative style.
On the foothills of the Jura Mountains, just east of the Cote de Beaune on the Switzerland border, the Jura wine-producing zone is recognized for its unique reds, as well as its particular and diverse styles of whites.
Though borrowed from their neighbor Burgundy, Chardonnay and Pinot noir have been growing in Jura since the Middle Ages. But here the altitude, topography, climate and clay-rich, marl soils support a different style of Pinot noir, not to mention its other deeply-colored, full-bodied indigenous reds, Poulsard and Trousseau.
Considering area under vine, growers here favor Chardonnay for its consistency and reliability; it comprises almost half of Jura's vineyard acreage. However, Jura Chardonnay is anything but boring; its many offbeat styles are part of what make region's wines so distinctive. It is used for Cremant (sparkling), Macvin (a fortified wine), as well as fine examples at the quality level of Burgundy.
Jura also has a unique oxidative style for Chardonnay but is better recognized for its similarly-styled "vin jaune," meaning 'yellow wine,' which is made from the indigenous variety, Savagnin. Vin jaune is made using techniques similar to those used to make Sherry.
For all of its wines, Jura favors a traditional, natural and often organic style in viticulture and winemaking.
What are the types of white wine?
From lean and crisp to oaky and buttery, white wine comes in an array of styles and is produced in almost every wine region of the world. Although only about 25 pale-skinned grapes make the majority of the white wine produced, hundreds of native varieties are important not only to local culture, but to the diversity of the global wine world. White wine styles range from a simple and refreshing aperitif to a robust accompaniment to a hearty meal and some of the best can age for decades.
How is white wine made?
To preserve freshness, aromatics and primary fruit flavors, white wines are often fermented at cooler temperatures than reds. Unlike red winemaking, the colorless juice is not typically left in contact with the grape skins during the fermentation process. The winemaker has the choice to encourage or prevent malolactic fermentation, which turns the tart acidity of grape juice into the softer, creamier flavors of wine. Another important decision when making white wine is whether and how to use oak—the barrels' age, provenance and time holding the wine all help to determine the final style, in terms of both flavor and texture.
What gives white wine its color?
White wines can vary in color from nearly clear lemon-green to medium gold to pale orange or almost light brown, depending on grape variety, winemaking methods and age.
How do you serve white wine?
Ideally for storing white wine in any long-term sense, it should be at cellar temperature, about 55F. For serving, cool white wine down to about 45F to 55F. (Most refrigerators are colder than this.) As for drinking white wines, the best white wine glasses have a stem and a narrow bowl large enough to allow swirling without spilling.
How long does white wine last?
Opened, a bottle of white wine will stay fresh in the refrigerator for a couple of days to a week, maybe longer. Unopened, white wines stay good for one year to, in some cases, several decades. Assessing how long to hold on to a bottle is a complicated science. If you are planning to strategically store white wine, seek the advice of a wine professional.
GPSCRU907590WC15_2015
Item#
172406