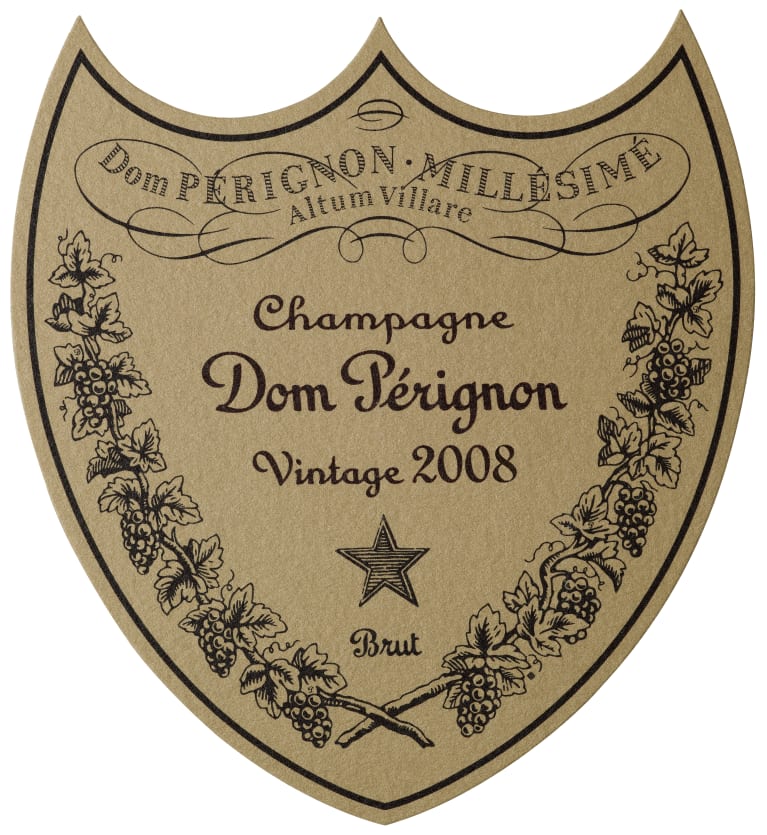 Dom Perignon Vintage 2008
Winemaker Notes
2008 was dominated by grey, overcast skies – an exception in a decade characterized by bold, generous sunshine. Just when the harvest was getting underway, the weather conditions were finally perfect: blue skies and prolonged north-northeasterly winds. The grapes were riper than anyone dared hope, and had truly outstanding balance. The vines were in perfect health.
To the bracing acidity, concision and aromatic purity expected of the 2008 vintage, Dom Pérignon adds depth, density and complexity. The light is warmer and less harsh.
The opening bouquet is complex and luminous, a mingling of white flowers, citrus and stone fruit. The overall effect is enhanced by the freshness of aniseed and crushed mint. The final aromas offered by the wine are starting to show spicy, woody and roasted notes.
After a long period of reluctance, the wine is finally opening up. There is complete balance between the nose and the palate. Its slender, minimalist, pure, toned, athletic character is now also expressed with warmth. The fruit is pronounced and clear. The vintage's characteristic acidity is remarkably well integrated. Its persistence is mainly aromatic, grey, smoky and highly promising.
The wine enjoys duality: warmth & freshness, meat & iodine pairings, cooked & raw. Spices enhance and accentuate 2008's effervescence and densify the wine. Dom Pérignon likes playful experiences: culinary art, textures, and matters.
Critical Acclaim
All Vintages
COMMENTARY: Dom Pérignon—a luxury brand that needs no introduction—is going to get even better as it moves through the generational changes with the changing of the guard. While this wine has always sparkled in a class by itself since its inception in 1921, the soon-to-be-released 2008 vintage reflects a transition in the winery's Chef de Cave. After nearly three decades as Cellar Master, Richard Geoffroy is turning the reins over to Vincent Chaperon, and the new guy gets to begin his Dom Pérignon career with one of Champagne's best vintages. I enjoyed the fortune of tasting this wine twice (9/24/18 and 9/26/18). In the first tasting, the wine seemed young and impenetrable. Time aided it, and it opened up spectacularly. Two days later, in a new situation (and a different bottle, of course), the wine seemed to be even more evocative. In both cases, there is no question this is one of the winery's best efforts. I took more than my usual sips—studying a wine of this magnitude sometimes needs patience. TASTING NOTES. This wind deftly exhibits richness and elegance. Its aromas and flavors of bright apples, light chalk, and yeast autolysis come to the fore along with its and persistent, yet delicate palate presence and long finish should pair it superbly with the fresh toro you bring onto your palate. (Tasted: September 26, 2018, San Francisco, CA)
Deep and generous, yet driven, with delicious salted-butter and salted-caramel notes underneath the initial lemon and chalk. Really expands on the palate in all directions. Lemon cream and shortcrust. Creamy, yet underpinned by a sharp backbone of acidity throughout. Drink or hold.
The 2008 Dom Pérignon is the first time the estate has released a wine out of order (the 2009 was released before the 2008) but the estate loved the wine so much they felt it warranted additional aging. This is a rich, powerful wine that still shows incredible purity and elegance, with a stacked, concentrated feel on the palate. It's rare to find such a mix of ripe, pure, concentrated fruit paired with this level of purity, focus, and precision. This is a legendary Dom that surpasses all the great vintages of Dom I have experience with, including the 1990, 1996, and 2002.
There's power to this graceful Champagne, with the vivid acidity swathed in a fine, creamy mousse and flavors of toasted brioche, kumquat, pastry cream, candied ginger and poached plum that dance across the palate. An underpinning of smoky mineral gains momentum on the lasting finish. Drink now through 2033.
The super-fresh nose combines notions of smoky flint, lemon and wet chalk, yet hints at generosity. Minuscule bubbles create immense creaminess on a palate that dances on its light feet and channels freshness into poise. There's a promise of future richness and depth, always with ozone freshness and lasting length.
The 2008 Dom Pérignon continues to show very well, offering up a pretty bouquet of Anjou pear, fresh peach, citrus oil, fresh pastry, smoke and iodine. On the palate, it's full-bodied, lively and incisive, with an elegantly textural attack and a creamy core of fruit that's underpinned by a bright but nicely integrated spine of acidity. The finish is long, saline and well-defined. As I wrote earlier this year, this is the finest Dom Pérignon since 1996, Richard Geoffroy's push for additional ripeness working well with the late-maturing, high-acid vintage. While it can be appreciated young, the 2008 will really start to blossom with five or six years of bottle age.
Rating: 95+
View More
Dom Pierre Pérignon, a French Benedictine monk, set out his vision to "create the best wine in the world" when he became Cellar Master at the sacred Abbey of Hautvillers in 1668. Dom Pérignon dedicated over 40 years to this mission, employing a visionary spirit and daring approach to the wine making process. Over that time, he became known as the "father of champagne" for laying down the fundamental rules for the traditional Champagne production method (La Methode Champenoise or Traditionelle). A favored wine of the Sun King Louis XIV, Dom Pérignon himself compared his wine to "drinking stars".
Dom Pérignon: an absolute commitment to Vintage
Dom Pérignon's commitment to vintage is absolute. Each Dom Pérignon is a true act of creation, made from only the best grapes. The champagne's intensity is based in precision, so inviting, so mysterious. Each Vintage has three Plénitudes, and embodies the total faith in the creation that is constantly renewed by Chef de Cave Vincent Chaperon. Coupled with a bold sense of playfulness, Dom Pérignon inspires the greatest creators in the world.Made only from the best grapes grown in one single year, each Dom Perignon's Vintage represents a harmonic balance between the nature of the year and the signature of Dom Pérignon. After no fewer than 8 years of elaboration, each vintage emerges complete, seamless and tactile. Dom Pérignon Champagne is made through an assemblage of Pinot Noir and Chardonnay, created by using only the best grapes harvested from the 17 Grands Crus in Champagne and the Premier Cru of Hautvillers.
Associated with luxury, celebration, and romance, the region, Champagne, is home to the world's most prized sparkling wine. In order to bear the label, 'Champagne', a sparkling wine must originate from this northeastern region of France—called Champagne—and adhere to strict quality standards. Made up of the three towns Reims, Épernay, and Aÿ, it was here that the traditional method of sparkling wine production was both invented and perfected, birthing a winemaking technique as well as a flavor profile that is now emulated worldwide.
Well-drained, limestone and chalky soil defines much of the region, which lend a mineral component to its wines. Champagne's cold, continental climate promotes ample acidity in its grapes but weather differences from year to year can create significant variation between vintages. While vintage Champagnes are produced in exceptional years, non-vintage cuvées are produced annually from a blend of several years in order to produce Champagnes that maintain a consistent house style.
With nearly negligible exceptions, . These can be blended together or bottled as individual varietal Champagnes, depending on the final style of wine desired. Chardonnay, the only white variety, contributes freshness, elegance, lively acidity and notes of citrus, orchard fruit and white flowers. Pinot Noir and its relative Pinot Meunier, provide the backbone to many blends, adding structure, body and supple red fruit flavors. Wines with a large proportion of Pinot Meunier will be ready to drink earlier, while Pinot Noir contributes to longevity. Whether it is white or rosé, most Champagne is made from a blend of red and white grapes—and uniquely, rosé is often produce by blending together red and white wine. A Champagne made exclusively from Chardonnay will be labeled as 'blanc de blancs,' while ones comprised of only red grapes are called 'blanc de noirs.'
Representing the topmost expression of a Champagne house, a vintage Champagne is one made from the produce of a single, superior harvest year. Vintage Champagnes account for a mere 5% of total Champagne production and are produced about three times in a decade. Champagne is typically made as a blend of multiple years in order to preserve the house style; these will have non-vintage, or simply, NV on the label. The term, "vintage," as it applies to all wine, simply means a single harvest year.
SOU931272_2008
Item#
509347