Dom Perignon Vintage 1999
Winemaker Notes
On the nose, this wine is full of life, with a fresh nose that dances through a spiral of aromas, blending hints of angelica, dried flowers, pineapple, coconut, cinnamon, cocoa and tobacco. With a fullness in the mouth, its earthy, smoky, pearly complexity rises to the surface, underscored by the vibrant warmth of peppery spice. The sensation of intensity develops and melts into a deep, rounded heart, with a fruity, exotic maturity and a slight touch of aniseed. This sensation, almost unsettling, is even more pronounced in the finish, while the notes of spice, still present, remain discreet, with toasted, iodine flavors.
Critical Acclaim
All Vintages
A lovely, fragrant '99 with tight lemon flavors, this is softer at the edges where brioche scents enrich the roasted apple fruit. It's relatively oxidative for a young vintage of Dom Pérignon. To serve over the next several years with roast pheasant and an apple-chestnut dressing.
There's a high-toned minty graphite accent to the aroma, with a citric edge on the palate. The structure is overlaid with lemon and bread dough notes. This is tight and crisp on the finish, so break out the sole or shellfish, or wait a few years. Best from 2008 through 2020.
View More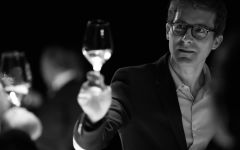 Dom Pérignon x Lady Gaga
The Queendom that Lady Gaga and Dom Pérignon bring to life is a radical expression of the electrifying, liberating power of creative freedom – a power they both embody and that we need more than ever. This universe is a celebration of creative freedom as a vital impulse that opens up new horizons for the world. It invites us to move forward and embrace this power for ourselves, to encourage it and affirm it for everyone to see.
Learn about Dom Perignon, the history of the famed Champagne brand, how it's made, and its flagship Vintage Blanc, Vintage Rosé and P2 Plenitude.
History of Dom Perignon
Dom Pierre Pérignon, a French Benedictine monk, set out his vision to "create the best wine in the world" when he became Cellar Master at the sacred Abbey of Hautvillers in 1668. Dom Pérignon dedicated over 40 years to this mission, employing a visionary spirit and daring approach to the wine making process. Over that time, he became known as the 'father of champagne' for laying down the fundamental rules for the traditional Champagne production method (La Methode Champenoise or Traditionelle). A favored wine of the Sun King Louis XIV, Dom Pérignon himself compared his wine to "drinking stars". 
Dom Pérignon: an absolute commitment to Vintage
Dom Pérignon's commitment to vintage is absolute. Each Dom Pérignon is a true act of creation, made from only the best grapes. The champagne's intensity is based in precision, so inviting, so mysterious. Each Vintage has three Plénitudes, and embodies the total faith in the creation that is constantly renewed by Chef de Cave Vincent Chaperon. Coupled with a bold sense of playfulness, Dom Pérignon inspires the greatest creators in the world.
A quest for harmony as a source of emotion
Made only from the best grapes grown in one single year, each Dom Pe´rignon's Vintage represents a harmonic balance between the nature of the year and the signature of Dom Pérignon. After no fewer than 8 years of elaboration, each vintage emerges complete, seamless and tactile.
How Dom Pérignon is Made
Dom Pérignon Champagne is made through an assemblage of Pinot Noir and Chardonnay, created by using only the best grapes harvested from the 17 Grands Crus in Champagne and the Premier Cru of Hautvillers.
SOU164483_1999
Item#
90151