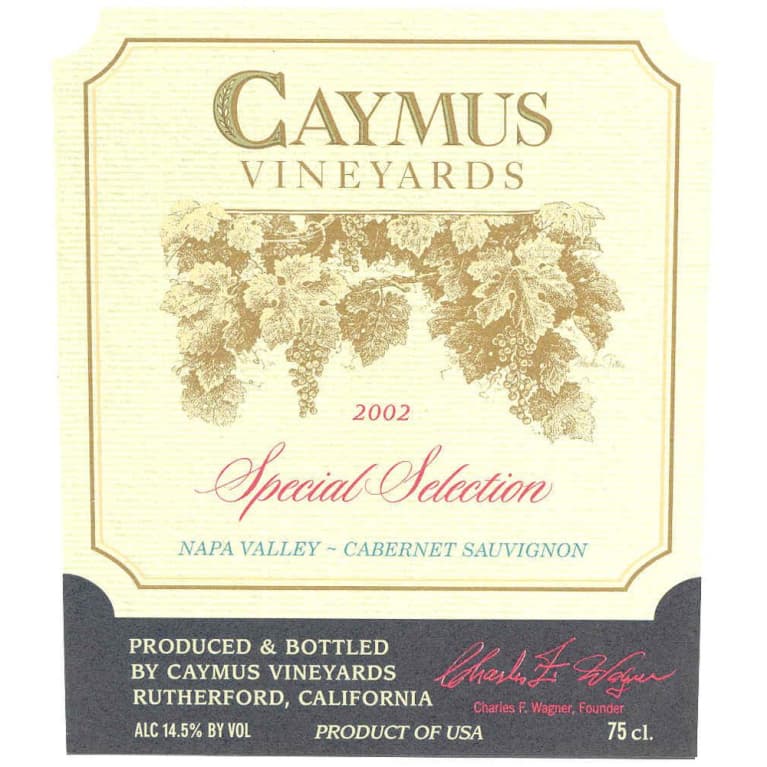 Caymus Special Selection Cabernet Sauvignon 2002
Winemaker Notes
"In this vintage, the combination that showed what I consider the best characteristics of the vintage for Cabernet—rich yet rounded, extracted yet fully evolved, immediately appealing yet full of promise for the future—came from our estate vineyard in Rutherford and two other valley floor vineyards where we have given very close attention to viticulture choices that boost fruit intensity, especially clonal selection and vine density, in recent years. The result is very rewarding to me: an authoritative wine with great staying power but a compelling sweetness of character." - Chuck Wagner
The rich, dark-ruby color of this wine offers a promise of the depth to come. Aromas and flavors of sweet, fully ripe black currants form the "big heart" of this wine, with notes of mocha/chocolate, black cherry, anise and spice interweaving seamlessly, first in the nose and then more explosively in the mouth. The texture is surprisingly velvety and supple for a wine of this extraction and density, attesting to the fine grain of the tannins and the balance of fruit and oak. The finish holds pure and true for long minutes, the impression of ripe fruit lingering to the end.
Only shipping discounts can be applied to this product, other promotional discounts do not apply.
Critical Acclaim
All Vintages
This stunning, inky/plum/purple-tinged 2002 Cabernet Sauvignon Special Selection boasts a glorious fragrance of creme de cassis, licorice, toasty oak, spice box, cassis and vanillin. Full-bodied, opulent, flashy and irresistible...
Tasting a bit riper than one might expect of a Caymus Cabernet, this expansive bottling is both impressively concentrated and still somewhat direct and waiting to unfold into greater richness and range. Its curranty fruit and loamy, coffee and creamy oak notes all add to its promise, but what is lacking for the moment is any of the immediacy that would mark it for near-term drinking even though that is the part of what the winery was seeking when it made the wine in a riper style. Its focus is spot on and its depth is without question...
This young wine is fairly tough now, and the fruit is hiding behind the oak and tannins. Like many keepers, it's in a trough, and will go through its ups and downs. Eventually, the cherries and blackberries should emerge, but it doesn't seem like one of the great Special Selections.
View More
Learn about Caymus: the history of the winery and its famed Cabernet Sauvignon.
History of Caymus
In 1972, Chuck Wagner started Caymus Vineyards with his parents, Charlie and Lorna, with a humble plan and an uncharted future. The Wagner family were farmers with deep roots in the Napa Valley – in 1857, Chuck Wagner's great-great grandfather captained a wagon train to California from Bible Grove, Missouri. Working together for decades, Chuck Wagner and his parents established the family's work ethic, appetite for innovation, down-to-earth sensibility, and deep appreciation of the pleasures of good food and wine enjoyed with family and friends.
Caymus Cabernet Sauvignon
Today, Caymus Cabernet is one of Napa Valley's most celebrated wines. Made from grapes farmed in 8 of Napa Valley's 16 appellations, the wine has a signature style that is dark in color, with rich fruit and ripe tannins – as approachable in youth as it is in maturity. Chuck Wagner continues to make two world-renowned Cabernet Sauvignons – Caymus Napa Valley and Caymus Special Selection. Caymus Special Selection Cabernet Sauvignon is the only wine in the world to be honored twice as Wine Spectator magazine's "Wine of the Year" for the 1984 and 1990 vintages.
Caymus Pronunciation
Kay-muh-ss
SOU107607_2002
Item#
80872