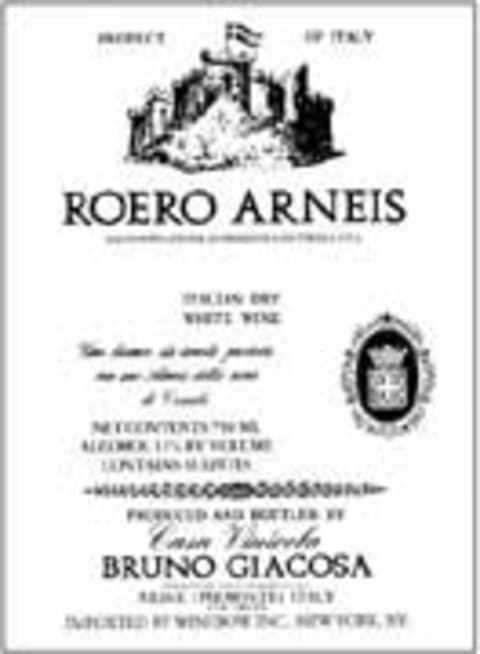 Bruno Giacosa Roero Arneis 2001
Winemaker Notes
Giacosa rises to the challenge presented by Arneis and enjoys this wine for the difficulty it presents. The result is this excellent wine with a subtle perfume of apple, pears and peaches. A very refreshing white wine recommended with a wide variety of foods, especially antipasti and pasta dishes. Considered the best example of the Arneis varietal.
One of the legendary winemakers of the world, Bruno Giacosa crafted the most prestigious single-vineyard Barolo and Barbaresco wines during a career that spanned nearly eight decades. He joined the family business at the age of 15, representing the third generation of his Langhe winemaking family. Giacosa's unfailing pursuit of perfection, his unrivalled palate and his intimate knowledge of vineyards in the Langhe quickly drew recognition and helped establish Piedmont as a leading wine region. In 1982, Giacosa began to acquire prime parcels in Serralunga d'Alba, La Morra and Barbaresco to produce wines that are rightly regarded as the finest expressions of Nebbiolo. 
His legacy rests with daughter Bruna, who continues to uphold her father's winemaking philosophy to respect traditional techniques while using the best of modern technology. The goal is for each distinguished site to produce articulate, unique wines. 
The "Azienda Agricola Falletto – di Bruno Giacosa" label represents wines made from estate vineyards. The "Casa Vinicola Bruno Giacosa" label appears on wines made from purchased grapes that are made with the same care in the Nieve winery.
Even to this day, the Roero folklore lives on about witchcraft lurking behind its dramatic contours and obscure woods—but these stories only add to the region's allure and charm. Actually today Roero winemakers are some of the most astute and motivated in Piedmont. While the white Arneis has attracted global attention for some time, now Roero Nebbiolo wines (elevated to the same DOCG status as Barolo and Barbaresco) are making a name for themselves. Keep an eye on any labeled with the vineyard, Valmaggiore, as Barolo producers have been investing here for years. If you're looking for hidden gems, this is your region!
Yielding a dry and subtly scented wine, Arneis is the star white grape of Piedmont. Though the grape has been local to Roero since the 1400s, it didn't experience real popularity until the 1980s when local demand for white wine exploded. Somm Secret—A few key Roero producers are also focusing on exploring the ageability of high quality Arneis. It is only grown outside of Piedmont to a very limited extent.
HNYBGAARS01C_2001
Item#
52592