Bodegas Naveran Perles Roses Cuvee Antonia 2014
Product Details
---
Varietal
---
Region
---
Producer
---
Vintage
2014
---
Size
750ML
---
Winemaker Notes
Pale pink with reflections of light gold. Its small "pink pearls" (perles rosas) slowly rise to the surface creating a characteristic crown. The first impression is very pleasant, with refined and light aromas, lingering in character with a varietal and ageing. In the mouth it is agreeable, full and creamy, with an elegant and lengthy finish. Greatly balanced, refined and long-lasting.
Adequate for any time of the day, as an aperitif or to accompany food as it has a body for strong-flavored dishes.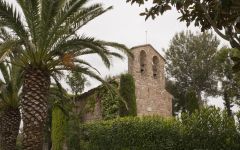 Bodegas Naveran is a premium Cava producer that uses estate-grown organic grapes. The Naveran family legacy began in 1901 and today, their estate owns 110 hectares (272 acres) of vines in the town of Torrelavit located in the Alt (high) Penedès subregion in northeastern Spain. Despite the fact that Cava is Spain's largest volume wine export to the U.S., Cavas are made utilizing the same methods used in Champagne and have remained Spain's best-kept secret for quality and value in wine. Unlike the majority of the big Cava houses that purchase most of their grapes, Naveran makes handcrafted Cavas from their own vineyards.    
Proprietor Michel Gilleron Parellada's goal with this Cava is to show the purity, youth and bright flavor characters of this special place. Xarello (10%) and Chardonnay (20%) contribute body, Macabeo (40%) gives aromatic intensity and Parellada (30%) lends acidity to the wine. The organically grown (non-certified) vines were planted between the course of 1970 to 1995 and the soil is tended in clay and limestone soil at 252 m (827 ft) elevation. The Naveran estate's higher elevation allows the grapes to retain more natural acidity, which results in wines that are zesty, fresh and have expressive aromas. Naveran Brut Nature spends 18 months on lees after fermentation in the bottle to achieve greater depth, complexity, and long-lasting bubbles.
What makes this wine unique? Bodegas Naveran is 100% estate-owned and their vineyards are organically grown for higher quality control. Also, old vines result in smaller yields which increase concentration and grape quality. This winery also has its very own bottling production for all of their vintage cavas. Did you know 85% of the cavas made by Naveran are sold in France, the birthplace and home of Champagne?
What are the different types of sparkling rosé wine?
Rosé sparkling wines like Champagne, Prosecco, Cava, and others make a fun and festive alternative to regular bubbles—but don't snub these as not as important as their clear counterparts. Rosé Champagnes (i.e., those coming from the Champagne region of France) are made in the same basic way as regular Champagne, from the same grapes and the same region. Most other regions where sparkling wine is produced, and where red grape varieties also grow, also make a rosé version.
How is sparkling rosé wine made?
There are two main methods to make rosé sparkling wine. Typically, either white wine is blended with red wine to make a rosé base wine, or only red grapes are used but spend a short period of time on their skins (maceration) to make rosé colored juice before pressing and fermentation. In either case the base wine goes through a second fermentation (the one that makes the bubbles) through any of the various sparkling wine making methods.
What gives rosé Champagne and sparkling wine their color and bubbles?
The bubbles in sparkling wine are formed when the base wine undergoes a secondary fermentation, which traps carbon dioxide inside the bottle or fermentation vessel. During this stage, the yeast cells can absorb some of the wine's color but for the most part, the pink hue remains.
How do you serve rosé sparkling wine?
Treat rosé sparkling wine as you would treat any Champagne, Prosecco, Cava, and other sparkling wine of comparable quality. For storing in any long-term sense, these should be kept at cellar temperature, about 55F. For serving, cool to about 40F to 50F. As for drinking, the best glasses have a stem and a flute or tulip shape to allow the bead (bubbles) and beautiful rosé hue to show.
How long do rosé Champagne and sparkling wine last?
Most rosé versions of Prosecco, Champagne, Cava or others around the "$20 and under" price point are intended for early consumption. Those made using the traditional method with extended cellar time before release (e.g., Champagne or Crémant) can typically improve with age. If you are unsure, definitely consult a wine professional for guidance.
Known for bold reds, crisp whites, easy-drinking rosés, distinctive sparkling, and fortified wines, Spain has embraced international varieties and wine styles while continuing to place primary emphasis on its own native grapes. Though the country's climate is diverse, it is generally hot and dry. In the center of the country lies a vast, arid plateau known as the Meseta Central, characterized by extremely hot summers and frequent drought.
Rioja is Spain's best-known region, where earthy, age-worthy Spanish reds are made from Tempranillo and Garnacha (Grenache). Rioja also produces rich, nutty whites from the local Viura grape.
Ribera del Duero is gaining ground for Spanish wines with its single varietal Tempranillo wines, recognized for their concentration of fruit and opulence. Priorat, a sub-region of Catalonia, specializes in bold, full-bodied Spanish red wine blends of Garnacha (Grenache), Cariñena (Carignan), and often Syrah and Cabernet Sauvignon. Catalonia is also home to Cava, a Spanish sparkling wine made in the traditional method but from indigenous varieties. In the cool, damp northwest Spanish wine region of Galicia, refreshing Spanish white Albariño and Verdejo dominate.
Sherry, Spain's famous fortified wine, is produced in a wide range of styles from dry to lusciously sweet at the country's southern tip in Jerez.
CHMNVN1301114_2014
Item#
172252