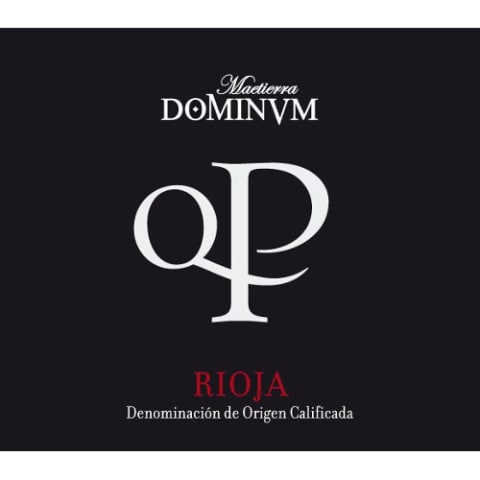 Bodega Maetierra Dominum QP 2007
Out of Stock

(was $13.98)
Winemaker Notes
Intense garnet-dark cherry red color of great depth. Intense and complex aroma, very candid, with the toasted, spiced and smoked notes of the French oak coming to the fore, blending perfectly with the black fruit, chocolate and balsamic notes. In the mouth the attack is gentle, but the wine immediately reveals itself to be full-bodied and meaty, with mature tannins and excellent acidity. It is long and persistent, with the smoked and spicy notes, as well as the ripe fruit reappearing in the aftertaste. Mineral finish.
Maetierra is the only bodega in the Autonomous Community of La Rioja that exclusively makes white wines.
Maetierra wines were first made in 2001 as an experiment by the School of Oenology of La Rioja. In 2002, in just three weeks, between late July and mid-August, Raul Acha and his team built a provisional industrial winery where the first three Maetierra vintages were made. This winery was located in an industrial park in Logroño. Supported by the exponential growth of the project and the success reaped by Libalis, in 2005 a bodega was built and inaugurated that would subsequently become the bodega where Maetierra wines are currently made. This bodega is located next to Castillo de Maetierra, in Calahorra, adjoining the vineyards of Finca Maetierra.
The main characteristic of Maetierra Winery is its experimental approach. Proof of this is the different capacity vats that it uses to adapt to the needs of different types of winemaking processes. The same approach is taken with the presses. Different size presses are used for experimental micro-wine making than for much larger productions. Maetierra owns over 50 vats with capacities ranging between 500 and 40,000 liters.
One of the key aspects when it comes to making white wines at Maetierra is maintaining low temperatures in order to avoid the loss of aromas. For this reason, the fact that the bodega has been designed to be partly underground allows maintaining low temperatures in a natural way. It also has a large cooling capacity. Maetierra wines go through long fermentations at very low temperatures (around 13-14 degrees). In addition, micro-winemaking can also be performed with different varieties and terroirs separately thanks to the different sizes of vats owned by the bodega.
Highly regarded for distinctive and age-worthy red wines, Rioja is Spain's most celebrated wine region. Made up of three different sub-regions of varying elevation: Rioja Alta, Rioja Alavesa and Rioja Oriental. Wines are typically a blend of fruit from all three, although specific sub-region (zonas), village (municipios) and vineyard (viñedo singular) wines can now be labeled. Rioja Alta, at the highest elevation, is considered to be the source of the brightest, most elegant fruit, while grapes from the warmer and drier Rioja Oriental produce wines with deep color and higher alcohol, which can add great body and richness to a blend.
Fresh and fruity Rioja wines labeled, Joven, (meaning young) see minimal aging before release, but more serious Rioja wines undergo multiple years in oak. Crianza and Reserva styles are aged for one year in oak, and Gran Reserva at least two, but in practice this maturation period is often quite a bit longer—up to about fifteen years.
Tempranillo provides the backbone of Rioja red wines, adding complex notes of red and black fruit, leather, toast and tobacco, while Garnacha supplies body. In smaller percentages, Graciano and Mazuelo (Carignan) often serve as "seasoning" with additional flavors and aromas. These same varieties are responsible for flavorful dry rosés.
White wines, typically balancing freshness with complexity, are made mostly from crisp, fresh Viura. Some whites are blends of Viura with aromatic Malvasia, and then barrel fermented and aged to make a more ample, richer style of white.
With hundreds of red grape varieties to choose from, winemakers have the freedom to create a virtually endless assortment of blended red wines. In many European regions, strict laws are in place determining the set of varieties that may be used, but in the New World, experimentation is permitted and encouraged resulting in a wide variety of red wine styles. Blending can be utilized to enhance balance or create complexity, lending different layers of flavors and aromas. For example, a red wine blend variety that creates a fruity and full-bodied wine would do well combined with one that is naturally high in acidity and tannins. Sometimes small amounts of a particular variety are added to boost color or aromatics. Blending can take place before or after fermentation, with the latter, more popular option giving more control to the winemaker over the final qualities of the wine.
How to Serve Red Wine
A common piece of advice is to serve red wine at "room temperature," but this suggestion is imprecise. After all, room temperature in January is likely to be quite different than in August, even considering the possible effect of central heating and air conditioning systems. The proper temperature to aim for is 55° F to 60° F for lighter-bodied reds and 60° F to 65° F for fuller-bodied wines.
How Long Does Red Wine Last?
Once opened and re-corked, a bottle stored in a cool, dark environment (like your fridge) will stay fresh and nicely drinkable for a day or two. There are products available that can extend that period by a couple of days. As for unopened bottles, optimal storage means keeping them on their sides in a moderately humid environment at about 57° F. Red wines stored in this manner will stay good – and possibly improve – for anywhere from one year to multiple decades. Assessing how long to hold on to a bottle is a complicated science. If you are planning long-term storage of your reds, seek the advice of a wine professional.
TON9710107_2007
Item#
154715