Bodega Garzon Uruguay Balasto 2016
Out of Stock

(was $89.99)
Winemaker Notes
n the nose this elegantly spiced wine displays fresh red and black fruits notes. In the mouth tannins are juicy and vibrant with energy and vitality associated to an excellent texture and long finish.
Blend: 45% Tannat, 25% Cabernet Franc, 18% Petit Verdot and 12% Marselan.
Critical Acclaim
All Vintages
The first impression here delivers lots of citrus and orange rind. Then blueberries, licorice, forest floor, underbrush and dark chocolate come into the picture as well as tile and clay. The palate shows a unique combination of agile blue fruit and acid drive with firm, grainy tannins and a chewy, very mineral finish. A blend of 45% tannat, 25% cabernet franc, 18% petit verdot and 12% marselan. Drink in 2021.
A very refined style with bounteous hints of herbs and tobacco coming from the input of Cabernet Franc, plus firm tannin and a long, salty finish.
This is the top selection from Garzón, named for the weathered rock that underlies the estate's 540 acres of vines. The estate is close to the Atlantic, 11 miles from the coast. It includes parcels of tannat (45 percent), cabernet franc (25 percent), petit verdot and marselan. Balasto is a rich wine in 2016, with bright blueberry concentration to its fruit flavors, and smoky, meaty char to its oak. Youthfully tannic, it needs a few years of bottle age to mellow.
The 2016 Balasto is mostly a 45/25 blend of Tannat and Cabernet Franc with Petit Verdot and Marselan for the rest. It was aged for 20 months in second use, untoasted French foudres and comes in at 14.5% alcohol. This is not as big or as rich as the 2015, but it seems better balanced and more focused, if not quite as attention-getting. The restraint helps this along and makes it seem like a fine food wine. Granting that they were not tasted from the same bottle size (and are certainly not at the same stage of development), this seems to me to be slightly better than the 2015. Reasonable minds might differ. This was tasted from a half bottle, although the price references a full bottle.
View More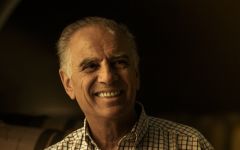 The Greatest Wines of the World are produced where the grape variety finds the ideal conditions to express itself in a natural and authentic way; like at Garzón, where they produce wines that result from the perfect integration of terroir and the different cultivated varieties.
Bodega Garzón is close to Punta del Este, La Barra and José Ignacio, the Uruguayan paradise with mesmerizing landscapes and the perfect combination of past, present and future. The charm of this sophisticated region, located among sloping hills that meet the sea is portrayed in the postcards of Garzón, a small town with 600 inhabitants which is home to tourists, farmers and local artists. This picturesque landscape offers the best environment for their vineyards, orchards and groves.
The wines love the terroir of Garzón with its ballast hills, a soft, stony soil and Atlantic breezes flowing over the vines that result in perfect conditions for creating elegant and complex wines. Therefore, Garzon products are the result of a careful selection of terroir which is appropriate for the development of premium wines and a wide range of grape varieties. This allows the best winemakers to experiment with a new environment and create optimal blends for a market increasingly eager for new wines. The resultant winemaking is focused on producing wines of the highest quality with a distinctive identity, strong personality and sense of place.
Considered one of the most environmentally sustainable countries in the world, Uruguay is also the fourth largest wine producing country in South America. But in contrast to its neighbors (Chile, Argentina and even Brazil) Uruguay keeps more in step with its European progenitors where land small holdings are most common. Most Uruguayan farms are tiny (averaging only about five hectares) and family-run, many dating back multiple generations. At this size, growers either make small amounts of wine for local consumption or sell grapes to a nearby winery. In all of Uruguay there are close to 3,500 growers but fewer than 300 wineries.
On these small plots of land, manual tending and harvesting, as well as low yields are favored; this small agricultural country has never had a need for large-scale chemical fertilizers or insecticides. Their thriving meat industry also follows the same standards: hormones have been banned since 1968 and today all Uruguayan beef is organic and grass-fed.
Uruguay's best vineyards are on the Atlantic coast, in Canelones and Maldonado (where cooling breezes lessen humidity) or found hugging its border with Argentina. With a climate similar to Bordeaux and soils clay-rich and calcareous, Uruguay is perfect for Tannat, a thick-skinned, red variety native to Southwest, France. A great Tannat from Uruguay will have no lack of rich red and black fruit, lots of sweet spice and a hefty structure. Sometimes winemakers blend Merlot or Pinot noir with Tannat to soften up its rough edges.
The best Uruguayan whites include Sauvignon blanc and Albarino.
With hundreds of red grape varieties to choose from, winemakers have the freedom to create a virtually endless assortment of blended red wines. In many European regions, strict laws are in place determining the set of varieties that may be used, but in the New World, experimentation is permitted and encouraged resulting in a wide variety of red wine styles. Blending can be utilized to enhance balance or create complexity, lending different layers of flavors and aromas. For example, a red wine blend variety that creates a fruity and full-bodied wine would do well combined with one that is naturally high in acidity and tannins. Sometimes small amounts of a particular variety are added to boost color or aromatics. Blending can take place before or after fermentation, with the latter, more popular option giving more control to the winemaker over the final qualities of the wine.
How to Serve Red Wine
A common piece of advice is to serve red wine at "room temperature," but this suggestion is imprecise. After all, room temperature in January is likely to be quite different than in August, even considering the possible effect of central heating and air conditioning systems. The proper temperature to aim for is 55° F to 60° F for lighter-bodied reds and 60° F to 65° F for fuller-bodied wines.
How Long Does Red Wine Last?
Once opened and re-corked, a bottle stored in a cool, dark environment (like your fridge) will stay fresh and nicely drinkable for a day or two. There are products available that can extend that period by a couple of days. As for unopened bottles, optimal storage means keeping them on their sides in a moderately humid environment at about 57° F. Red wines stored in this manner will stay good – and possibly improve – for anywhere from one year to multiple decades. Assessing how long to hold on to a bottle is a complicated science. If you are planning long-term storage of your reds, seek the advice of a wine professional.
PHXGANBAO16750_2016
Item#
518799