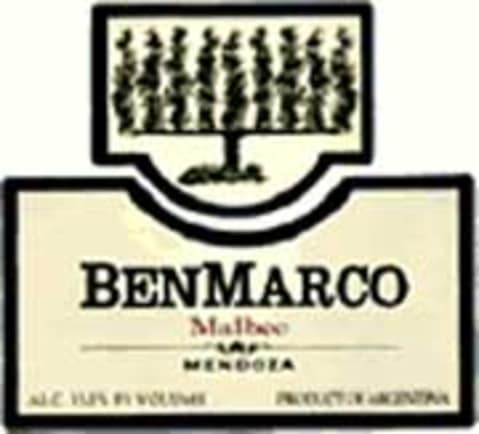 BenMarco Malbec 2002
Out of Stock

(was $22.99)
Ships today if ordered in next 7 hours
Winemaker Notes
Beautiful deep purple color with aromas of red fruits and some oak. Lush and penetrating on the palate with black cherry and cocoa flavors. A hint of sweet oak accompanies the soft tannins on the long finish. This wine shows why the Argentine people are in love with the Malbec grape. Pedro included a small amount of Syrah and Bonarda in the wine for greater complexity and to achieve better balance. Pairs well with a wide range of foods including grilled or roasted beef, spiced or grilled pork, veal, rabbit, medium-strong cheeses, or even meat-based pasta sauces.
BenMarco means "son of Marcos" in Hebrew. Pedro produces his wines as an homage to his father, Marcos who taught him how to plant, tend, and love the vineyards. The grapevine illustrated on the label is modeled after the wide-trellised vines that Pedro has planted on the borders of his vineyards (instead of unattractive fences).
BenMarco is all about viticulture. Having planted more than 3,000 acres of vineyards across Argentina's diverse terroirs, Edgardo "Edy" Del Popolo, General Manager of Susana Balbo Wines in Mendoza and head winemaker for BenMarco, is Argentina's most knowledgeable winegrower. He has tasted almost every piece of dirt!
BenMarco wines are made with minimal intervention to allow for the purest interpretation of what's underground on the extreme sites where the grapes for BenMarco are grown. "I try to avoid adding my influence to BenMarco wines," Edy says. "What I really like to see is what the vines can do, without any kind of winemaking influence."
Edy grows three red wines from three distinct, high-elevation sub-zones of Mendoza: a Malbec from Los Chacayes, a Cabernet Sauvignon from Los Árboles, and Expresivo, a red blend from Gualtallary.
Most distinguished and celebrated from Argentina's Mendoza, Malbec has seen runaway success since the early 2000s. Mendoza's agreeable, continental climate with hot, dry summers and cold snowy winters allows the perfect conditions for growing outstanding Malbec. This grape is easy to like for its lusty, deep flavors and aromas of blackberry, plum, red cherry, autumn spice and tilled earth. It's easy to find delicious, fruit-driven, affordable everyday examples and in prices beyond, quite exceptional ones with dense, supple textures that make them capable of aging.
EPCBMOMAC_2002
Item#
60719