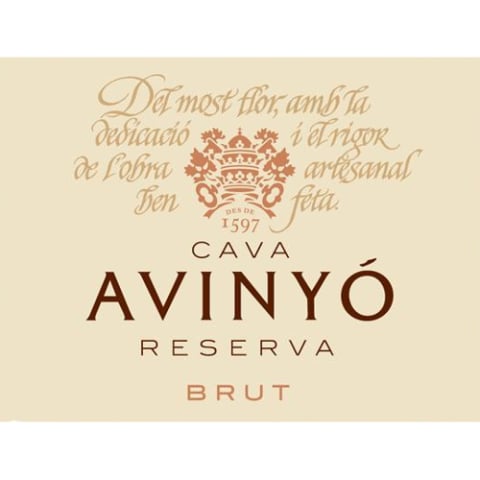 Avinyo Brut Reserva Cava
Out of Stock

(was $15.99)
Winemaker Notes
Bright white fruits combine with toast notes. On the palate the wine is fresh and vibrant.
Critical Acclaim
All Vintages
The non-vintage Brut Nature Reserva, made from the same varietals, is aged 24 months on the lees. It offers a similar flavor profile but with additional aromatic complexity and finesse.
View More
Avinyó Cava is a premier, hand-made, artisanal sparkling wine house which stands in stark contrast to the status quo of the industrial Cava machine. It begins with their location in the Catalan countryside in the remote village of Avinyonet del Penedès, where the Esteve family traces their history to 1597 with the building of their Masia (Catalan farmhouse) named "Can Fontanals," the traditional family home. Their spirit of innovation and respect for traditions, driven by an undercurrent of constant self-improvement and a relentless drive for quality, are the defining characteristics that set Avinyó Cava apart from others.
Today, Avinyó produces wine exclusively from vineyards that they own and farm organically with great care and respect, a rarity among Cava producers. This point cannot be overstated, as the unfortunate commodification of Cava by the industrial-volume producers has resulted in intense downward pressure for grape prices in the region and a subsequent race to the bottom for Cava pricing, especially in the US market. This, in turn, has led to the reality that most Cavas that make it to the US are not from organic farms like Can Fontanals. Rather, they are industrially produced from an anonymous base wine purchased cheaply from the local cooperative, re-fermented and aged for the bare-minimum time required (9 months), and adorned with a fantasy label, from a winery which does not exist. This is the situation in which serious Cava producers find themselves today, a reality which only serves to drive the resourceful Esteve-Nadal family to push their quality standards higher each vintage, setting themselves in bold contrast to companies who do not farm their own fruit or even know the origin of their grapes.
Such is the dedication to quality at Avinyó that the minimum aging for their "entry-level" Reserva cuvée is 24 months, with many of their bottlings receiving at least 36 months of time on the lees. Each shipment of wines is disgorged on-demand for refrigerated transport to the US, so flavors are always fresh and vibrant. In addition to being produced solely from organically certified (since 2019) estate-grown grapes and with extended lees-aging in bottle, all Avinyó Cava is from a single-vintage, clearly labeled on the bottle. No reserve solera wine is used here to alter either the expression of the vineyard or correct for a "house-style." Avinyó is about transparency. Today, the next generation of the Esteve-Nadal family is at the helm, refining innovation while respecting tradition. Four siblings (Xavier, Luis, Pedro Juan, and Ana) blend tradition, technology, and a relentless pursuit of quality to make their distinctive wines. In the family tradition, we can expect excellence for generations to come.
What is Cava?
Spain adopted the word, cava, which technically means 'cellar' in Catalan, to describe their sparkling wines made using the traditional method. While this style was first created outside of Spain in the 1600s, its birthplace inside of Spain came in 1872 when Jose Raventós of Codorníu first produced traditional method sparkling wine in the town of San Sadurní d'Anoia. Uniquely, the Cava denomination isn't restricted to one geographical area but rather, it spans eight total wine regions. However, about 90% of Spain's total production of Cava, Spanish sparkling wine happens within Catalonia, and about 75% is produced within the borders of San Sadurní d'Anoia, inside the smaller Catalan region of Penedès. In 2019, Spain registered nearly 38,000 hectares of vineyards for Cava production, compared to just under 34,000 in Champagne.
How is Cava sparkling wine made?
Cava, like many other sparkling wines of the world is made using the traditional method, or "Champagne method," or método tradicional in Spanish, in which the second fermentation (the one that makes the bubbles) takes place inside the bottle. With this method, spent yeast cells remain in contact with the wine during bottle aging, giving it a creamy mouthful, a toasted bread or brioche quality and in many cases, the capacity to age.
What are the Cava wine grapes?
The mainstay Cava grape varieties include Macabeo, Parellada, and Xarel-lo. Macabeo, also known as Viura, lends pleasant aromatics to the blend, while Parellada adds acidity and finesse. Xarel-lo is the grape that gives body, earth and greengage characteristics to Cava. Occasionally Chardonnay is used as a blending grape or sole variety in making Cava wine. Governmental inclusion approval was awarded in 1986 but still, Chardonnay makes up only a fraction of total vineyard area. For rosé, in Spanish called rosado, the local Trepat and Garnacha can be used, along with Pinot Noir (first permitted in 1998 for rosado and in 2007 for white Cavas).
Cava Tasting Profile
Since Cava is a sparkling wine produced on the Mediterranean where temperatures are warmer and there is more sunshine compared with Champagne, you can expect that Cava sparkling wine will generally have a gentler acid profile compared with its French counterpart. Furthermore, especially when the indigenous varieties are used, common Cava flavors will include citrus peel, fennel, wildflower, lemon blossom and flint or saline. Most Cava is produced in the Brut style, so dry, with a slightly rounder finish that balances brightness with brioche notes and supple fruit. Brut Nature or Zero Dosage examples are bone dry, whereas Extra-Dry Cava will be slightly sweet and a Demi-Sec Cava will have the highest sweetness level.
Cava Pairings
One of the best things about pairing Cava wine is you can drink it on its own or with just about any food! But if you want to focus on bringing out Cava's uniquely brilliant bouquet and citrus notes, rich or seafood-centric dishes are perfect food pairings for Cava. Try Cava with butter poached lobster, seafood risotto, puff pastry and caramelized onions or fried chicken.
A term typically reserved for Champagne and Sparkling Wines, non-vintage or simply "NV" on a label indicates a blend of finished wines from different vintages (years of harvest). To make non-vintage Champagne, typically the current year's harvest (in other words, the current vintage) forms the base of the blend. Finished wines from previous years, called "vins de reserve" are blended in at approximately 10-50% of the total volume in order to achieve the flavor, complexity, body and acidity for the desired house style. A tiny proportion of Champagnes are made from a single vintage.
There are also some very large production still wines that may not claim one particular vintage. This would be at the discretion of the winemaker's goals for character of the final wine.