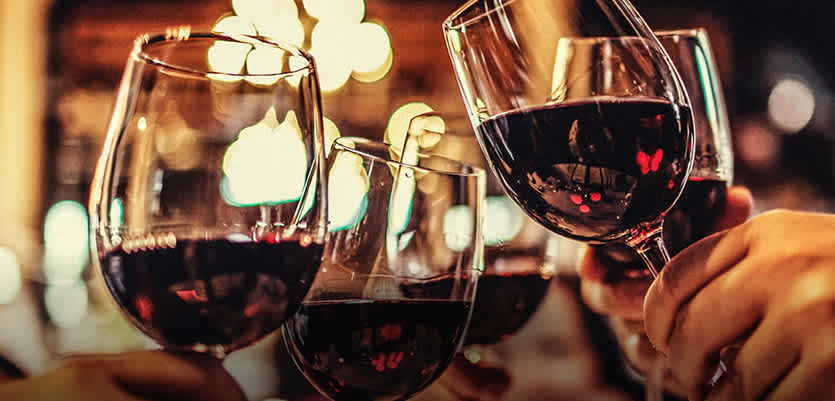 A wine tasting party guarantees a good time, and it's easy to put together. Start with a theme and choose relevant wines, then make sure you're covered with stemware, snacks, decorations and party favors. Do a bit of research on your wines to impress with your knowledge, and you're ready to have fun!
Here are a few things that will help your party be a huge success.
The first thing to figure out is your theme. Will you be tasting wines from a certain region or country? The same varietay, but from different producers and/or regions? Perhaps a showdown, for example Old World vs. New World? Napa vs. Sonoma? There are many possibilities, so let your imagination run as wild as you want.
Next is the wine. You can provide the bottles yourself, or assign your guests to bring a bottle that fits the theme. How many different wines should you include in the tasting? I've seen everything from 3 to 20, but 5-7 is a good range. Too few wines, and the tasting is over very quickly. Too many, and things can get rather messy. A standard tasting pour is about two ounces, so you will get about 12 pours per 750 ml bottle. Unless you're expecting more guests than that, one bottle each should suffice. Lastly, don't jump right into the tasting. Greet your guests with a glass of bubbly to set the mood – this will also cleanse everyone's palate. You needn't get fancy here. A nice Cava or Prosecco will work beautifully.
You also need to consider stemware. A professional tasting event typically includes a different glass for each wine, often with the appropriate style of glass to match the type of wine it holds. This approach, while classic and optimal, won't fit everyone's budget and inclination, and that's fine. Invest in a set of good, all-purpose wine glasses, and you're party ready. Ideally, the glasses should match, so everyone can taste from the same type of vessel.
The next thing that's helpful is a bit of knowledge. But no worries! As stated above, you don't have to be an expert, and you also don't have to memorize. It's easy to do a bit of research on your theme and on the wines (assuming you're providing them). Write interesting informational tidbits on note cards, placemats or mini chalkboards, and display them as appropriate. Wine.com has an abundance of useful articles and blog posts that will help. Other excellent resources include Karen MacNeil's "The Wine Bible" and Justin Hammack and Madeline Puckette's "Wine Folly: The Essential Guide to Wine." The last point here is to know your crowd. If your guests are mostly novices when it comes to wine, don't overwhelm them with too many obscure facts.
You will also want to think about your format. You may prefer a more formal tasting, with everyone seated around a table. Or you can make it casual, with folks mingling as they taste. One fun option is to do a blind tasting, with the bottles covered so no one knows what they're trying. With these, the theme can be as simple as "pick your favorite," or as involved as trying to guess varietal, vintage and region. Again, know your crowd!
Here are a few final considerations. First, you've got to have snacks. Once again, this can be all on you, or you may ask guests to bring an appetizer. Go fancy or casual, but definitely have plenty of nibbles available. Avoid anything too spicy or pungent, as such foods can overwhelm many wines. Next, it's never a bad idea to make your party even more festive with decorations, especially seasonal ones if your event is close to a holiday. Lastly, make sure your guests leave with a party favor of some sort, or at least offer up a fun game, with the winner taking home a bottle of wine. An easy one is to fill a bowl with wine corks and have people guess how many. The closest answer wins!
Now you know how to host a wine tasting party that folks will be talking about for months. But what if you're just throwing a regular party? How much wine should you buy? The rule of thumb is to figure on half a bottle per person. Of course, that calculus can change if there are other types of adult beverages available, especially if not every guest is a wine drinker. If the party is wine-focused and will last three hours or more, then three quarters of a bottle is a better metric. The bottom line, of course, is to make sure you have enough. Party on, and cheers!