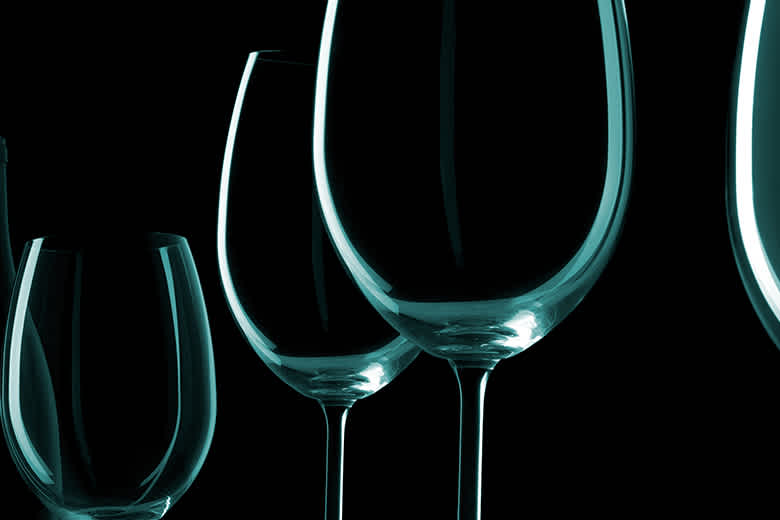 To the question, "Do wine glasses matter," the answer is yes! I was very fortunate to be included in a private San Francisco Riedel Wine Glass tasting this week, which was led by 10th generation family member Georg Josef Riedel. I have always been a believer in drinking my wine out of proper glassware, but had never put the theory to the test.
There were about 75-100 of us participating, seated at long tables with three different empty wine glasses at each setting. Each was from Riedel's Vinum XL line. Glass #1 was for Pinot Noir, #2 was for Syrah/Hermitage, and #3 was for Cabernet Sauvignon/Bordeaux. In front of each wine glass was a clear plastic 8oz glass, called a "joker," each filled with 6 ounces of unidentified red wine. There was also a bottle of still mineral water. We began the tasting by pouring equal amounts of water into each of the wine glasses. Georg instructed us to drink the water out of glasses 1 – 3, and then asked us by a show of hands if we had a preference. I was surprised, and in total agreement with the majority, that the clear-cut favorite was glass #3.
Now it was on to the main event. Georg instructed us to pour the wine from the plastic "joker" glass directly in front of glass #1 equally into glasses 1-3. We were then instructed to swirl, smell, and taste the wine from glass #1, and repeat the same for the remaining 2 glasses. Again, we were asked by a show of hands which glass was preferred for that particular wine. Glass #1, the Pinot Noir glass, was the overwhelming choice by a landslide. The wine was revealed, and it was the beautiful 2008 Domain Drouhin Oregon Pinot Noir. We repeated the process with the "joker" in front of glass #2. This time the majority of raised hands were for the Syrah glass, with a small percentage for #1. That wine turned out to be the 2007 Neyers Syrah Hudson Vineyard. The third wine poured was the 2008 Dominus Estate, a Napa Valley Cabernet blend, and by overwhelming majority glass #3, the Cabernet glass, was selected as the favorite.
Throughout the tasting Mr. Riedel kept referring to the Cabernet glass, which is their top selling red wine glass by far, as a "troublemaker" and that the glass had "zero tolerance" for any wines other than those made with Bordeaux varietals. This was made abundantly clear when tasting the 2007 Neyers Syrah Hudson Vineyard out of the Cabernet glass. The beauty of the wine was completely lost in the Cabernet glass, and an extraordinary wine was made to taste very ordinary. In fact, Mr. Riedel recommends that if you're going to choose just 1 red wine glass … make it a Syrah/Hermitage glass, as this is the very best vessel compromise for all red wines.
After this enjoyable and eye-opening demonstration, he explained how Riedel has spent over 260 years perfecting the "mission" of varietal-specific stemware – to convey the message of the wine to our senses. Variations in shape, size and rim diameter are needed to fulfill the ultimate promise of a wine, as expressed in these four ways:
Aroma & Bouquet
Flavor
Texture
Finish
The takeaway:
One glass is not ideal for all styles of wines, and a wine's characteristics are all affected by the glass it is consumed from.
The same wine will display completely different qualities when served in different glasses, even fooling sommeliers and experienced connoisseurs.
Grape varietals differ significantly in their flavor profiles, adding to the importance of selecting the appropriate glass.
Riedel has created shapes that specifically enhance a wine's harmony and highlight its unique attributes.
Varietal-specific stemware is a worthy investment for the serious oenophile.