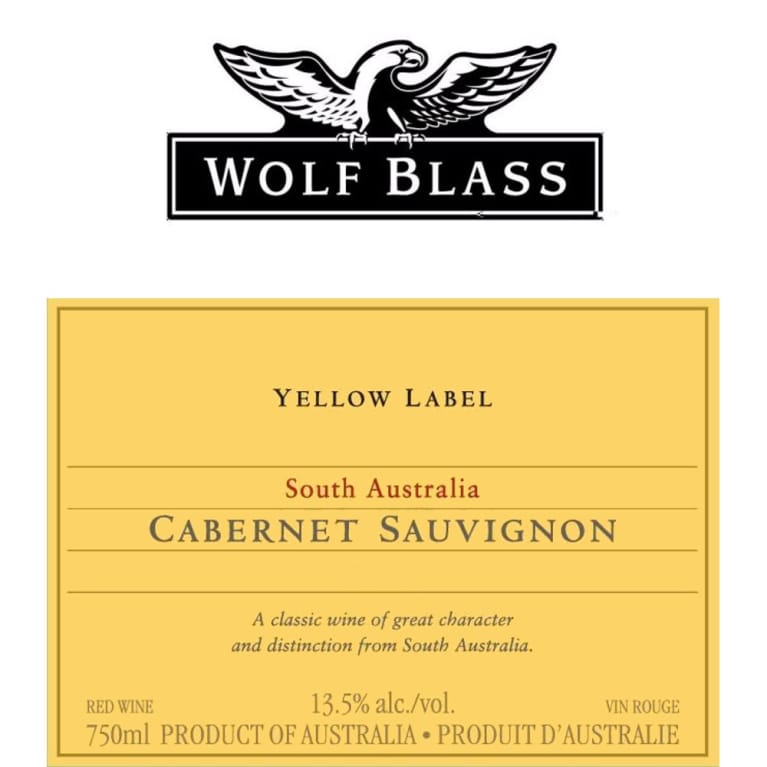 Wolf Blass Yellow Label Cabernet Sauvignon 2006
Winemaker Notes
The 2006 Wolf Blass Yellow Label Cabernet Sauvignon is a rich, deep wine. The nose shows fresh, varietal, leafy characters with subtle and integrated oak flavours. There are aromas of plums and berries. This is a medium to full bodied wine that offers a sweet, middle palate, finishing with fine, smooth, chalky Cabernet tannins. Enjoy with roasted lamb or grilled lamb cutlets.
Wolf Blass arrived in Australia's Barossa Valley at the age of 27, and has since developed one of Australia's premier wineries. Wolf Blass has been producing some of Australia's very best wines for over 30 years, receiving over 3,000 awards at international wine shows since 1966.
Produced from fruit grown in vineyards across southeast Australia, Wolf Blass winemakers produce wines of outstanding quality, character and consistency every year.
While Australia is best known for big, supple and potent Shiraz, it is also a fine source of Cabernet Sauvignon. Cab in fact is Australia's second most planted red varietal, and it is both bottled on its own and often used in blends. It's grown in Western Australia, Victoria, New South Wales and South Australia. The latter is the home of Block 42 of the Penfolds Kalimna Vineyard, whose vines -- planted in 1886 -- are believed to be the oldest productive Cabernet vines in the world. Two of the most highly regarded sources of Australian Cabernet Sauvignon, though, are Coonawarra on South Australia's Limestone Coast, and Margaret River in Western Australia, near Perth.
Coonawarra, famous for its rich red soil called terra rossa, has held Cabernet vines since the 1890's. Though it can get quite warm during the growing season, it's not far from the cool waters of the Southern Ocean, which tempers the climate and promotes balance in the grapes and resulting wines. These Cabs tend to be complex indeed, showing trademark dark fruit and firm tannins, along with notes of cigar box, cedar and – very often – mint and/or eucalyptus. Some producers to look for are Jim Barry, Yalumba, Berton Vineyards and Penley Estate.
Margaret River, on the other hand, stepped into wine production only in the 1960's. It is situated on the lower western tip of the country, where the Southern and Indian Oceans meet. This coastal location creates an even more temperate, maritime-influenced climate that resembles that of Bordeaux. In good years these Australian Cabs show amazing balance between ripeness, tannins and acidity, along with lovely texture. Producers of note include Leeuwin Estate, Vasse Felix and Howard Park.
SOU87308_2006
Item#
95592