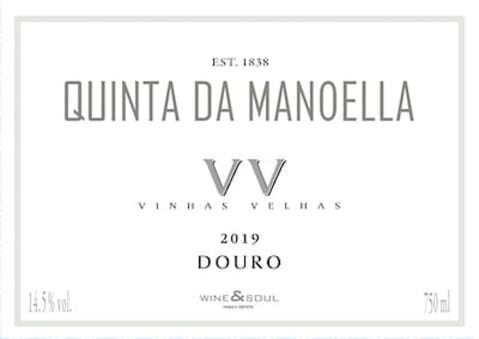 Wine & Soul Quinta da Manoella Vinhas Velhas 2019
Out of Stock

(was $119.99)
Winemaker Notes
Full-bodied and deeply concentrated, with a spicy and floral aroma, flavors of blackberry and dark chocolate. Ripe, round and balanced with a notable acidity, firm tannins and a long finish.
Critical Acclaim
All Vintages
Like a fine marble statue, this harmonious red shows precise, seamless definition, layering a subtle note of cured tobacco and creamy tannins with an expressive range of blackberry tart, fig cake, herbed olive and dark chocolate. Mouthwatering and minerally, expanding on the long finish. Drink now through 2034.
The 2019 Quinta da Manoella Vinhas Velhas is a field blend (over 30 grapes) from centenarian vines aged for 22 months in 30% new French oak. It comes in at 14.6% alcohol. This needs a little air, but it sometimes seemed very open, until it wasn't. This subtle and understated wine kept showing more power as it aired out while never becoming too astringent. More importantly, the fruit kept evolving too, becoming more expressive and keeping pace with the structure. This is a graceful Manoella that can seem deceptively approachable, but there's a lot going on under the hood, so to speak. At one point, I thought there were some nods to a Burgundy 1er cru (for some reason, I fixated on Chambolle-Musigny), albeit with a rather different flavor profile. It ultimately speaks for itself. Sock this away for a few years for best results. It may be drinkable much sooner, but you don't want to waste something expensive and rare. There were just 4,000 bottles produced, plus some in other formats.
This spectacular vineyard hidden in the folds of the Pinhão Valley has parcels of old vines that are the backbone of this wine. It is rich and structured, dense with tannins and black fruits. A wine to age, it will be ready to drink from 2026.
Jorge Serôdio Borges's family purchased this vineyard in 1838; he and Sandra Tavares, his wife and winemaking partner, began to renovate the old vines in 2009—the contemporary community now 120 years old, a field blend that includes tinta francisca (at seven percent, it is the dominant variety). Those vines produce one of the most distinctive reds in the Douro, its firm acidity expressed in a breath of mineral tannins that powers through the rich drape of new oak. The buzz of schist, of black-cherry skins and raspberry-seed bitterness all combine in a lasting, layered flavor, needing years to unpack.
View More
Located in the heart of the Douro Valley, Portugal's best-known wine region, Wine & Soul spans several picturesque vineyards. This innovative yet rustic winery was founded nearly 10 years ago by Jorge Serôdio Borges and his wife Sandra Tavares da Silva, both of whom wished to channel their extensive experience into a winery that would showcase the traditional varieties and terroir of the Douro Valley on an international level. Initially, Wine & Soul consisted of a lone vineyard, Pintas, located in the Cima Corgo's prized Pinhão Valley. Throughout the years, it expanded to include additional properties, such as the magnificent Quinta da Manoella. Parcels of 80-year-old vines are tucked into terraces carved out by dynamite a century ago. Walls built from the displaced schist border the vines, preventing erosion and enhancing the idyllic landscape. Wine & Soul has received considerable critical praise for its character-driven wines, all of which represent the exceptional terroir of the Douro region. Natural farming is prioritized, and no chemical fertilizers, pesticides, or herbicides are used. Irrigation is minimal and performed only by hand, and indigenous yeasts are used for almost all fermentation. Organic certification by Sativa is pending. Due to the steep grade of the slopes and the narrow width of the terraces, all grapes must be picked by hand. The fruit is foot-trodden in granite lagares, which yields fine, silky tannins since the process is so gentle on the grapes. The wines are all aged in French barriques.
The home of Port—perhaps the most internationally acclaimed beverage—the Douro region of Portugal is one of the world's oldest delimited wine regions, established in 1756. The vineyards of the Douro, set on the slopes surrounding the Douro River (known as the Duero in Spain), are incredibly steep, necessitating the use of terracing and thus, manual vineyard management as well as harvesting. The Douro's best sites, rare outcroppings of Cambrian schist, are reserved for vineyards that yield high quality Port.
While more than 100 indigenous varieties are approved for wine production in the Douro, there are five primary grapes that make up most Port and the region's excellent, though less known, red table wines. Touriga Nacional is the finest of these, prized for its deep color, tannins and floral aromatics. Tinta Roriz (Spain's Tempranillo) adds bright acidity and red fruit flavors. Touriga Franca shows great persistence of fruit and Tinta Barroca helps round out the blend with its supple texture. Tinta Cão, a fine but low-yielding variety, is now rarely planted but still highly valued for its ability to produce excellent, complex wines.
White wines, generally crisp, mineral-driven blends of Arinto, Viosinho, Gouveio, Malvasia Fina and an assortment of other rare but local varieties, are produced in small quantities but worth noting.
With hot summers and cool, wet winters, the Duoro has a maritime climate.
With hundreds of red grape varieties to choose from, winemakers have the freedom to create a virtually endless assortment of blended red wines. In many European regions, strict laws are in place determining the set of varieties that may be used, but in the New World, experimentation is permitted and encouraged resulting in a wide variety of red wine styles. Blending can be utilized to enhance balance or create complexity, lending different layers of flavors and aromas. For example, a red wine blend variety that creates a fruity and full-bodied wine would do well combined with one that is naturally high in acidity and tannins. Sometimes small amounts of a particular variety are added to boost color or aromatics. Blending can take place before or after fermentation, with the latter, more popular option giving more control to the winemaker over the final qualities of the wine.
How to Serve Red Wine
A common piece of advice is to serve red wine at "room temperature," but this suggestion is imprecise. After all, room temperature in January is likely to be quite different than in August, even considering the possible effect of central heating and air conditioning systems. The proper temperature to aim for is 55° F to 60° F for lighter-bodied reds and 60° F to 65° F for fuller-bodied wines.
How Long Does Red Wine Last?
Once opened and re-corked, a bottle stored in a cool, dark environment (like your fridge) will stay fresh and nicely drinkable for a day or two. There are products available that can extend that period by a couple of days. As for unopened bottles, optimal storage means keeping them on their sides in a moderately humid environment at about 57° F. Red wines stored in this manner will stay good – and possibly improve – for anywhere from one year to multiple decades. Assessing how long to hold on to a bottle is a complicated science. If you are planning long-term storage of your reds, seek the advice of a wine professional.
STC265753_2019
Item#
1228793