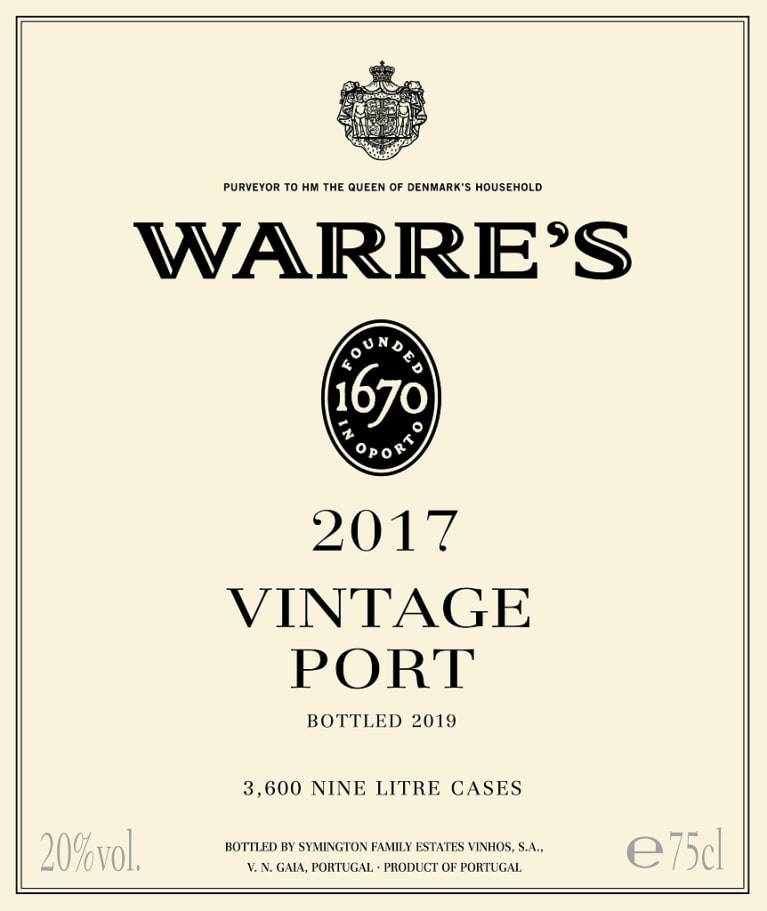 Warre's Vintage Port 2017
Winemaker Notes
The structure and complexity of the old vines was balanced with great acidity and freshness from the Cavadinha grapes and the superb floral aromatics from the two Touriga varieties harvested at Quinta da Telhada. Due to the very cool nights during the vintage, the grapes arrived at the Cavadinha lagar winery so cold in the mornings that, in effect, they had a 'cold soak maceration' before fermentation began, favouring excellent aromatic extraction. Harvesting finished at Cavadinha on October 10th, a couple of days before the weather broke. More perfect harvesting conditions could not have been hoped for.
Critical Acclaim
All Vintages
Loads of wet earth and grape aromas with hints of stems. Old vine aromas of bark and moss. Full-bodied, sweet and structured with a big kick on the end. Very impressive. Exceptional layers of fruit and energy. A stronger and more muscular Warre.
Lush and inviting in feel, with a beautifully creamy texture that lets plum sauce, blueberry reduction and raspberry pâte de fruit flavors glide along effortlessly. Notes of violet, anise and black tea are beguiling in the background before melding seamlessly on the finish. This shimmers with fruit, balanced by depth and spine. Best from 2035 through 2055
Relatively accessible, this still shows some impressive firmness to go with its fine concentration. An elegant wine this may be, as Charles Symington called it, but it is still admirable for its structure, even if the whole package is a little understated. Its fruit and mid-palate are nicely supported by moderate tannins. It evolves well with air, easily showing vivid and fresh fruit. It is beautifully textured as well. This is a fine Warre's Port, holding its own next to Dow, better than the 2016 Warre and a force in its own right. It is one of the best in a while. It is relatively accessible but not ready.
Rating: 94-96
This is an unusually powerful vintage of Warre's— "A huge wine," said Craig Ganzer, a rare-wine appraiser who joined our 2017 Porto panel. "As big and rich as it is, it's not clunky or cloying." The power and mass comes from different sides, including a heavy drape of oak and a complete range of fruit at what feels like optimal ripeness, with raspberry and darker blueberry notes creating a mouthwatering sensation. Notes of hibiscus and pressed flowers tie directly into the tannins through the wine's beeswax density. This has the remarkable integration that is a hallmark of the vintage, and a vinous character that should be fascinating to revisit as the wine ages. 
A ripe, floral wine that has many layers of black fruits with a fresh touch of acidity. The wine is dense while also elegant and poised with tannins and fruit already in balance. That suggests the Port will age relatively quickly. Drink from 2025.
View More
The history of the Warre family in Portugal dates back to William Warre, who was born in India in 1706, where his parents and grandparents were long established members of the East India Company. In 1729, he arrived in Portugal and became a partner in the export company, Messrs. Clark, Thornton & Warre, which exported Portuguese wine among other goods. By the close of the 18th century, Warre's had become one of the leading companies in the Port wine trade. His grandson, another William Warre, continued and grew the business while also maintaining an outstanding military career, contributing substantially towards the recovery of Portugal's independence.
The Symington family's ancestry in the Port trade spans a period of over 350 years, through 13 generations. They are descended from Andrew James Symington and Beatrice Atkinson who were married in Oporto in 1891. Andrew James arrived as a young man from Scotland in 1882 and was admitted to partnership in the firm of Warre & Co. in 1905 and in 1908 he became the soul owner of Warre & Co. Currently six members of the Symington family (five from the 13th generation in the Port trade) are actively involved in Warre's day-to-day management, with the dedication and long-term commitment that are unique to a family-run business. From the vineyards through the winemaking, aging, and blending, a member of the family is directly responsible for every bottle of Warre's Port produced. The family's commitment to its wines is stronger than ever after 350 years, an unparalleled tradition in the Port trade.
Best known for intense, impressive and age-worthy fortified wines, Portugal relies almost exclusively on its many indigenous grape varieties. Bordering Spain to its north and east, and the Atlantic Ocean on its west and south coasts, this is a land where tradition reigns supreme, due to its relative geographical and, for much of the 20th century, political isolation. A long and narrow but small country, Portugal claims considerable diversity in climate and wine styles, with milder weather in the north and significantly more rainfall near the coast.
While Port (named after its city of Oporto on the Atlantic Coast at the end of the Douro Valley), made Portugal famous, Portugal is also an excellent source of dry red and white Portuguese wines of various styles.
The Douro Valley produces full-bodied and concentrated dry red Portuguese wines made from the same set of grape varieties used for Port, which include Touriga Nacional, Tinta Roriz (Spain's Tempranillo), Touriga Franca, Tinta Barroca and Tinto Cão, among a long list of others in minor proportions.
Other dry Portuguese wines include the tart, slightly effervescent Vinho Verde white wine, made in the north, and the bright, elegant reds and whites of the Dão as well as the bold, and fruit-driven reds and whites of the southern, Alentejo.
The nation's other important fortified wine, Madeira, is produced on the eponymous island off the North African coast.
Port is a sweet, fortified wine with numerous styles: Ruby, Tawny, Vintage, Late Bottled Vintage (LBV), White, Colheita, and a few unusual others. It is blended from from the most important red grapes of the Douro Valley, based primarily on Touriga Nacional with over 80 other varieties approved for use. Most Ports are best served slightly chilled at around 55-65°F.
PBC9406891_2017
Item#
547307