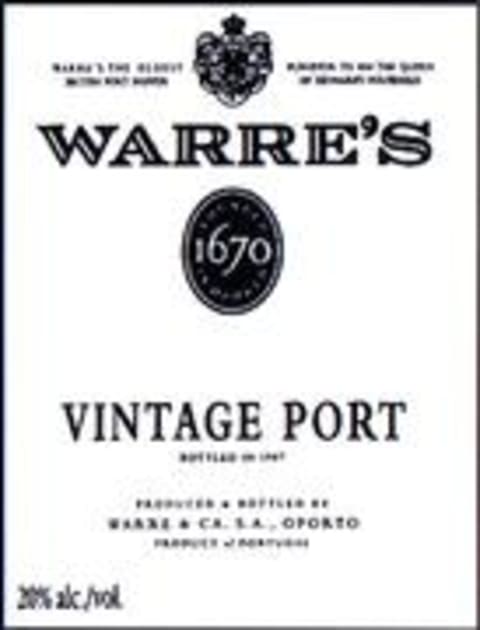 Warre's Vintage Port (1.5 Liter Magnum) 1977
Winemaker Notes
An excellent year. A wine with great grip and backbone. One of the three or four best Vintages since 1945. Will become ready to drink in the late 1990s.
Critical Acclaim
All Vintages
Beautiful now. Shows lots of dried fruits and Christmas cake character on the nose and palate. Medium sweet. Full-bodied with loads of flavor and an intensely flavorful finish. Perfect to drink.
Deep garnet. Very pretty plum and berry aromas, with hints of honey and toffee. Turns to custard. Full-bodied, sweet and fresh. Firm tannins, with elegance and balance. Will age for a long time, but ready. Generous, but subtle. '77/'85/'97 blind Port retrospective. Drink now.
This house makes rather restrained yet rich, flavorful vintage port and a very good tawny called Nimrod. Their vintage ports seem slow to develop, and while they never quite have the voluptuous richness of a Dow, Graham, or Fonseca, they have a unique mineral-scented character that gives them their own complexity and style. The 1977 is quite powerful, very deep and intense, particularly for Warre.
View More
The history of the Warre family in Portugal dates back to William Warre, who was born in India in 1706, where his parents and grandparents were long established members of the East India Company. In 1729, he arrived in Portugal and became a partner in the export company, Messrs. Clark, Thornton & Warre, which exported Portuguese wine among other goods. By the close of the 18th century, Warre's had become one of the leading companies in the Port wine trade. His grandson, another William Warre, continued and grew the business while also maintaining an outstanding military career, contributing substantially towards the recovery of Portugal's independence.
The Symington family's ancestry in the Port trade spans a period of over 350 years, through 13 generations. They are descended from Andrew James Symington and Beatrice Atkinson who were married in Oporto in 1891. Andrew James arrived as a young man from Scotland in 1882 and was admitted to partnership in the firm of Warre & Co. in 1905 and in 1908 he became the soul owner of Warre & Co. Currently six members of the Symington family (five from the 13th generation in the Port trade) are actively involved in Warre's day-to-day management, with the dedication and long-term commitment that are unique to a family-run business. From the vineyards through the winemaking, aging, and blending, a member of the family is directly responsible for every bottle of Warre's Port produced. The family's commitment to its wines is stronger than ever after 350 years, an unparalleled tradition in the Port trade.
PIN65085_1977
Item#
14046