Vins el Cep Brut Rose 2012
Winemaker Notes
This is a gorgeous and juicy rose made from 100% Pinot Noir. Wonderful red rose to salmon skin color, with ample aromas of cherry, strawberry and spice. It has a medium bodied, soft and fruity pallet with a great refreshing finish. Aged two years in bottle before released.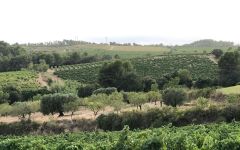 Vins el Cep is owned by several families, who's vineyards together produce the unique, terroir driven, sustainable cavas and wines.
Owned by the Carreras family, the 60Ha. Can Prats vineyard estate is located in Sant Llorenç d'Hortons. Macabeo, Xarel·lo, Parellada, Pinot Noir, and Tempranillo are all grown on the estate, which was first developed by Berenguer Raspall, who built the estate's masia, or farmhouse, in 1393. In 1568, Jaume Prats renamed the estate and consolidated viticulture on the farm.
The Can Castany vineyard estate is owned by the Masana family and was founded in 1448 by Joan Duran. In 1513, Felip Castany named the basilical style masia. The current proprietor, Gil Masana, is one of the founding members of Vins El Cep and is extremely well versed in the cultivation of grapes in this privileged area. It is a 50Ha. completely organically cultivated estate, where Vins El Cep's oldest vines are found, dating back to 1928. Macabeo, Xarel·lo, Parellada, Chardonnay, Muscat, Tempranillo, Merlot, Syrah, and Cabernet Sauvignon are all grown.
The Parera family owns the Can Miquel de les Planes vineyard estate. The current proprietor, Pere Parera, founding member of Vins El Cep, is the pioneer in Penedès for biodynamic viticulture, and was the first in the D.O. to push for and implement biodynamic viticulture in his vineyards in 2003. The estate is 30Ha. of completely organic and biodynamically farmed Macabeo, Parrellada, Chardonnay, and Cabernet Sauvignon.
Finally, the Esteve family, founding members of Vins El Cep, own the vineyard estate Can Simon, which was first founded in 1501 by Mateo Joan. The estate was named in 1673 by Jaume Simon. It consists of 50Ha. of Macabeo, Xarel·lo, Chardonnay, Pinot Noir, and Merlot.
Vins El Cep is the pioneer in D.O. Penedès for the production of sustainably grown cava, and were the first in Spain to produce a biodynamically farmed cava.
Known for bold reds, crisp whites, easy-drinking rosés, distinctive sparkling, and fortified wines, Spain has embraced international varieties and wine styles while continuing to place primary emphasis on its own native grapes. Though the country's climate is diverse, it is generally hot and dry. In the center of the country lies a vast, arid plateau known as the Meseta Central, characterized by extremely hot summers and frequent drought.
Rioja is Spain's best-known region, where earthy, age-worthy Spanish reds are made from Tempranillo and Garnacha (Grenache). Rioja also produces rich, nutty whites from the local Viura grape.
Ribera del Duero is gaining ground for Spanish wines with its single varietal Tempranillo wines, recognized for their concentration of fruit and opulence. Priorat, a sub-region of Catalonia, specializes in bold, full-bodied Spanish red wine blends of Garnacha (Grenache), Cariñena (Carignan), and often Syrah and Cabernet Sauvignon. Catalonia is also home to Cava, a Spanish sparkling wine made in the traditional method but from indigenous varieties. In the cool, damp northwest Spanish wine region of Galicia, refreshing Spanish white Albariño and Verdejo dominate.
Sherry, Spain's famous fortified wine, is produced in a wide range of styles from dry to lusciously sweet at the country's southern tip in Jerez.
What are the different types of sparkling rosé wine?
Rosé sparkling wines like Champagne, Prosecco, Cava, and others make a fun and festive alternative to regular bubbles—but don't snub these as not as important as their clear counterparts. Rosé Champagnes (i.e., those coming from the Champagne region of France) are made in the same basic way as regular Champagne, from the same grapes and the same region. Most other regions where sparkling wine is produced, and where red grape varieties also grow, also make a rosé version.
How is sparkling rosé wine made?
There are two main methods to make rosé sparkling wine. Typically, either white wine is blended with red wine to make a rosé base wine, or only red grapes are used but spend a short period of time on their skins (maceration) to make rosé colored juice before pressing and fermentation. In either case the base wine goes through a second fermentation (the one that makes the bubbles) through any of the various sparkling wine making methods.
What gives rosé Champagne and sparkling wine their color and bubbles?
The bubbles in sparkling wine are formed when the base wine undergoes a secondary fermentation, which traps carbon dioxide inside the bottle or fermentation vessel. During this stage, the yeast cells can absorb some of the wine's color but for the most part, the pink hue remains.
How do you serve rosé sparkling wine?
Treat rosé sparkling wine as you would treat any Champagne, Prosecco, Cava, and other sparkling wine of comparable quality. For storing in any long-term sense, these should be kept at cellar temperature, about 55F. For serving, cool to about 40F to 50F. As for drinking, the best glasses have a stem and a flute or tulip shape to allow the bead (bubbles) and beautiful rosé hue to show.
How long do rosé Champagne and sparkling wine last?
Most rosé versions of Prosecco, Champagne, Cava or others around the "$20 and under" price point are intended for early consumption. Those made using the traditional method with extended cellar time before release (e.g., Champagne or Crémant) can typically improve with age. If you are unsure, definitely consult a wine professional for guidance.
BOS30149576_2012
Item#
146606