Villa Wolf Pfalz Pinot Gris 2021
Winemaker Notes
Villa Wolf Pinot Gris is made in a full-bodied, dry style with fresh, unoaked fruit and a crisp texture. The wine is made in a combination of large, neutral oak casks for depth and complexity; concrete tanks for a rounded texture; and stainless steel to preserve freshness and enhance the vibrant fruit. It is an excellent partner for salmon, chicken, pork or savory vegetarian dishes.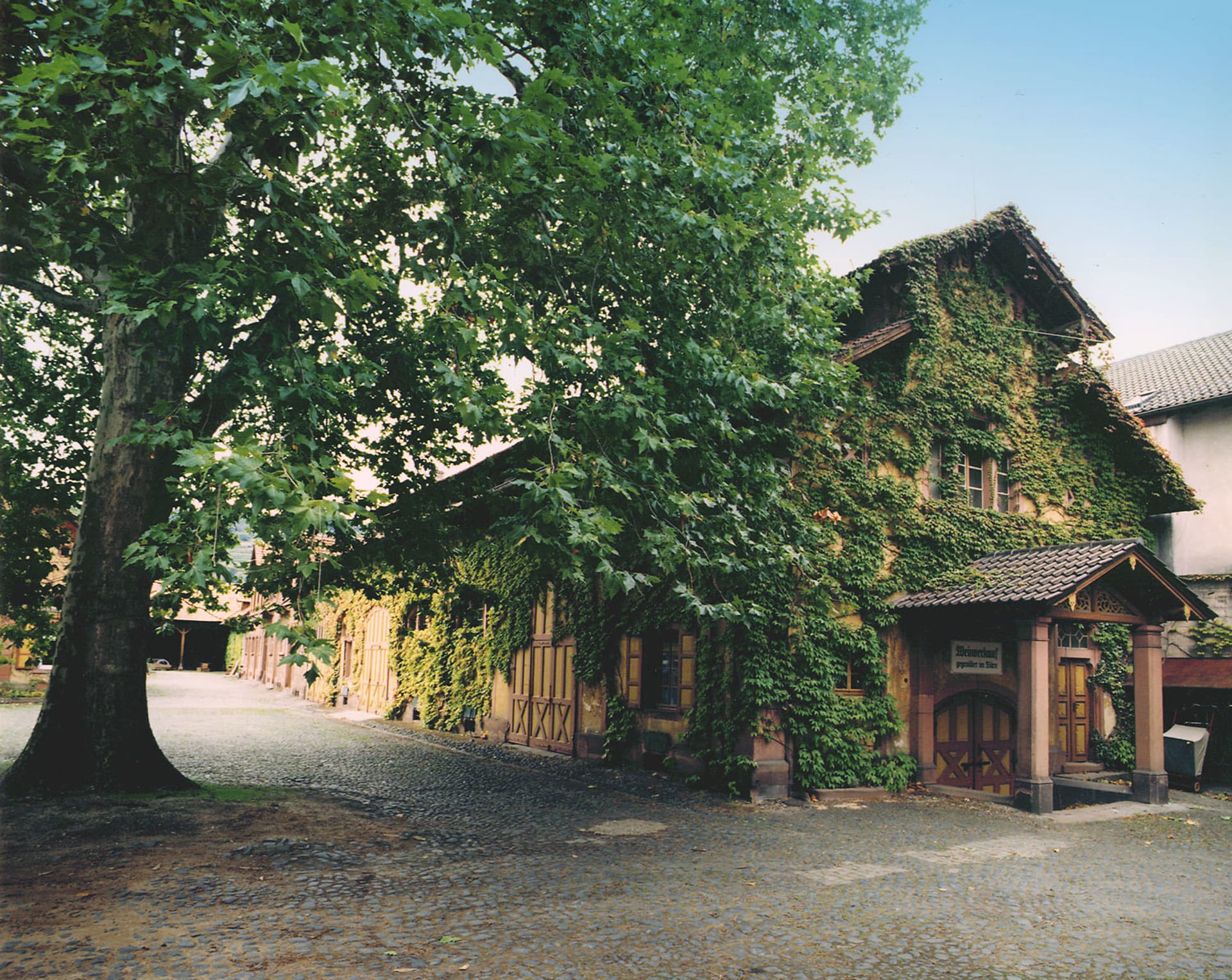 The Villa Wolf Estate is owned by Ernst Loosen of the Dr. Loosen Estate in the Mosel. The goal at Villa Wolf is to produce wines that express the pure, authentic terroir of the region. Made in the classic style of the Pfalz, Villa Wolf Rieslings are drier and more full-bodied than Mosel Rieslings, with fully ripe fruit flavors and a characteristic stoniness in the aroma. To preserve the naturally high quality of the vineyards, we employ sustainable viticultural practices and emphasize gentle handling of the fruit through traditional, minimalist winemaking.
The estate is managed by a talented young winemaker, Patrick Möllendorf, who had previously worked in the cellar at Dr. Loosen. He has brought renewed energy and focus to the viticulture and winemaking at Villa Wolf. With sustainable viticulture, minimal processing and their constant pursuit of improvement, Patrick strives to capture the purity and special characteristics of the region, vineyard and grape variety in each of their wines. The philosophy is based on the belief that great wines must start in the vineyard. So Patrick works closely with nature, using sustainable practices to nurture biodiversity in the vineyards, providing a healthy and diverse microbiology in the soil. This is important for wines to express the character of the grape and the soil in which it is grown. Organic certification for the estate vineyards was achieved in 2021. This approach is also carried into the cellar, with a focus on gentle handling of the wine throughout the entire process. This approach retains the clean, fresh fruit that represents the Villa Wolf style. The team is committed to traditional vinification methods, such as fermentation and aging in large, neutral oak casks, and spontaneous fermentation with natural yeasts.
This sunny and relatively dry region served for many years as a German tourist mecca and was associated with low cost, cheerful wines. But since the 1980s, it has gained a reputation as one of Germany's more innovative regions, which has led to increased international demand.
Showing a unique rosy, purplish hue upon full ripeness, this "white" variety is actually born out of a mutation of Pinot Noir. The grape boasts two versions of its name, as well as two generally distinct styles. In Italy, Pinot Grigio achieves most success in the mountainous regions of Trentino and Alto Adige as well as in the neighboring Friuli—all in Italy's northeast. France's Alsace and Oregon's Willamette Valley produce some of the world's most well-regarded Pinot Gris wine. California produces both styles with success.
Where Does Pinot Gris / Pinot Grigio Come From?
Pinot Gris is originally from France, and it is technically not a variety but a clone of Pinot Noir. In Italy it's called Pinot Grigio (Italian for gray), and it is widely planted in northern and NE Italy. Pinot Gris is also grown around the globe, most notably in Oregon, California, and New Zealand. No matter where it's made or what it's called, Pinot Gris/Pinot Grigio produces many exciting styles.
Tasting Notes for Pinot Grigio
Pinot Grigio is a dry, white wine naturally low in acidity. Pinot Grigio wines showcase signature flavors and aromas of stone fruit, citrus, honeysuckle, pear and almond. Alsatian styles are refreshing, expressive, aromatic (think rose and honey), smooth, full-bodied and richly textured and sometimes relatively higher in alcohol compared to their Italian counterpart. As Pinot Grigio in Italy, the style is often light and charming. The focus here is usually to produce a crisp, refreshing, lighter style of wine. While there are regional differences of Pinot Grigio, the typical profile includes lemon, lime and subtle minerality.
Pinot Grigio Food Pairings
The viscosity of a typical Alsatian Pinot Gris allows it to fit in harmoniously with the region's rich foods like pork, charcuterie and foie gras. Pinot Grigio, on the other hand, with its citrusy freshness, works well as an aperitif wine or with seafood and subtle chicken dishes.
Sommelier Secrets
Given the pinkish color of its berries and aromatic potential if cared for to fully ripen, the Pinot Grigio variety is actually one that is commonly used to make "orange wines." An orange wine is a white wine made in the red wine method, i.e. with fermentation on its skins. This process leads to a wine with more ephemeral aromas, complexity on the palate and a pleasant, light orange hue.
STC754945_2021
Item#
1034350