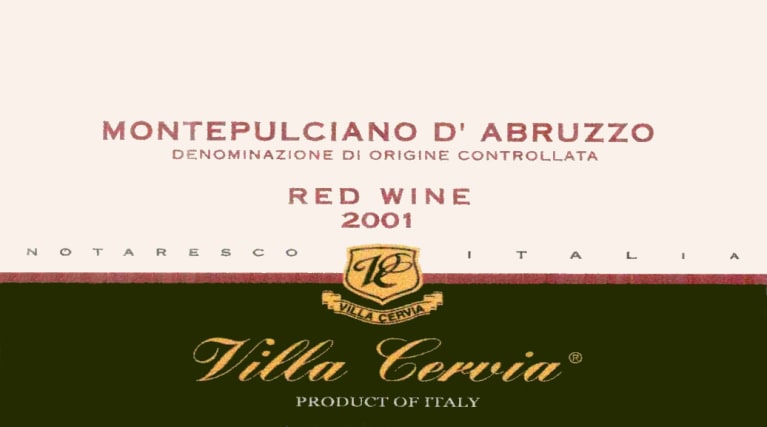 Villa Cervia Montepulciano D'Abruzzo 2001
A warm, Mediterranean vine-growing paradise, in Abruzzo, the distance from mountains to seaside is relatively short. The Apenniness, which run through the center of Italy, rise up on its western side while the Adriatic Sea defines its eastern border.
Wine composition tends to two varieties: Abruzzo's red grape, Montepulciano and its white, Trebbiano. Montepulciano d'Abruzzo can come in a quaffable, rustic and fruity style that generally drinks best young. It is also capable of making a more serious style, where oak aging tames its purely wild fruit.
Trebbiano in Abruzzo also comes in a couple of varieties. Trebbiano Toscana makes a simple and fruity white. However when meticulously tended, the specific Trebbiano d'Abruzzo-based white wines can be complex and long-lived.
In the region's efforts to focus on better sites and lower yields, vine acreage has decreased in recent years while quality has increased.
Beyond the usual suspects, there are hundreds of red grape varieties grown throughout the world. Some are indigenous specialties capable of producing excellent single varietal wines, while others are better suited for use as blending grapes. Each has its own distinct viticultural characteristics, as well as aroma and flavor profiles, offering much to be discovered by the curious wine lover. In particular, Portugal and Italy are known for having a multitude of unique varieties but they can really be found in any region.
ZZZREFPRODUCT375948
Item#
375948