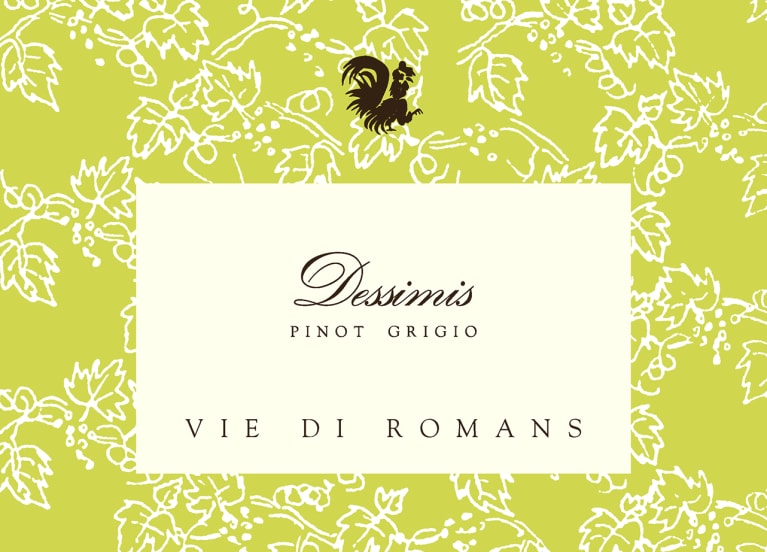 Vie di Romans Dessimis Pinot Grigio 2019
Winemaker Notes
Slightly pink color (ramato style). The nose is fine, with delicate notes of crushed flowers, sweet red berries, peach and a hint of citrus fruit. On the palate it is fresh with a full body and some tannins that add persistence and structure.
An in-depth understanding of all the factors underlying a specific sensory experience is of course the goal of anyone who strives for a deeper appreciation of the fruit of the winemaker's art. The production of outstanding grapes and wines is linked to a broad range of factors, but considering these in a cursory manner will not reveal the intimate character of a winemaking enterprise: instead of simply co-relating good quality with terroir or with winemaking practices, one must attempt to trace the synergy of agents which interact to produce that wine. In the following pages, then, we intend to consider only those factors which contribute the most to defining the character of Vie di Romans' wines; they fall into three categories: environment, viticulture, and man.
The source of some of Italy's best and most distinctive white wines, Friuli-Venezia Giulia is where Italian, Germanic and Slavic cultures converge. The styles of wines produced in this region of Italy's far north-east reflect this merging of cultures. Often shortened to just "Friuli," the area is divided into many distinct subzones, including Friuli Grave, Colli Orientali del Friuli, Collio Goriziano and Carso. The flat valley of Friuli Grave is responsible for a large proportion of the region's wine production, particularly the approachable Pinot grigio and the popular Prosecco. The best vineyard locations are often on hillsides, as in Colli Orientali del Friuli or Collio. In general, Friuli boasts an ideal climate for viticulture, with warm sunny days and chilly nights, which allow grapes to ripen slowly and evenly.
In Colli Orientali, the specialty is crisp, flavorful white wine made from indigenous varieities like Friulano (formerly known as Tocai Friulano), Ribolla gialla and Malvasia Istriana.
Red wines, though far less common here, can be quite good, especially when made from the deeply colored, rustic Refosco variety. In Collio Goriziano, which abutts Slovenia, many of the same varieties are planted. International varieties like Merlot, Cabernet Sauvignon, and Cabernet Franc are also common, but they tend to be Loire-like in style with herbaceous character and mellow tannins. Carso's star grape is the red Teranno, notable for being rich in iron content and historically consumed for health purposes. It has an earthy, meaty profile and is often confused with the distinct variety Refosco.
This "white" variety is actually born out of a mutation of Pinot Noir and shows a unique rosy, purplish hue upon full ripeness. The grape boasts two versions of its name and two generally distinct styles: the crisp, Italian Pinot Grigio and the softer French Pinot Gris. Somm Secret—Given the color of its berries and aromatic potential, Pinot Grigio is commonly used to make "orange wines." An orange wine is a white wine made with fermentation on its skins (similar to red wine making), leading to n orange hued wine with ephemeral aromas and extra complexity.
SOU971900_2019
Item#
685113