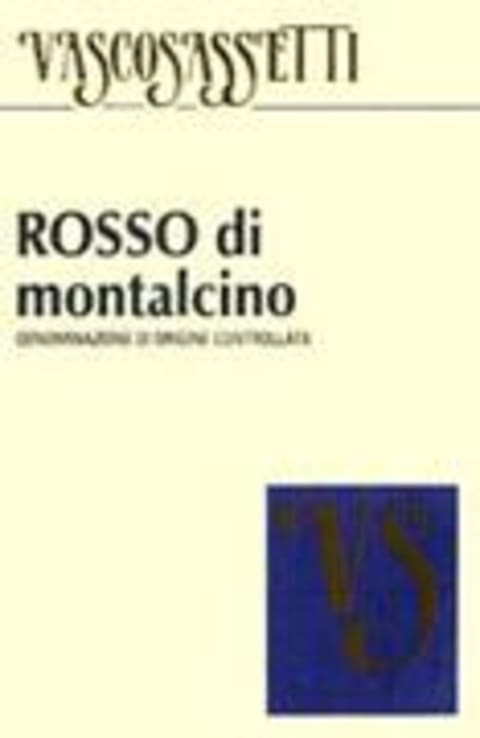 Vasco Sassetti Rosso Montalcino
Winemaker Notes
A softer Tuscan red with dark cherry fruit flavors, very approachable and medium bodied. Enjoy with pastas, grilled meats, and cheeses.
Famous for its bold, layered and long-lived red, Brunello di Montalcino, the town of Montalcino is about 70 miles south of Florence, and has a warmer and drier climate than that of its neighbor, Chianti. The Sangiovese grape is king here, as it is in Chianti, but Montalcino has its own clone called Brunello.
The Brunello vineyards of Montalcino blanket the rolling hills surrounding the village and fan out at various elevations, creating the potential for Brunello wines expressing different styles. From the valleys, where deeper deposits of clay are found, come wines typically bolder, more concentrated and rich in opulent black fruit. The hillside vineyards produce wines more concentrated in red fruits and floral aromas; these sites reach up to over 1,600 feet and have shallow soils of rocks and shale.
Brunello di Montalcino by law must be aged a minimum of four years, including two years in barrel before realease and once released, typically needs more time in bottle for its drinking potential to be fully reached. The good news is that Montalcino makes a "baby brother" version. The wines called Rosso di Montalcino are often made from younger vines, aged for about a year before release, offer extraordinary values and are ready to drink young.
With hundreds of red grape varieties to choose from, winemakers have the freedom to create a virtually endless assortment of blended red wines. In many European regions, strict laws are in place determining the set of varieties that may be used, but in the New World, experimentation is permitted and encouraged resulting in a wide variety of red wine styles. Blending can be utilized to enhance balance or create complexity, lending different layers of flavors and aromas. For example, a red wine blend variety that creates a fruity and full-bodied wine would do well combined with one that is naturally high in acidity and tannins. Sometimes small amounts of a particular variety are added to boost color or aromatics. Blending can take place before or after fermentation, with the latter, more popular option giving more control to the winemaker over the final qualities of the wine.
How to Serve Red Wine
A common piece of advice is to serve red wine at "room temperature," but this suggestion is imprecise. After all, room temperature in January is likely to be quite different than in August, even considering the possible effect of central heating and air conditioning systems. The proper temperature to aim for is 55° F to 60° F for lighter-bodied reds and 60° F to 65° F for fuller-bodied wines.
How Long Does Red Wine Last?
Once opened and re-corked, a bottle stored in a cool, dark environment (like your fridge) will stay fresh and nicely drinkable for a day or two. There are products available that can extend that period by a couple of days. As for unopened bottles, optimal storage means keeping them on their sides in a moderately humid environment at about 57° F. Red wines stored in this manner will stay good – and possibly improve – for anywhere from one year to multiple decades. Assessing how long to hold on to a bottle is a complicated science. If you are planning long-term storage of your reds, seek the advice of a wine professional.