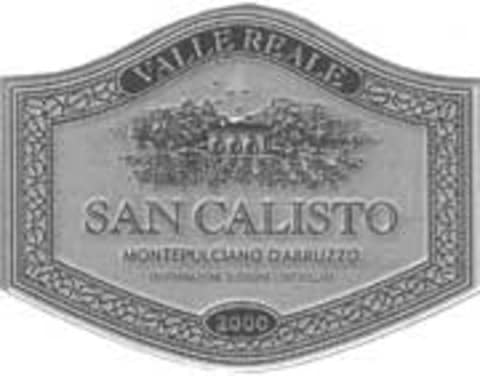 Valle Reale San Calisto Montepulciano d'Abruzzo 2001
Ships Tue, Oct 29
Limit
0
bottles
per customer
Valle Reale was founded in 2000 with the goal of producing world-class wines. Working primarily with the Montepulciano varietal, the Pizzolo family strives to make wines that highlight the grape's intrinsic qualities: strength, exuberance, vitality, color, elegance, balance and depth. The process begins with the careful selection of clones that are best suited to Valle Reale's soil and climate, and therefore best express the distinct characteristics of the varietal. Their success is evident in the young, vibrant DOC base wine, and even more so in the cru, a new benchmark for Montepulciano d'Abruzzo. Located in the green heart of Abruzzo, Valle Reale's vineyards are situated inside one of Italy's most beautiful national parks. This is a wild paradise, with deep gorges carved by glaciers, crystal-clear springs and a diverse array of flora and fauna. Valle Reale is one of the few wine-producing estates in this area of pristine beauty. The topography and climate of this part of Abruzzo is completely different from the rest of the region and unique within central Italy. The vineyards have thin soils rich in limestone, with a light base of clay and sand. The proximity to the Gran Sasso mountain range, and the altitude of the estate itself, create wide fluctuations in temperature between day and night. The grapes grown at Valle Reale take advantage of constant cool breezes that ensure good ventilation and minimize humidity — ideal for the development of fine aromas. Perfect ripening temperatures are reached only in late fall when the first snow whitens Mount Morrone. The geographic and climatic peculiarities of this area are reflected in the wines, which are characterized by the trademarks of fully mature fruit: fresh, elegant perfume and aromatic complexity.
A warm, Mediterranean vine-growing paradise, in Abruzzo, the distance from mountains to seaside is relatively short. The Apenniness, which run through the center of Italy, rise up on its western side while the Adriatic Sea defines its eastern border.
Wine composition tends to two varieties: Abruzzo's red grape, Montepulciano and its white, Trebbiano. Montepulciano d'Abruzzo can come in a quaffable, rustic and fruity style that generally drinks best young. It is also capable of making a more serious style, where oak aging tames its purely wild fruit.
Trebbiano in Abruzzo also comes in a couple of varieties. Trebbiano Toscana makes a simple and fruity white. However when meticulously tended, the specific Trebbiano d'Abruzzo-based white wines can be complex and long-lived.
In the region's efforts to focus on better sites and lower yields, vine acreage has decreased in recent years while quality has increased.
Consistently enticing and enjoyable, Montepulciano enjoys great popularity throughout central and southern Italy and is gaining quite a following in many other parts of the world. Widely prolific in its homeland, Montepulciano is actually the second most planted red variety in Italy after Sangiovese, though it is most associated with the region of Abruzzo where it achieves its highest potential. A tiny bit grows in California, Argentina and Australia as well.
Tasting Notes for Montepulciano
Montepulciano is a dry, red wine. Dark and inky, Montepulciano brims with boysenberry, black plum and juicy tart cherry flavors. Typical aromas come in the form of berry pie, freshly cut Italian herbs, dark chocolate and licorice. It's a full-bodied wine with fine to rustic tannins.
Perfect Food Pairings for Montepulciano
Historically this variety has been one to inhabit many pizzeria and cafe wine lists throughout central and into southern Italy, offering amazing value for everyday consumption. It is no doubt a perfect complement to a variety of other foods we are used to: barbecued brisket, meatloaf, Shepherd's Pie and grilled portabella mushrooms. Think of it as the perfect alternative to Syrah, Petite Sirah or Malbec if you're looking to broaden your horizons.
Sommelier Secrets for Montepulciano
The wine called Vino Nobile di Montepulciano is actually not to be confused with Montepulciano d'Abruzzo. Montepulciano is also the name of a village in Tuscany; Sangiovese grows there and is responsible for Vino Nobile di Montepulciano. The grape called Montepulciano grows in Abruzzo and makes the wine called Montepulciano d'Abruzzo.
WBO30004076_2001
Item#
74804