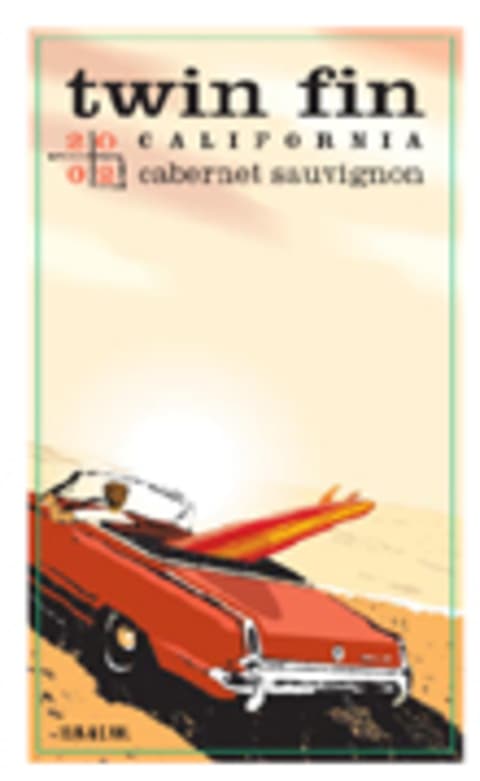 Twin Fin Cabernet Sauvignon 2002
Winemaker Notes
It's a good four-hour drive to get from Monterey to the Mendocino County line (that is, if you don't get stuck in Bay Area traffic), but Twin Fin Cabernet Sauvignon lets you soak up the coastal vibe of these two beautiful locations in one glass! Central Coast Cabernet Sauvignon imparts flavors of tobacco, mint and currant; while a healthy dose of North Coast Cabernet Sauvignon offers up signature notes of dark cherry and bittersweet chocolate. A coastal trip worth taking!
Twin Fin prefers sunny days over dark cellars. As a result, we made it a point to make Twin Fin soft and fruit-forward upon release. Cold soak fermentations, pump-overs in static fermenters 4x/day, and leaving the juice on its skins for two weeks maximized extraction and color while minimizing harsh tannins. After fermentation, the juice was then transferred into barrel (an even mix of American and French oak) for up to 14 months, giving it some toasty notes on the long finish. Syrah was added into the final mix to give the wine some peppery spice!
The final result speaks for itself. Red berry, black currant, cassis, mint with fine grained, structured tannins. Twin Fin Cabernet Sauvignon complements everything from pasta to porterhouse! Enjoy now, enjoy often!
Hugh Reimers and Sam Burton are not your typical winemakers. When they decided to start the Twin Fin, they wanted it to be really different—to capture the California lifestyle they've come to love. "We are part of a new generation of wine drinkers," says Hugh. "We wanted to make this wine as a connection to all the things that we love: sand and surf, snowboarding, golf, living the California Dream. Twin Fin is cool, classic, but laid back and generous. It's just plain great."
"Twin Fin is all about fun: relaxed, and always comfortable," says Sam. "Good wine is like those experiences that become memories, where the horizon signifies not an end, but a beginning—of the next wave, the next adventure, the next possibility. It's where quality and personality, character and substance all meet in one bottle."
Hugh and Sam are not what you'd expect from winemakers; these guys are better. While they both have impressive backgrounds – Hugh graduated from Australia's top winemaking school and Sam has worked with wineries in all of the major wine regions of Australia – they also know how to have a good time. They really live in the spirit of the wine they create: people that work hard and play hard.
"We get the grapes from select vineyards along California's Central Coast," says Sam. "That gives us great wine quality, and a chance to travel to all the places we love to visit." This winemaking duo makes six wines: Merlot, Shiraz, Cabernet Sauvignon, Chardonnay, Pinot Grigio and Pinot Noir. The wines are fresh and fruit-driven and offer tremendous quality for the price—just right for everything from beach barbecues to dinner with the in-laws. "The perfect night, the perfect friends and the perfect wine—it's that easy with Twin Fin," says Hugh.
Covering the most vine acreage in the state compared to any other red wine variety, Cabernet Sauvignon produces as much wine in California as Merlot and Pinot Noir combined. The state's diverse terrain and microclimates, as well as the freedom of its winemakers, allow for an incredible range of wine styles from this single grape.
California's most famous region—and especially for Cabernet Sauvignon—is the acclaimed Napa Valley. While Cabernet is successful throughout the world, rarely has it achieved such merit as it does from the Napa Valley. At this point the two are so intrinsically linked that it is difficult to discuss one without the other.
Napa's closest neighbor, Sonoma County, does an impressive job keeping up with Napa's fame and glory. Alexander Valley, Sonoma Mountain, Moon Mountain and Knights Valley contribute to the lot of some of California's top-rated Cabernet Sauvignon.
Lake County in California's North Coast has become a focus for some of Napa's more respected growers. From the Central Coast come iconic examples of classic California Cabernet; Lodi and the Sierra Foothills are great budget-friendly sources of amicable Cabernets.
NDF322104_2002
Item#
81630