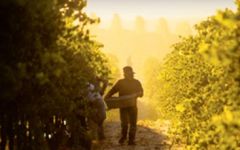 Named for the traditional practice of toasting barrel heads and staves to impart a mellow, toasted flavor to barrel-aged wines, Toasted Head began making hand-crafted wines at our vineyards in the Dunnigan Hills of Yolo County, California in 1995.
Where the heck is Yolo County?
Yolo County may not be a major destination for wine lovers, but that's okay by us. Our neighbor to the west, Napa County, gets all the tourists, while Sacramento County, to the east, gets all the politicians (and hot air!). We're in between, in one of California's original 27 counties, which has stayed a rural oasis that is now home to a large community of artists and craftspeople, as well as California's greatest concentration of organic farmers. The name Yolo is from the native Poewin Indian word "yo-loy," meaning "abounding in the rushes," but some locals insist it's an acronym for "You Only Live Once."
Our estate vineyards in Yolo's Dunnigan Hills, a designated American Viticultural Area (AVA) on the eastern side of California's Coast Range Mountains, are perched on rolling hillsides with well-drained gravelly loam soils. It gets warm in the Dunnigan Hills in summer, but cooling breezes from the Sacramento Delta and San Francisco Bay reduce evening temperatures to between 55° and 65° F. This enables our grapes to cool down quickly at night, preserving their fresh flavors and crisp natural acidity.
For over 30 years, the farms around here have supplied northern California's finest restaurants and farmer's markets with a cornucopia of delicious, organically grown fruits, vegetables and nuts. At Toasted Head, we're proud to have added fine wine to the menu.
PBC2436749_1999
Item#
45052