Telmo Rodriguez As Caborcas Single Vineyard Ladeiras do Bibei 2010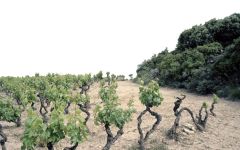 Telmo Rodriguez is one of Spain's pioneer winemakers, advocating native grape varietals tied to the climates and conditions of their sites, and making world-class wines from undiscovered as well as known regions. Perhaps most impressive, while Telmo Rodriguez makes rare and limited wines of astonishing character and quality, his everyday wines have been equally praised, and widely recognized for the tremendous value they offer.
Telmo studied viticulture and oenology at the University of Bordeaux and was the winemaker at his family winery in Rioja, Remelluri, and then set off on his own in the early 1990s to discover new vineyards and regions all around Spain. He now makes a range of wines in diverse viticultural areas of Spain, with an emphasis on the following: vineyards biodynamically farmed, vines are exclusively bush-trained the traditional Spanish method, replanting only with varietals traditional to their regions.
Telmo was among the first to make significant wines in Toro, Rueda, Valdeorras, Malaga, Alicante and Cigales. In these areas he uses native varietals, often grapes rediscovered such as Godello, Verdejo, Moscatel and Monastrell which do not have wide recognition. With other classically recognized varietals such Tempranillo, Garnacha and Carignan, he works with vines that are indigenous and reflect the character of their particular site. As a result, Telmo has been one of the leaders of the quality revolution with these varietals in up and coming areas such as Toro, as well as in the traditional areas of Rioja and Ribera del Duero.
With hundreds of red grape varieties to choose from, winemakers have the freedom to create a virtually endless assortment of blended wines. In many European regions, strict laws are in place determining the set of varieties that may be used, but in the New World, experimentation is permitted and encouraged. Blending can be utilized to enhance balance or create complexity, lending different layers of flavors and aromas. For example, a variety that creates a fruity and full-bodied wine would do well combined with one that is naturally high in acidity and tannins. Sometimes small amounts of a particular variety are added to boost color or aromatics. Blending can take place before or after fermentation, with the latter, more popular option giving more control to the winemaker over the final qualities of the wine.
ZZZREFPRODUCT327822
Item#
327822