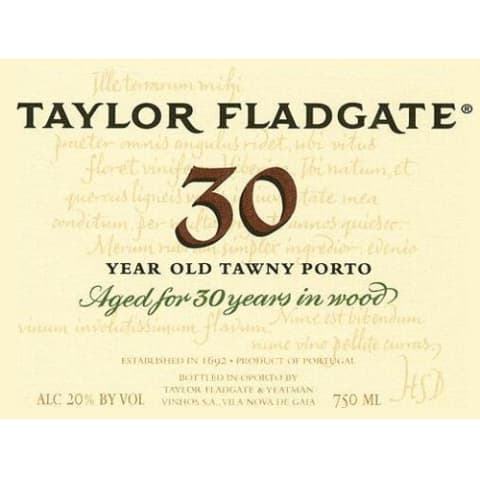 Taylor Fladgate 30 Year Old Tawny
Ships Tomorrow
Limit
0
bottles
per customer
Winemaker Notes
Blended from Taylor Fladgate's reserves of fine, cask-aged tawnies of several vintages, these wines are on average 30 years old. Rich, silky and elegant, it is a masterpiece of the blender's art.
Critical Acclaim
All Vintages
This is lovely, displaying warm date, toffee and persimmon notes entwined with sesame oil, green tea and ginger flavors. Shows a lovely interplay of sweet and dry, with flashes of hazelnut cream and juniper contrasting each other on the long and deep finish. Drink now. From Portugal.
The 30-Year Old Tawny (2017 bottling) is probably my pick of the various aged Tawnies currently sold by Taylor Fladgate. The nose is beautiful: very pure with crushed strawberry, rose petal, quince and pressed flowers. The palate is medium-bodied with ginger and allspice on the entry, a fine line of acidity and a very harmonious, almost nutty finish that lingers in the mouth.
Intense and fragrant with scents of exotic fruit and roasted almonds, this wine's long aging in wood has given the fruit a grilled aspect, while integrating the lemony acidity into a texture of liquid silk. That acidity enhances the fiery spice, lifting the wine in an upward trajectory of flavor.
The NV 30 Year Old Tawny Port was bottled in February 2016 with a bar-top cork and comes in with 126 grams per liter of residual sugar. The last release of this I saw was the 2014. Obviously, the differences are typically small from year to year and they are not side by side, but this didn't show quite as well early on, whether due to it being a different release or just a different context. It shows good concentration while retaining some mid-palate finesse. It is complex, then it adds a powerfully intense finish laced with burnt orange peel and molasses as it warms. If I had a quibble, there was some noticeable alcohol, especially when retasted the next day. Some three or four days later, it was far smoother, but it is always a little edgy. Overall, this is a fairly stern style, dry and brooding, with that hint of spirits in the background. It reminds me of the stereotypical scene with Port (or Cognac), cigars and blue cheese. It just has that serious feel to it, along with that long finish. It seems to be one, as discussed in the accompanying article, that leans more to a 40-year Port. As always, these last indefinitely, barring cork failures, but they are not really meant to be held.
View More
Taylor's is now into its fourth century: one of the very oldest of the Port companies. It is the last totally independent company of the original British Port houses-and is still family owned and managed. It is run today from Oporto by descendants of the Yeatman and Fladgate families, both of which have been partners in the firm since the 1830s. For more than 300 years Taylor's name has been synonymous with consistent excellence in Port.
Best known for intense, impressive and age-worthy fortified wines, Portugal relies almost exclusively on its many indigenous grape varieties. Bordering Spain to its north and east, and the Atlantic Ocean on its west and south coasts, this is a land where tradition reigns supreme, due to its relative geographical and, for much of the 20th century, political isolation. A long and narrow but small country, Portugal claims considerable diversity in climate and wine styles, with milder weather in the north and significantly more rainfall near the coast.
While Port (named after its city of Oporto on the Atlantic Coast at the end of the Douro Valley), made Portugal famous, Portugal is also an excellent source of dry red and white wines of various styles.
The Duoro Valley produces full-bodied and concentrated dry red wines made from the same set of grape varieties used for Port, which include Touriga Nacional, Tinta Roriz (Spain's Tempranillo), Touriga Franca, Tinta Barroca and Tinto Cão, among a long list of others in minor proportions.
Other dry wines include the tart, slightly effervescent Vinho Verde white wine, made in the north, and the bright, elegant reds and whites of the Dão as well as the bold, and fruit-driven reds and whites of the southern, Alentejo.
The nation's other important fortified wine, Madeira, is produced on the eponymous island off the North African coast.
Blended from the most important red grapes of the Douro Valley, Port is the famous fortified wine from Portugal. It is based on the Touriga Nacional grape with over 80 other varieties approved for use in the blend. However, typically about four other varieties play a major role: Tinta Barroca, Tinta Cão, Tinta Roriz (Tempranillo) and Touriga Francesa. Other wine regions of the world can produce fortified wine of a similar style from the same grapes or other grapes.
There are numerous styles of Port: Ruby, Tawny, Vintage, LBV, White, Colheita, and a few unusual others.
Ruby ports usually pack the most value and are ready to drink once bottled. Typical characteristics are ripe cherry and blackberry flavors with stewed plums, cocoa and dates.
Tawny ports are "tawny" in color and have flavors of toffee, caramel, toasted pecans, vanilla, dried apricot, citrus peel, green figs and roasted espresso. The age designation on a Tawny Port indicates the average vintage age of the grapes in the bottle. These are not intended to be aged once bottled.
When Port is made with high quality grapes selected from a single notable vintage, it is called Vintage Port. Some of the best recent vintages are 2016, 2011, 2007, 2003, 2000, 1997 and 1994. Vintage Ports are complex and full-bodied with many flavors possible: concentrated blackberry, black cherry, raspberry and spice, smoke, coffee and chocolate. Vintage ports tend to improve in the bottle up to approximately 30 years from the vintage.
LBV Port comes from a single-vintage Ruby Port and may spend six years in the barrel before being bottled. These are ready to drink upon release. Serve most Ports slightly chilled at around 55-65°F.