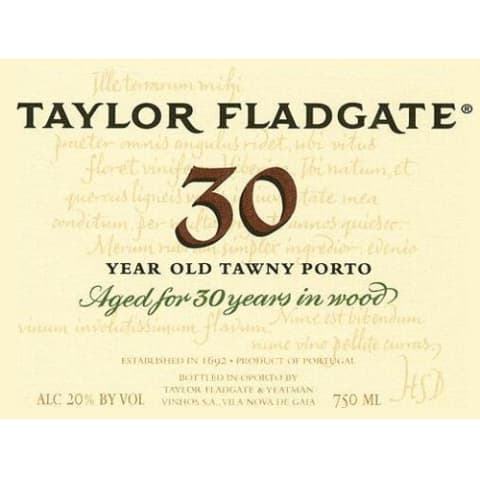 Taylor Fladgate 30 Year Old Tawny
Winemaker Notes
Blended from Taylor Fladgate's reserves of fine, cask-aged tawnies of several vintages, these wines are on average 30 years old. Rich, silky and elegant, it is a masterpiece of the blender's art.
Critical Acclaim
All Vintages
A bright, ruddy tawny, with an olive rim. Vigorous on both the nose and palate, with a classy Cognac-like spirit character and lifted drive. Well-structured, with a walnut, green (tomato plant) and black cardamom edge to its tightly focused fruit notes of dried apricot and fig, along with hints of salted caramel. The penetrating, back-of-the-net finish is very precise, lingering and in the Taylor's house style.
This is lovely, displaying warm date, toffee and persimmon notes entwined with sesame oil, green tea and ginger flavors. Shows a lovely interplay of sweet and dry, with flashes of hazelnut cream and juniper contrasting each other on the long and deep finish. Drink now. From Portugal.
Caramel and butterscotch with some figs and dried fruit. Medium-bodied with a very fine texture that turns creamy. The finish shows milk chocolate, nuts and fruit. Medium sweet. Pecan pie.
This wine starts with a burst of flavor, trumpeting preserved lemon, mincemeat and baking spice over a luscious, creamy texture. Then it mellows into the finish, clean and lasting, ending on the savor of roasted almonds. It would be a delicious match for sheeps milk cheeses from the mountains, whether Ossau Iraty or, within Portugal, Queijo Serra da Estrela.
The NV 30 Year Old Tawny Port was bottled in February 2016 with a bar-top cork and comes in with 126 grams per liter of residual sugar. The last release of this I saw was the 2014. Obviously, the differences are typically small from year to year and they are not side by side, but this didn't show quite as well early on, whether due to it being a different release or just a different context. It shows good concentration while retaining some mid-palate finesse. It is complex, then it adds a powerfully intense finish laced with burnt orange peel and molasses as it warms. If I had a quibble, there was some noticeable alcohol, especially when retasted the next day. Some three or four days later, it was far smoother, but it is always a little edgy. Overall, this is a fairly stern style, dry and brooding, with that hint of spirits in the background. It reminds me of the stereotypical scene with Port (or Cognac), cigars and blue cheese. It just has that serious feel to it, along with that long finish. It seems to be one, as discussed in the accompanying article, that leans more to a 40-year Port. As always, these last indefinitely, barring cork failures, but they are not really meant to be held.
View More
Taylor's is now into its fourth century: one of the very oldest of the Port companies. It is the last totally independent company of the original British Port houses-and is still family owned and managed. It is run today from Oporto by descendants of the Yeatman and Fladgate families, both of which have been partners in the firm since the 1830s. For more than 300 years Taylor's name has been synonymous with consistent excellence in Port.
The home of Port—perhaps the most internationally acclaimed beverage—the Douro region of Portugal is one of the world's oldest delimited wine regions, established in 1756. The vineyards of the Douro, set on the slopes surrounding the Douro River (known as the Duero in Spain), are incredibly steep, necessitating the use of terracing and thus, manual vineyard management as well as harvesting. The Douro's best sites, rare outcroppings of Cambrian schist, are reserved for vineyards that yield high quality Port.
While more than 100 indigenous varieties are approved for wine production in the Douro, there are five primary grapes that make up most Port and the region's excellent, though less known, red table wines. Touriga Nacional is the finest of these, prized for its deep color, tannins and floral aromatics. Tinta Roriz (Spain's Tempranillo) adds bright acidity and red fruit flavors. Touriga Franca shows great persistence of fruit and Tinta Barroca helps round out the blend with its supple texture. Tinta Cão, a fine but low-yielding variety, is now rarely planted but still highly valued for its ability to produce excellent, complex wines.
White wines, generally crisp, mineral-driven blends of Arinto, Viosinho, Gouveio, Malvasia Fina and an assortment of other rare but local varieties, are produced in small quantities but worth noting.
With hot summers and cool, wet winters, the Duoro has a maritime climate.
Port is a sweet, fortified wine with numerous styles: Ruby, Tawny, Vintage, Late Bottled Vintage (LBV), White, Colheita, and a few unusual others. It is blended from from the most important red grapes of the Douro Valley, based primarily on Touriga Nacional with over 80 other varieties approved for use. Most Ports are best served slightly chilled at around 55-65°F.