Taittinger Brut Prestige Rose
Winemaker Notes
Blended from Pinot Noir and Pinot Meunier grapes, this is a succulently fruity, supple and aromatic Champagne with fine bubbles and a crisp, refreshing finish of extended length.
Taittinger Cuvée Prestige Rosé is intense cherry-pink in color with extremely fine, persistent pinpoint bubbles rising in delicate strands to the surface of the wine. Its classic, aromatic Pinot fragrance of red raspberries and strawberries is offset by elegant, subtle floral and earth nuances. On the palate, the ripe, full berry flavors are vibrant yet refined, delicately balanced by a fresh acidity which carries into a crisp, refreshing finish of persistent length.
"A swirl of bubbles carries fresh raspberry flavors along with a lively green edge of acidity. The flavors are persistent and clean, the wine mouthwatering." 90 Points
Wine & Spirits
Critical Acclaim
All Vintages
Darker color. Lots of fruit and a creamy texture with cooked apples and cherries and strawberry undertones. Medium to full body. Delicious finish that is dry and fruity. Spicy. White pepper. Young strawberry at the end. Drink now.
The latest release of Taittinger's NV Brut Prestige Rosé is showing very well, revealing inviting aromas of red berries, plums, orange zest, crisp orchard fruit and freshly baked bread. Medium to full-bodied, fleshy but incisive, this bottling is based on the Brut Réserve, yet the addition of still red wine—much of which is produced in house—imparts structuring phenolics that complement the wine's generous core of fruit to great effect. Readers should not that this cuvée's clear glass makes it vulnerable to light strike, so it's especially important to buy properly stored bottles.
Highly fragrant nose of toast, light cherry blossom, chalk and nice development. Fine mousse, quite multilayered and a textural palate. Blend : 45% Pinot Noir, 30% Chardonnay, 25% Pinot Meunier
A firm rosé, with a creamy mousse and a toasty edge meshed with flavors of strawberry tart, mandarin orange peel, brioche and smoke. Drink now. 
A fresh rosé Champagne that offers an accessible mix of baked strawberry, toasted almond, candied pink grapefruit peel and spice flavors set on the lively, persistent mousse. Drink now.
The NV Champagne Prestige Brut Rosé is a bold style, with a deep pink hue and a distinctive, fruit-forward red wine profile. Its notes of ripe raspberry, beet root, fresh herbs, crushed roses are followed by a structured and energetic mousse, with some tannic grip that would make a great application for shellfish. Drink over the next 10-15 years.
View More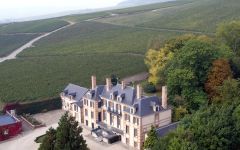 Champagne Taittinger was established in 1931 by Pierre Taittinger on the foundations of Forest-Forneaux, itself established in 1734 and the third-oldest wine producing house of Champagne. Taittinger is today proprietor of approximately 600 acres of vines among which are included parcels in the one hundred - percent rated villages of Cramant and Avize in the Cote des Blancs; and Bouzy, Mailly, Ambonnay and Verzenay in the Montagne de Reims. The Taittinger Estate is one of the three most extensive in the Champagne district, and the firm's major holdings in Chardonnay vineyards are the physical expression of the Taittinger philosophy and style.
Associated with luxury, celebration, and romance, the region, Champagne, is home to the world's most prized sparkling wine. In order to bear the label, 'Champagne', a sparkling wine must originate from this northeastern region of France—called Champagne—and adhere to strict quality standards. Made up of the three towns Reims, Épernay, and Aÿ, it was here that the traditional method of sparkling wine production was both invented and perfected, birthing a winemaking technique as well as a flavor profile that is now emulated worldwide.
Well-drained, limestone and chalky soil defines much of the region, which lend a mineral component to its wines. Champagne's cold, continental climate promotes ample acidity in its grapes but weather differences from year to year can create significant variation between vintages. While vintage Champagnes are produced in exceptional years, non-vintage cuvées are produced annually from a blend of several years in order to produce Champagnes that maintain a consistent house style.
With nearly negligible exceptions, . These can be blended together or bottled as individual varietal Champagnes, depending on the final style of wine desired. Chardonnay, the only white variety, contributes freshness, elegance, lively acidity and notes of citrus, orchard fruit and white flowers. Pinot Noir and its relative Pinot Meunier, provide the backbone to many blends, adding structure, body and supple red fruit flavors. Wines with a large proportion of Pinot Meunier will be ready to drink earlier, while Pinot Noir contributes to longevity. Whether it is white or rosé, most Champagne is made from a blend of red and white grapes—and uniquely, rosé is often produce by blending together red and white wine. A Champagne made exclusively from Chardonnay will be labeled as 'blanc de blancs,' while ones comprised of only red grapes are called 'blanc de noirs.'
What are the different types of sparkling rosé wine?
Rosé sparkling wines like Champagne, Prosecco, Cava, and others make a fun and festive alternative to regular bubbles—but don't snub these as not as important as their clear counterparts. Rosé Champagnes (i.e., those coming from the Champagne region of France) are made in the same basic way as regular Champagne, from the same grapes and the same region. Most other regions where sparkling wine is produced, and where red grape varieties also grow, also make a rosé version.
How is sparkling rosé wine made?
There are two main methods to make rosé sparkling wine. Typically, either white wine is blended with red wine to make a rosé base wine, or only red grapes are used but spend a short period of time on their skins (maceration) to make rosé colored juice before pressing and fermentation. In either case the base wine goes through a second fermentation (the one that makes the bubbles) through any of the various sparkling wine making methods.
What gives rosé Champagne and sparkling wine their color and bubbles?
The bubbles in sparkling wine are formed when the base wine undergoes a secondary fermentation, which traps carbon dioxide inside the bottle or fermentation vessel. During this stage, the yeast cells can absorb some of the wine's color but for the most part, the pink hue remains.
How do you serve rosé sparkling wine?
Treat rosé sparkling wine as you would treat any Champagne, Prosecco, Cava, and other sparkling wine of comparable quality. For storing in any long-term sense, these should be kept at cellar temperature, about 55F. For serving, cool to about 40F to 50F. As for drinking, the best glasses have a stem and a flute or tulip shape to allow the bead (bubbles) and beautiful rosé hue to show.
How long do rosé Champagne and sparkling wine last?
Most rosé versions of Prosecco, Champagne, Cava or others around the "$20 and under" price point are intended for early consumption. Those made using the traditional method with extended cellar time before release (e.g., Champagne or Crémant) can typically improve with age. If you are unsure, definitely consult a wine professional for guidance.