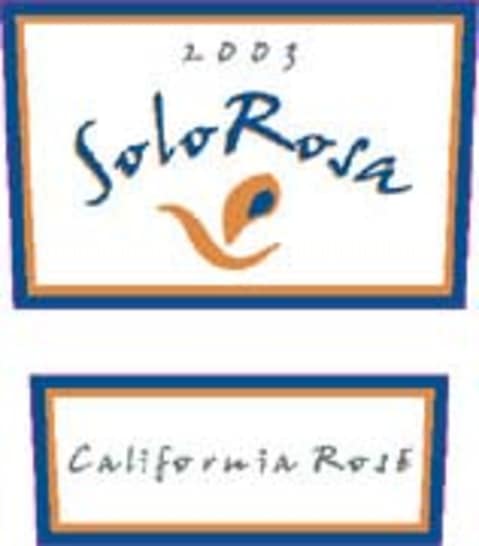 SoloRosa Rose 2003
Out of Stock

(was $13.99)
Winemaker Notes
SoloRosa 2003 is bone dry yet brimming with bright raspberry, cherry, citrus and spice flavors. Lush and round textured, it's balanced by tangy acidity, a flinty mineral core and just a hint of grapefruit on the finish. We're proud to say our wine serves up layered complexity, but it's also packed with plenty of hedonistic fun.
Enjoy SoloRosa with a summer barbecue, but also serve it in a refined setting, where it pairs well with seafood, spice, fine sauces, poultry, game and other red meats.
Dare we say that it goes well with just about anything? In a word, yes.
Our dry rosé is a blend of 50 percent Sangiovese from Atlas Peak in Napa Valley, 40 percent Merlot from the Levantini Vineyard in Lodi, plus 5 percent Barbera and Zinfandel, respectively—both from Alexander Valley in Sonoma County. The wine is barrel fermented dry, and goes through malolactic fermentation prior to blending after 5 months in 2-to-5-year-old French oak barrels.
Reviews Gourmet Magazine
The Gourmet tasting panel's NUMBER ONE pick out of 50 international rosés tasted blind. "Very complex nose, with violets, grapefruit, and herbs. Grapefruit, pineapple, mango, raspberry flavors, with a citrus finish."
Los Angeles Times
"The one glass that goes with everything....SoloRosa is another superb California rosé...It's lively mélange of red-fruit flavors (mainly raspberry, cranberry and strawberry) ride on a creamy texture that results from aging in neutral oak barrels."
SoloRosa Wines, the only winery in the New World devoted exclusively to dry rosé. The wine is made from a blend of Sangiovese, Syrah, and Merlot grapes, mostly from Napa and Sonoma counties.
Jeff Morgan is better known as a wine writer than a winemaker. He was West Coast Editor for Wine Spectator from 1995 through 1999 and released his cookbook: Dean & DeLuca; The Food and Wine Cookbook in 2002. Jeff and his wife, Jodie, have just released a second cookbook called The Working Parents Cookbook. The wordsmith is also currently Editor at Large for Wine Enthusiast. Next year, look for his newest tome, The Book of Rosé, which features over 200 pink wines from around the world.
But most people don't know that Jeff started his wine career working in the cellar and vineyards of a small winery in Long Island, New York. Before that, he was a saxophone player---the bandleader at the Grand Casino in Monte Carlo, in Monaco. That's where he developed a love for fine rosé.
Daniel Moore has made wine for two decades in Northern California. He recently finished a 13-year stint as winemaker at Lynmar Winery in Sonoma's Russian River Valley, where his Pinot Noir and Chardonnay were highly acclaimed. Today he has started a new winery, Arista, also in the Russian River Valley, where the focus will be on Pinot Noir and Zinfandel.
Responsible for the vast majority of American wine production, if California were a country, it would be the world's fourth largest wine-producing nation. The state's diverse terrain and microclimates allow for an incredible range of red wine styles, and unlike tradition-bound Europe, experimentation is more than welcome here. California wineries range from tiny, family-owned boutiques to massive corporations, and price and production are equally varied. Plenty of inexpensive bulk wine is made in the Central Valley area, while Napa Valley is responsible for some of the world's most prestigious and expensive "cult" wines.
Each American Viticultural Area (AVA) and sub-AVA of has its own distinct personality, allowing California to produce red wine of every fashion: from bone dry to unctuously sweet, still to sparkling, light and fresh to rich and full-bodied. In the Napa Valley, Cabernet Sauvignon, Merlot, Chardonnay and Sauvignon Blanc dominate vineyard acreage. Sonoma County is best known for Chardonnay, Pinot Noir, Cabernet Sauvignon, Rosé and Zinfandel. The Central Coast has carved out a niche with Rhône Blends based on Grenache and Syrah, while Mendocino has found success with cool climate varieties such as Pinot noir, Riesling and Gewürztraminer. With all the diversity that California wine has to offer, any wine lover will find something to get excited about here.
Whether it's playful and fun or savory and serious, most rosé today is not your grandmother's White Zinfandel, though that category remains strong. Pink wine has recently become quite trendy, and this time around it's commonly quite dry. Since the pigment in red wines comes from keeping fermenting juice in contact with the grape skins for an extended period, it follows that a pink wine can be made using just a brief period of skin contact—usually just a couple of days. The resulting color depends on grape variety and winemaking style, ranging from pale salmon to deep magenta.