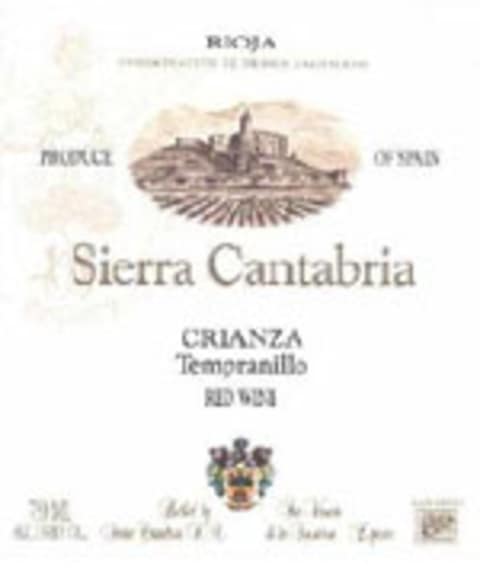 Sierra Cantabria Crianza 2002
Out of Stock

(was $18.29)
Bodegas Sierra Cantabria was founded by Guillermo Eguren, a self-made bodeguero, who was, in the family tradition, a viticulturist. His family, native to San Vicente de La Sonsierra, one of the most sought-after terroirs in Rioja, had grown grapes in Rioja Alta and Alavesa since the 1870's. For decades the family sold their grapes to local producers, but Guillermo recognized the potential that his family's vineyards had to create great wine and founded Bodegas Sierra Cantabria in 1957. Today, the fourth generation of the Eguren family directs all aspects of the winemaking process, with Marcos Eguren as the winemaker and director of operations and his brother Miguel Angel Eguren as the general manager. The family still prides themselves as viticulturists first, and as a result, all the grapes are estate grown. As viticulturists in Rioja Alavesa, they grow a vast majority of Tempranillo, with only a small percentage of Garnacha and Graciano, as they recognize that Garnacha and Graciano do not ripen reliably in northern Rioja.
Bodegas Sierra Cantabria is the family's original winery and comprises a collection of their most classic style Rioja wines. Due to their viticultural background, the family's wines are composed of mostly Tempranillo, as they recognize that Garnacha and Graciano do not ripen reliably in Northern Rioja.
Although the family's business has evolved over the years through the foundation of other projects, Bodegas Sierra Cantabria comprises their most traditional, classic styled wines. The wines are made from a blend of selected vineyards, as opposed to Viñedos Sierra Cantabria, which is the family's collection of single vineyard wines.