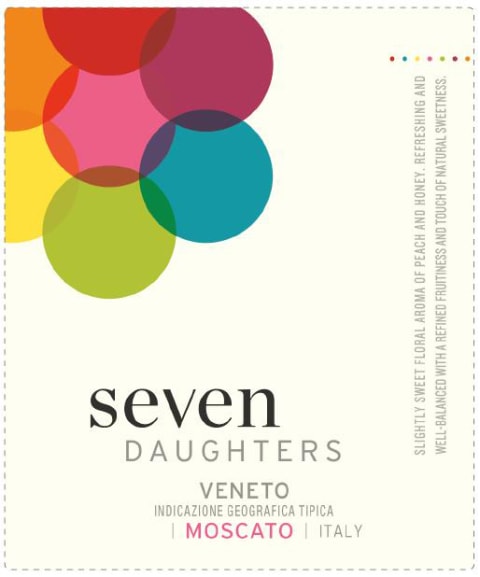 Seven Daughters Moscato 2020
Ships today if ordered in next 4 hours
Winemaker Notes
Moscato is having a moment, and you'll want to get in on it. Open a chilled bottle and enjoy anytime – we think it pairs perfectly with dance parties, closet swaps, poolside lounging, birthdays, and that big promotion!
At Seven Daughters, they view the artistry of blending varietals as a reflection of what a you do every day of the week. You work hard, play hard and still find time to meet up with your friends and raise a glass. Like your lifestyle, your wine should be full of character, complexity and quality.
Seven Daughters wines are crafted to meet the needs of today's wine drinker – a seamless blend of exploration, fun and sophistication. We toast you for doing all that you do, for blending the best with the best everyday. Seven Daughters Winemaker's Blends – like you and your friends, all different, and yet so perfect together.
Italian White Wine
The rolling hills and endless coastlines of Italy deliver a unique diversity of soils and climate to foster a number of regional specialties. With a multitude of indigenous varieties that thrive exclusively here, the selection of white wines offers a range of styles and flavors.
The most well-known white variety in Italy is of course Pinot Grigio. Typically found in the northern Italian regions, the light, fresh and easy-drinking options can be found in the Veneto region, while the richer, more complex styles come from Friuli-Venezia Giulia and Trentino-Alto Adige. These two northeast regions are also crafting delicions Pinot Bianco and a regional specialty, Friulano.
In Piedmont, two white regions shine. The crisp and zippy Gavi, made with a Cortese grape, and Arneis, a variety that produces a subtle by dry wine. In the Veneto, the Garganegna grape creates the wine of Soave, a zesty but medium-bodied wine full of rich stone fruit and floral notes.
Further south, you'll find the pretty and floral Falenghina, rich and tropical Grillo and zesty Greco. Head to Sicily to discover the delicious and complex Etna Biancos, made with the Carricante grape in the island's volcanic soils.
If you enjoy a tangy but textured white wine with seafood, head to Sardinia and try out the Vermentino there. The grape is also found in other Italian provinces and is always a delight.
SOU321688_2020
Item#
789317