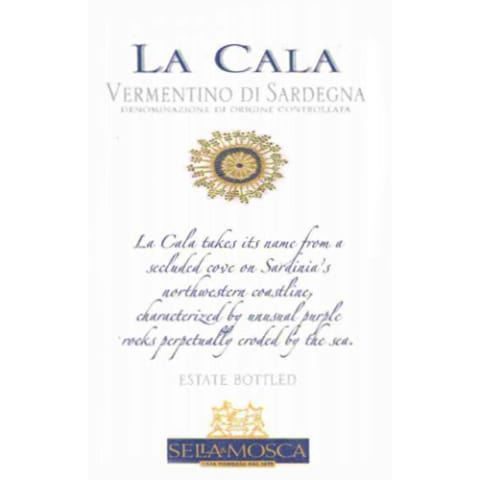 Sella & Mosca La Cala Vermentino 2005
Currently Unavailable

$10.49
Winemaker Notes
A favorite of the jet set at Sardinia's chic resorts, La Cala is the ultimate definition of the Vermentino grape. It is romantically named for a small, secluded cove fringed by violet-colored thistles on the edge of the Sella & Mosca estate. Few wines rival La Cala for its exceptional affinity with seafood, thanks to the very subtle presence of a natural marine salinity in the wine, credited to the Mediterranean location of Sella & Mosca's Vermentino vineyards.
The Sella & Mosca property in Sardinia is one of Italy's most impressive and progressive wine estates. Impeccably maintained, this 1,600-acre estate is credited with placing Sardinian wines firmly on the international wine-lover's map. Moreover, it includes the second largest contiguous vineyard in Italy. Acclaimed for world-class wines made from Vermentino and Cannonau grapes, Sella & Mosca is also behind the single-vineyard Marchese di Villamarina, among Italy's greatest and most sought-after Cabernets.
Grape Varieties
100% Vermentino
Taste
Elegant and supple, this single-vineyard wine couples fullness of flavor with an underlying acidity.
Serving Suggestions
Vermentino wines are a versatile match for a wide array of appetizers and entrees, especially shellfish and seafood dishes.
A jewel in the Mediterranean, Sardinia is a rustic and enchantingly beautiful island with extreme geography and vinous diversity to tempt travelers and wine enthusiasts alike. Mr. Sella and Mr. Mosca fell in love with this land over a century ago and established Sella & Mosca, one of Italy's most renowned wine estates.
 As Sardinia's foremost wine producer, Sella & Mosca's premium wines are made exclusively from estate-grown grapes. In addition to native varieties such as Vermentino, Torbato and Cannonau, the winery has successfully pioneered the introduction of international grape varieties, notably Cabernet Sauvignon.
Hailed for centuries as a Mediterranean vine-growing paradise, multiple cultures over many centuries have ruled the large island of Sardinia. Set in the middle of the Tyrrhenian Sea, the Phonoecians, Ancient Rome, and subsequently the Byzantines, Arabs and Catalans have all staked a claim on the island at some point in history. Along the way, these inhabitants transported many of their homeland's prized vines and today Sardinia's modern-day indigenous grape varieties claim multiple origins. Sardinia's most important red grapes—namely Cannonau (a synonym for Grenache) and Carignan—are actually of Spanish origin.
Vermentino, a prolific Mediterranean variety, is the island's star white. Vermentino has a stronghold the Languedoc region of France as well as Italy's western and coastal regions, namely Liguria (where it is called Pigato), Piedmont (where it is called Favorita) and in Tuscany, where it goes by the name, Vermentino. The best Vermentino, in arguably all of the Mediterranean, grows in Sardinia's northeastern region of Gallura where its vines struggle to dig roots deep down into north-facing slopes of granitic soils. These Vermentino vines produce highly aromatic, full and concentrated whites of unparalleled balance.
Today aside from its dedication to viticulture, Sardinia remains committed to maintaining its natural farmlands, bucolic plains of grazing sheep and perhaps most of all, its sandy, sunny, Mediterranean beaches.
A fantastic, aromatic white grape that grows with great success in Sardinia, Tuscany and in lesser proportions on the island of Corsica. Somm Secret—Vermentino is thought to be genetically identical to Liguria's Pigato grape and Peidmont's Favorita. It comprises a large proportion of the whites in southern France where it is called Rolle.
SOU74839_2005
Item#
88455