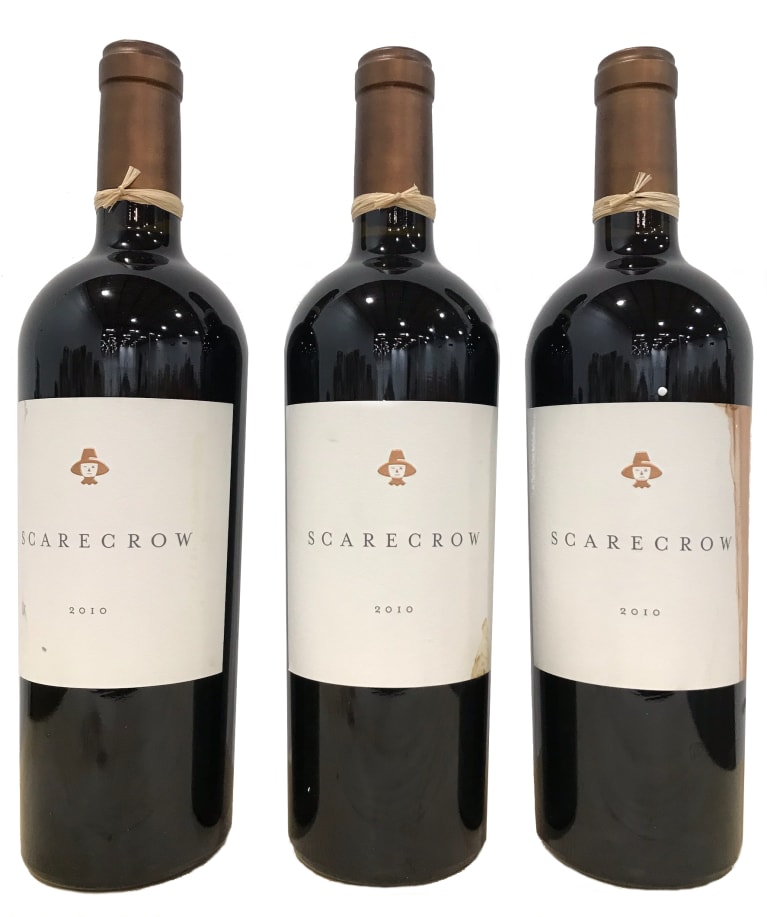 Scarecrow Cabernet Sauvignon (stained label) 2010
Winemaker Notes
Expansive boysenberry and cocoa aromas leap from the glass as notes of cinnamon and other baking spices, warm berry jam, vanilla and toasted pecans provide the base notes to this complex Cabernet. On the palate, the entry shows dark berry qualities alongside bright, fresh acidity. The fruit is fresh and juicy both at entry and throughout the palate impression, with a closing note of liquid chocolate on the finish.
Critical Acclaim
All Vintages
Tasting the three most recent vintages of the Scarecrow Cabernet Sauvignon was not only a privilege, but also an intellectual and hedonistic turn-on. The 2010 Scarecrow Cabernet Sauvignon (100% Cabernet Sauvignon) is a magnificent wine. Full-bodied and opulent with terrific purity, an intriguing, gravelly, wet stone-like minerality, and a sensational perfume, it has a spectacular finish that lasted over 45 seconds, offering up copious quantities of black currants, black cherries, cedar and vanillin. It is one of the superstars of the vintage. It is accessible now because of the sweetness of the tannins, but make no mistake, there is plenty of structure underlying the luxurious fruit levels. It should drink well for 30+ years.
Striking for its elegance and refinement, with pure, rich, supple dark berry, fresh loamy earth, dried herb and cedar flavors. Shows length and persistence. A seductive style that needs time. Best from 2014 through 2025.
View More
The Scarecrow story begins in a patch of earth with a fabled past. The J.J. Cohn Estate, where Scarecrow grapes are born, borders what was once the legendary vineyard of Inglenook winemaker Gustave Niebaum, whose plantings blanketed more than 1,000 acres of the Napa Valley at the close of the 19th century.
John Daniel Jr. took the helm at Inglenook in 1939, determined to restore the label to pre-Prohibition standing and produce world-class Bordeaux-style wines. In 1945, Daniel convinced his neighbor, J.J. Cohn, to plant eighty acres of Cabernet vines on the 180-acre parcel Cohn had purchased a few years prior. The property served as a summer retreat for Cohn's wife and their family. He had no ambitions to become a winemaker himself, but Daniel promised to buy his grapes, so Cohn planted vines. The rest, as they say, is history.
J.J. Cohn fruit figured prominently in Inglenook's superlative Cabernet Sauvignons of the post-war era, and has more recently gone into wines of such renown as Opus One, Niebaum-Coppola, Duckhorn, Insignia and Etude.
J.J. Cohn Estate grapes are highly sought-after in part because Cohn bucked the trend, begun in the mid-1960s, of replacing vines planted on St. George rootstock with the supposedly superior AxR#I hybrid. Over time, vines grafted onto this new stock proved highly vulnerable to phylloxera. But by then, virtually all of the old St. George vines in Napa had been destroyed. Only the original 1945 J.J. Cohn vines survived. These highly prized "Old Men" continue to produce uncommonly rich fruit—the hallmark of Scarecrow wine.
But the Scarecrow story doesn't end there. This is more than a tale of enchanted ground and the exceptional wine that flows out of it. The Scarecrow story is a story, too, of an extraordinary family legacy. Joseph Judson Cohn was born in Harlem in 1895 to Russian immigrants. Cohn spent his childhood in dire poverty and never learned to prefer the taste of fresh bread over stale—even after he'd found great success in Hollywood.
A move west in the 1920s launched Cohn's studio career. Highly resourceful and extremely capable, Cohn began as a bookkeeper, distinguished himself early and rose quickly through the ranks to become Chief of Production at MGM. His unofficial credo, "Nothing is impossible," became the motto of his MGM staff. They knew him as a man who simply refused to take "No" for an answer.
DOB134582_2010
Item#
134582